This product is listed here: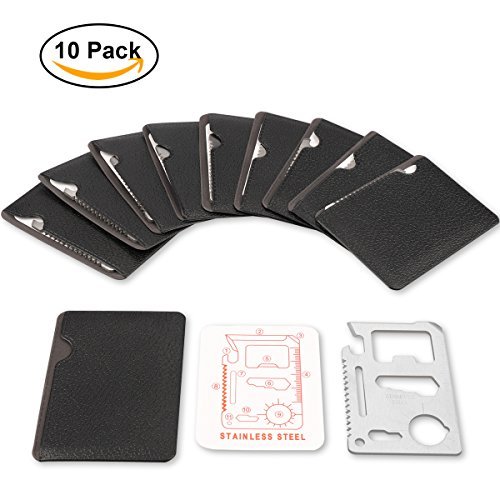 Stainless Steel 11 in 1 Beer Opener Survival Card Tool – Ten Pack
This 11 in 1 survival tool is the perfect gift or stocking stuffer for anyone on your list. Eleven tools on one small piece of thin but strong metal that fits into a sleeve the size of a credit card. This tool slides perfectly and snuggly into a wallet just waiting to be needed. The possibilities are endless when you are dealing with a product as useful as this.
Detailed information about Stainless Steel 11 in 1 Beer Opener Survival Card Tool – Ten Pack
This has got to be one of the most useful and ingenious gifts out there. This multipurpose tool has both a 2 and a 4 position wrench, a ruler, a flathead screwdriver, a can opener, a wrench for loosening butterfly screws, has a hole for a keychain or a lanyard, and best of all it is a beer opener!
There is seemingly nothing that this hard-working little beauty can't do. Able to stand in for eleven different tools, this credit card sized gem is always handy and always ready to take on any emergency repair that comes its way. When it is not in action saving the day, it simply tucks inconspicuously into a wallet, a man or a woman's, and waits for the next time it needs to come to the rescue.
WHY WE LIKE IT?
Made of stainless steel for durability and strength and it will not rust or bend out of shape
Comes in a protective case
Handy tool identification card is included and fits inside the case for reference anytime
WHY WE dont LIKE IT?
None
What we love about this product
Just about everyone on the planet has had a time or two when they have had to McGiver-up a homemade tool to get an emergency job done or do a repair on the fly, like using a coin for a screwdriver. With this multitool, those days of scrambling to cobble together an alternative device are over.