This product is listed here: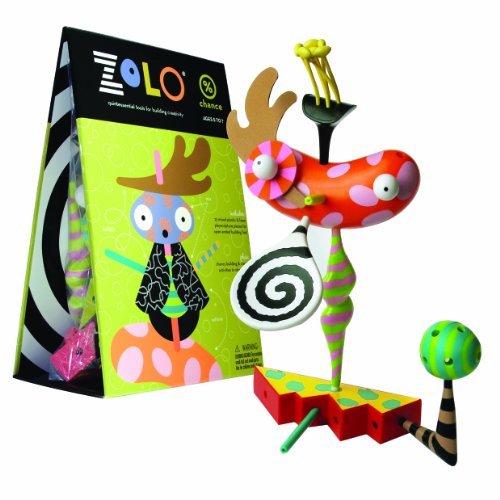 ZoLO Chance Creativity Playsculpture
ZoLo play products were all the rage in the 1990s and many people who are now adults had at least one set of this creative toy. Now the ZoLo products have been given an upgrade with many new shapes with which to play. One of the best things about this creative play set is that all the pieces are compatible with other sets of the same type. The more sets you have, the more individual pieces you own and so you can make the models more complex.
ZoLo allows the person playing to make almost anything they can imagine. This creative toy encourages children and adults to think imaginatively and 'outside the box'. It is a tactile building toy that allows all the senses to experience the creative impulse.
Detailed information about ZoLO Chance Creativity Playsculpture
When a person is playing with a ZoLo toy they can create stuff that they never were able to before. There are twenty-five mixed plastic and foam pieces in the set together with instructions on how to play with the sets, various activities that will challenge the way you think, and inspiration to give the impetus for further creation.
This is a product that will be suitable to give to anyone over the age of three years for them to express their creativity and train their brain to think differently. The supplier recommends that because of the small parts included in this set it would be better not to allow anyone under the age of three to play with it.
Give a set to your children to express themselves, to teenaged kids who have an interest in art and sculpture or to adults to break the ice at parties.
WHY WE LIKE IT?
ZoLo Playsculpture kits are fully interchangeable so that sets can be intermingled and combined
There are twenty-five different pieces in the set
Suitable for children and adults over the age of three years
This is a really fun and tactile way for kids to play with themselves or with their friends
WHY WE dont LIKE IT?
None
What we love about this product
Each set can be combined with any other ZoLo construction set to make the creations all the better. Some people say that free expression in a construction toy is what art is all about.