Women's Golf Clothes: Our Picks For This Summer
last updated:
Apr 11, 2019
3810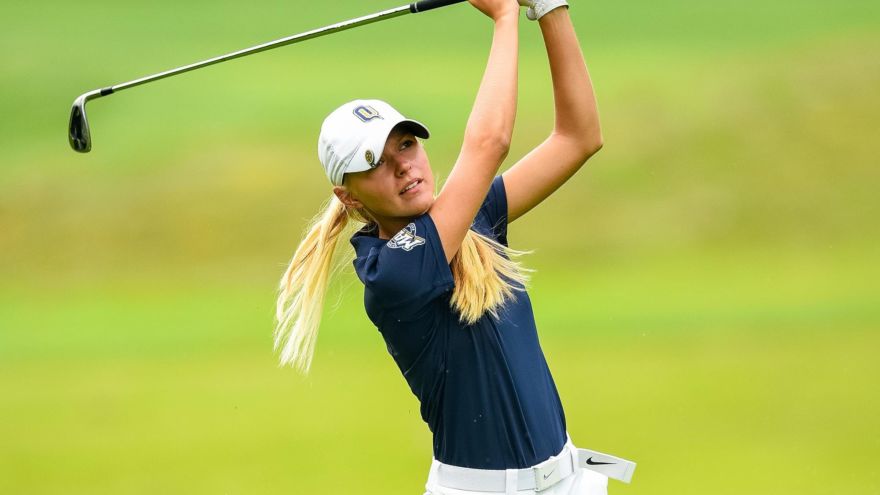 Dressing appropriately for a game of golf is something that is relatively simple for men as all they have to do is throw on a polo and a pair of chinos, however, as a woman, you're going to want to make sure that you are comfortable, airy, and dressed just as appropriately based on the rules of your club. There are plenty of different items that you can pair together to create the most luxurious and breathable golf clothes, especially if you're looking for things that will help to keep you comfortable to improve your game.
1. Joe's USA DRI-Equip Golf Polo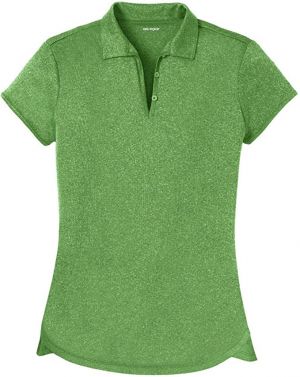 With the combination of moisture wicking and high-quality materials, the Joe's USA DRI-Equip Golf Polo could be the perfect golf shirt that you have always been looking for. Available in six different colors (pink, grey, teal, olive green, periwinkle, and lime green), there are plenty of options to choose from to accommodate the other pieces of clothing in your wardrobe.
What really sets this polo apart from a regular t-shirt is its DRI-Equip moisture wicking that is designed to make it easier for your body to breathe, even under the most heated conditions. It also helps to wick away moisture, making it substantially easier to avoid dealing with annoying and uncomfortable sweat.
It also incorporates a couple of luxurious features such as a Johnny collar, three-button details, and a tulip shaped hem.
2. Adidas Golf Adistar Golf Pants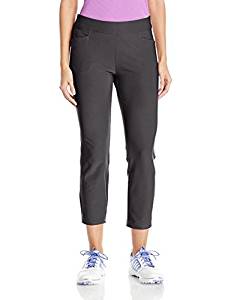 Although these Adidas pants may fall at the top of your price limit for golf clothes, they are surely worth the investment as they accentuate class meanwhile maintaining your comfort throughout an entire game. Above all else, Adidas is an incredibly reputable brand and you can be sure that they will last you the entire season.
With a seemingly tailored appearance, when you put the Adidas Golf Adistar Golf Pants on, it will look like they were made to fit your specific body type. However, they also offer an incredibly stretchy waist and are constructed out of stretchy fabric for optimal comfort. You can also take advantage of the front pockets for storing important items, such as your phone, instead of having to carry around a purse or a clutch.
For added safety while out on the course, the stretchy woven grey fabric offers 50+ UV protection.
3. Callaway Stretch Solid Skort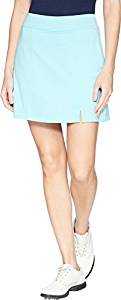 Skorts are another great option for bottoms when you go out for a game of golf, even if you're heading to the driving range with a couple of girlfriends to improve your swing. Skorts are the perfect combination of shorts and a skirt, with an elegant and classic appeal in the front and a comfortable and sporty look in the rear. This Callaway Stretch Solid Skort is available in seven colors ranging from teal to bright red, which makes it easy to fit into your wardrobe.
With one back pocket and two front pockets, you won't lose on functionality and you'll be able to look your best while on the course. The material of the skort incorporates Opti-Dri, which is a special wicking technology that keeps sweat away from your body and helps your body to maintain a cool temperature when you're out in the heat.
Similar to the Adidas pants, the material helps to provide 50 UPF protections to block harmful UV rays, as well as a comfortable 4-way stretchy waistband.
4. Clovery Active Wear Polo Shirt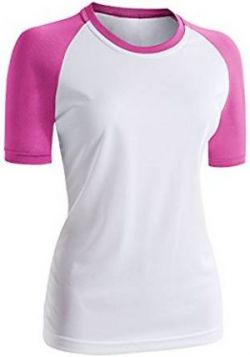 If you're the type of person that is looking for a more sporty design for their golfing attire, this is the perfect shirt for you. The Clovery Active Wear Polo Shirt is something that will work wonderfully with pants that are more casual and it can be paired with more formal attire, such as skorts. With a stunning collar, brilliant lining on the front of the shirt to accentuate your best features, and an easy to use zipper collar, it has everything that you could ever need. The best part is that this shirt is available in over 20 different colors.
COOLON is a special technology that helps to keep your body cool and dry, even when you're playing in incredibly intense temperatures. It also has a soft touch, which is ideal for people who are prone to chafing as a result of heat. If you're in the market for something that helps you to look your best, feel your best, and keeps you safe while out on the green, the Clovery Active Wear Polo Shirt is a great option to have.
5. Adidas Golf Ultimate Bermuda Golf Shorts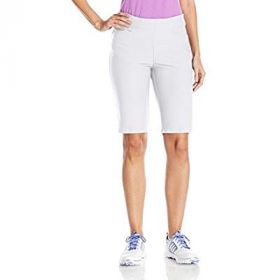 Women who aren't interested in ankle pants and that also don't want to wear something as revealing as a skort can feel very comfortable in Bermuda shorts. They give you the perfect amount of cover, meanwhile maintaining an appropriate appearance for even the most luxurious golf courses. By giving you the optimal amount of movement for superior athleticism and comfortable features such as power mesh waistband and stretch-woven fabric, you will feel comfortable and confident at all times.
Another interesting aspect of the Adidas Golf Ultimate Bermuda Golf Shorts is that they are water repellant, which is ideal for women who love to get their hands dirty or that might get caught in the middle of a storm while ending their game. With the combination of phenomenal stretchy material and a sleek and stylish pull-on pair of shorts, you'll never feel like wearing regular golf shorts again.
Golfing is one of the most athletic sports that you can get your hands on, especially when you combine it with the blistering heat of the sun and the warmth of spring and summer weather. With the help of these clothing items on this list, you'll be able to start building a comfortable and reliable golfing wardrobe that sets the right appeal with all of your golf buddies, but that also helps to keep you comfortable during an entire game. There's no need to sacrifice your comfort for a luxurious appearance, especially with these fantastically curated pieces.
Pin for later