Our Favorite Wallets for Men that Make for a Luxury Gift!
last updated:
Oct 15, 2020
1313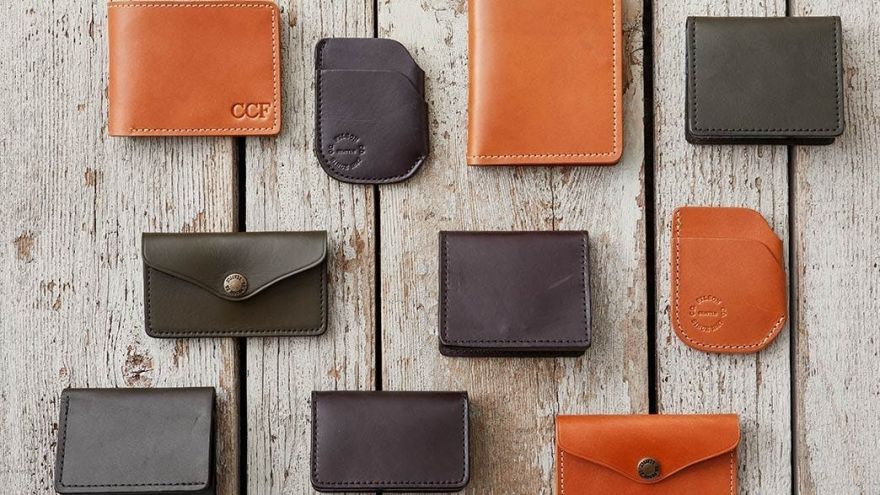 A man's wallet is very personal, just as a handbag is personal to a woman. A wallet identifies a man in many ways, as well as holding his identity. So picking the right one as a gift is no simple matter. It's not just about choosing a wallet but picking something to contain the essentials of a man's life.
Unlike women, who are likely to have handbags for every occasion, a man generally only has one wallet, and that wallet he expects to last him for years, if not a lifetime. So, to get the right choice, a good gift giver should take into consideration what sort of man is being gifted, and what he is needs to carry around with him on a daily basis.
✓

Think Essentials
If you've acres of storage space in your home, the chances are you're going to fill it. The same goes for a man's wallet. The bulkier it is, the more likely it's going to get filled with the detritus of life – lots of till receipts, and a bunch of cards that are never used on a daily basis. Check out what's actually needed, and see if a down-size might be the order of the day.
✓

What Are The Basics?
Think about your man's lifestyle. Does he use debit and credit cards every day? What about business cards, or a key card for getting into the office? Is a pouch for coins really necessary?
Debit cards with chips mean that even the smallest purchase can be done with the swipe of a card rather than having to delve through a wallet for change. So think of a more streamlined wallet.
✓

Quality Counts
If you're looking for a luxury wallet, then the chances are it's going to be made of leather. However, all leather is not the same quality, and will not have the same endurance. It's important to go for the best quality leather you can afford if you want to make sure the wallet will last and stand up to years of use.
✓

Keep It Classic
A luxury wallet means a leather wallet, and there is nothing that comes to close to giving a wallet character than the patina that comes from the natural wear and use over time. A classic style will never go out of fashion, and be right for every occasion.
✓

Matchmaking
Just because a wallet looks cool, doesn't mean it's the right one to give as a gift. Think about the man you're buying it for. Does he wear a suit every day, or does he have a more relaxed dress code and wears denim jeans to go to work? For a more relaxed person, consider wallets made from light-colored leather that fit more into the less formal life and work style.
This will take up the color from the denim and oils from the skin to give a beautiful patina. For a man who has to wear a suit to work, the traditional dark finish of leather shows a degree of sophistication. For outdoors men, tooled cordovan leather sits well with their lifestyle.
Here are our favorite luxury wallets available that won't necessarily break the bank.
1. Fossil Ingram Extra Capacity Tri-fold Wallet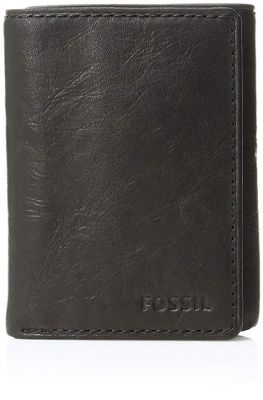 Sometimes a bi-fold wallet is not enough, and you need more space for cash and cards. The Fossil Ingram, Extra Capacity wallet, fits the bill. The smooth leather allows the wallet to expand so everything a man needs to carry with him can be safely stowed. There is room for eight credit cards, along with four slip pockets.
There is also an ID window for an identity card or driver's license. Users have reported that it is built to last, with one saying they have used it daily for fifteen years before needing for it to be replaced. It comes in either black or brown leather.
2. Monhinty Genuine Leather Multi-Card Wallet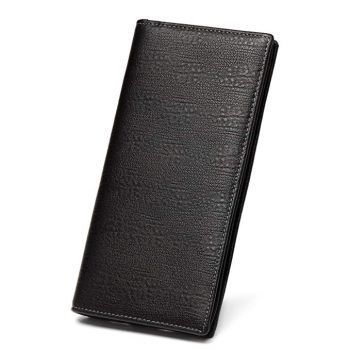 Some gentlemen prefer a larger long or breast pocket wallet. These wallets are generally bigger and come with more compartments for storing cards and bills. Mohinty's Bi-fold wallet has slots for eleven cards and a ID window. It also has a zippered compartment for small change, and three compartments for bank notes.
If you want, the cash section can be used to hold an iPhone 7 or 8+. The wallet is made of premium Italian top grain cowhide leather, which is both durable and incredibly soft. The wallet comes in a fancy box with makes it ideal of gift giving.
3. Waskerd Dupont 2-Pocket Slim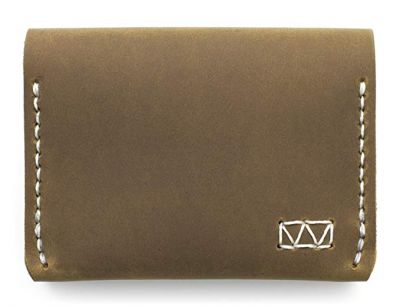 This simple made in America wallet is ideal for the man who likes to carry cash around with him. The slim wallet has only two pockets meaning you can't carry around everything including the kitchen sink. It can store up to eight bills and four cards will still have a smooth, slim profile.
The handmade construction is reinforced by accented stitching along the edges. It can be carried in a front or back pocket without showing an unsightly bulge. The wallet comes in four colors, black, red, brown and blue and comes in a custom gift box.
4. Wurkin Stuffs RFID Blocking Wallet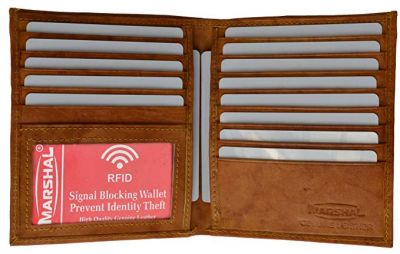 For some people, security is very important, and making sure the data on their credit cards are secure can be paramount. To do this, you need to block RFID signals to protect yourself from thieves wanting to steal your credit card chip information. The Wurkin Stuffs RFID Blocking wallet does just that by bonding an ultra-thin alloy matrix between the Italian calfskin leather of the wallet.
Inside there are four card slots that are big enough to hold more than one card. There is also a pocket for cash, and two slim pockets for till receipts. The simple, straightforward design which comes in black calfskin leather, highlighted by a color stripe, such as green, red, blue, and even black.
5. Salvatore Ferragamo Gamma Bi-Fold Option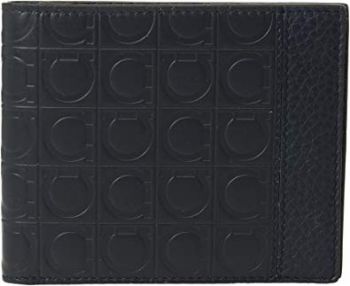 Some wallets just ooze luxury, and the Gamma from Italian design house Salvatore Ferragamo is no exception. The rich crafted Italian leather will impress with its understated sophistication. The wallet features the distinctive Gamma pattern giving a bold, masculine appearance. Inside there is a slot for bank notes, and six slots for cards, along with a couple of smaller slots for slips and receipts.
The stitching is almost invisible and blends perfectly with the leather of the wallet. On the whole, it gives the appearance of rugged quality that will last for many years and never go out of fashion.
6. Bally Leather Tollen Bifold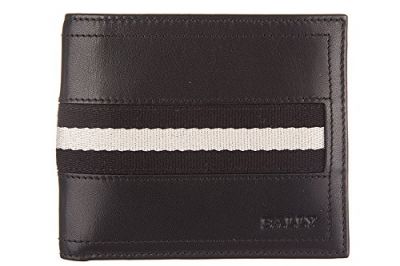 Bally of Switzerland has been making quality leather goods for decades. The brand has made a name for itself in providing high-quality merchandize that has an attractive and modern look, that does not forget its traditional past. The Tollen wallet comes in two colors of leather, black and chocolate brown.
Each has an up-to-date twist with the signature material insert stripes on the front. The brown has red and white stripes, and the black leather, black and white stripes. Inside there is a compartment for currency and eight slots for cards, as well as pockets for receipt slips.
7. Ted Baker London Edge Paint Bifold Wallet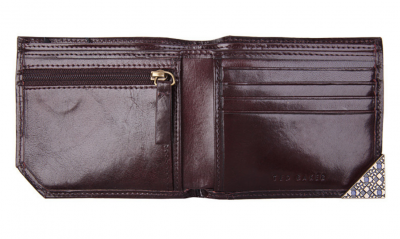 From its roots as a shirt maker in Glasgow, Ted Baker London has become one of the world's leading fashion brands for men. Always stylish, the Edge Paint wallet carries on the company tradition of trying to create something with a little humor and quirkiness to make customers smile. Made from smooth cowhide leather, the wallet has the edges picked out in a contrasting color, which is repeated on the inside on some of the card pockets.
With color combinations of tan and red or chocolate and blue, there is bound to be a look that is just right for any man. Inside there is a slot of bank notes, and eight slots for cards, along with room for till receipts.
Pin for later