This product is listed here: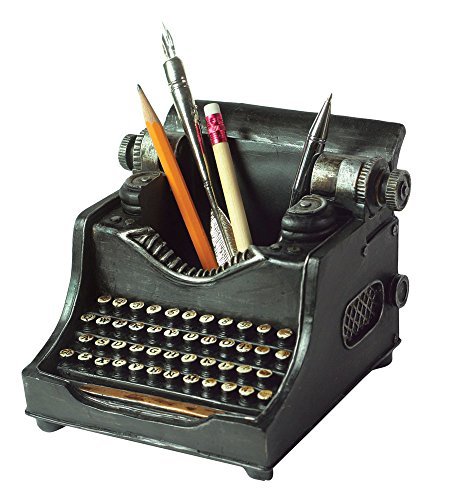 Victorian Trading Co. Hemingway Pencil Cup
Shopping for a writer or someone who loves Hemingway? This might be the perfect gift! One of the most important thing to a writer is their pencil or pen. Among the desk mess, they need to have an item for storing them. The Hemingway pencil cup might be the perfect gift for such situations. It comes in a unique design which makes it a perfect desk accessory and will look great on any writer's desk. The typewriter design is incredibly realistic and is sure to impress any writer. This gift is also suitable for any student who is pulling all-nighters to write their papers!
Detailed information about Victorian Trading Co. Hemingway Pencil Cup
This pencil cup will keep the desk area neat and organized. It is also a great art piece that will go with any room style. Even modern writers use pens and pencils and they will surely appreciate the vintage typewriter of this product. It is made from a faux stone composite and it is very sturdy without being too heavy. It also features a soft bottom to avoid scratching the desk it is placed on. The product measures 6.9 x 6.7 x 5.6 inches. This means it is big enough to hold a full supply of pencils and pens without being too large or taking up too much space.