The Most Practical and Gorgeous-Looking Work Bags for Women!
last updated:
Aug 29, 2019
1809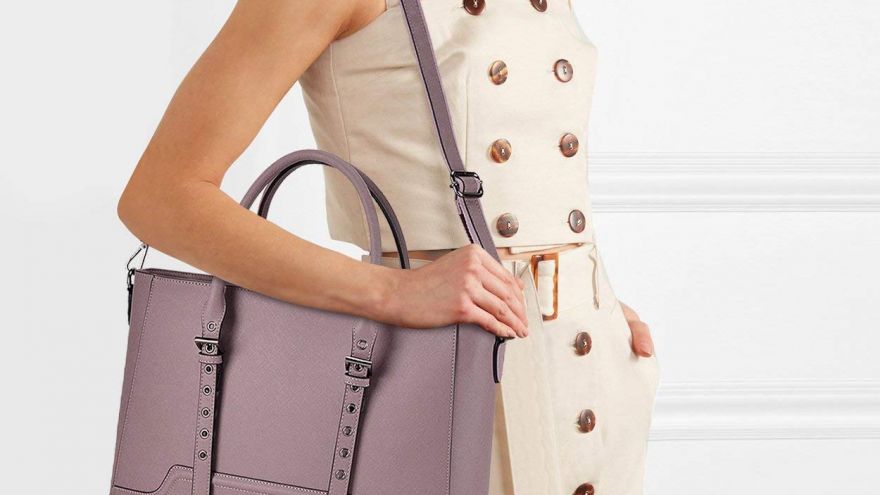 Finding the perfect work bag is hard work, especially if you're a woman who needs a lot of storage space and organization. Instead of bringing your purse and your work necessities with you, you can easily pack everything in one convenient bag.
We've found 5 phenomenal options for the everyday woman that needs an easy and elegant solution to managing their work and personal belongings.
1.Aleah Wear Shoulder Tote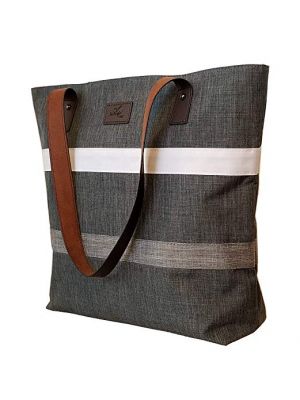 The Aleah tote is a fantastic option for women who want a work bag that doubles as a purse or a weekend bag. It has plenty of fantastic features, including:
Water Resistance: The entire bag is constructed out of 300d Oxford fabric as well as PU leather. Not only does this make it easy to keep clean, but it is also water resistant and wear-resistant.
Storage: When you open the bag, you'll notice there are multiple compartments. You'll have two open pockets and a zipper compartment for your valuables. You'll also have the main large compartment for your laptop, notebooks, or textbooks.
Long Straps: Carrying this tote is much simpler with the help of the high-quality straps. They are longer in length so you can either keep it on your shoulder or carry it in your hands.
2. EaseGave Laptop Tote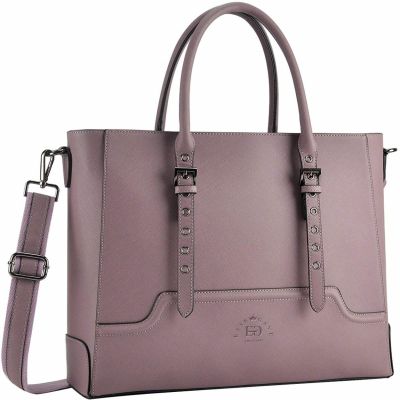 This is easily one of our favorite work bags on this entire list as it looks identical to a high-fashion handbag, but has plenty of storage for you to put to good use. It also has a special compartment for your laptop, which is ideal.
The most notable features include:
6" Laptop Compartment: This bag is designed to hold laptops up to 15.6 inches.
Versatile Design: Instead of simply carrying the bag in your hand, there are multiple carrying options. You can use the top handle for carrying the bag or you can take advantage of the shoulder strap for an over-the-shoulder look or an across-the-chest look.
Multiple Pockets: Apart from the laptop compartment, you'll have four large compartments, two slip pockets, and a smaller zipper pocket for your valuables.
Extra Padding: To help protect all of your most important valuables, you'll notice there is reinforced padded soft foam inside of the purse. Each of the pockets has thick padded sections and in the laptop compartment, there's special padding as well.
3. ECOSUSI Briefcase Messenger Bag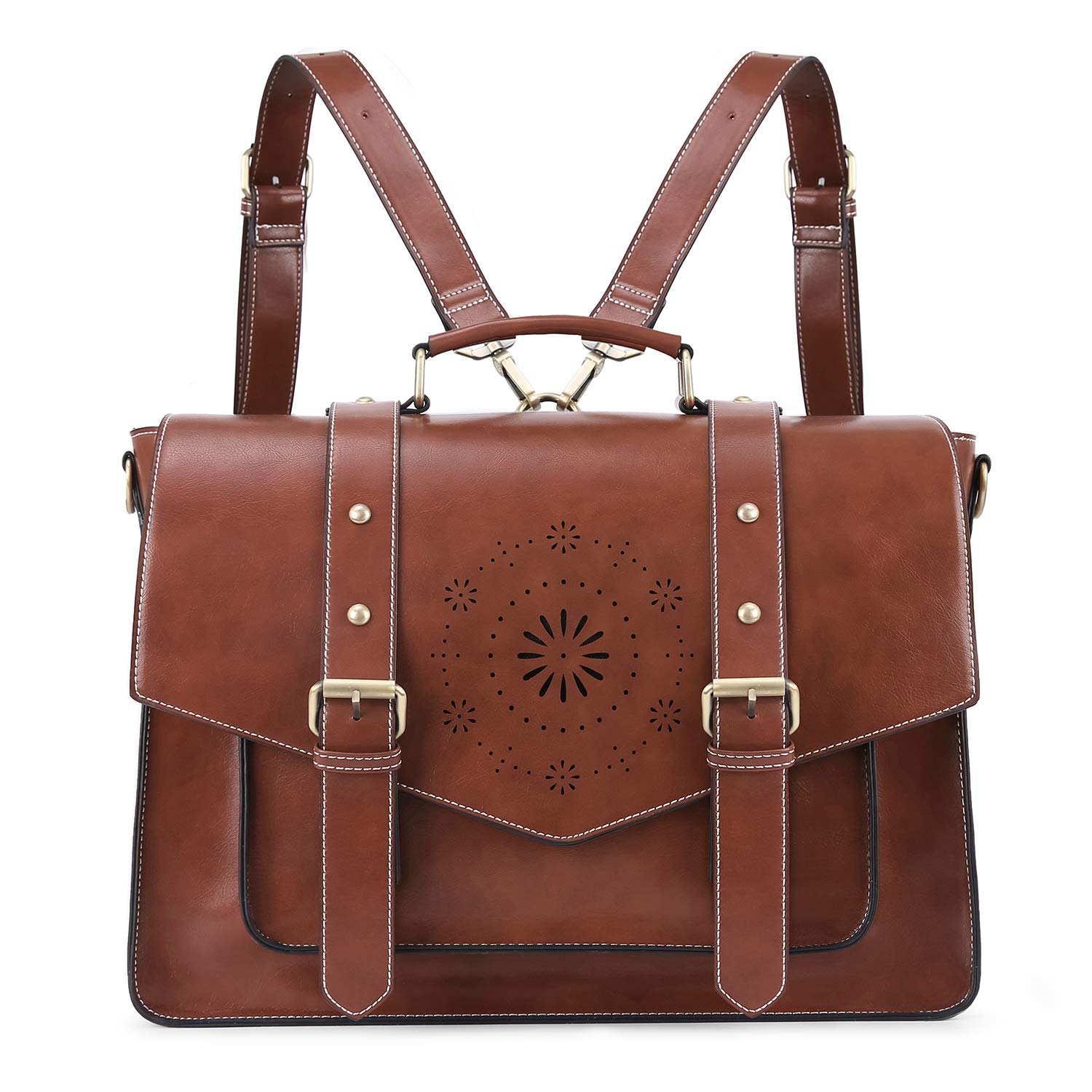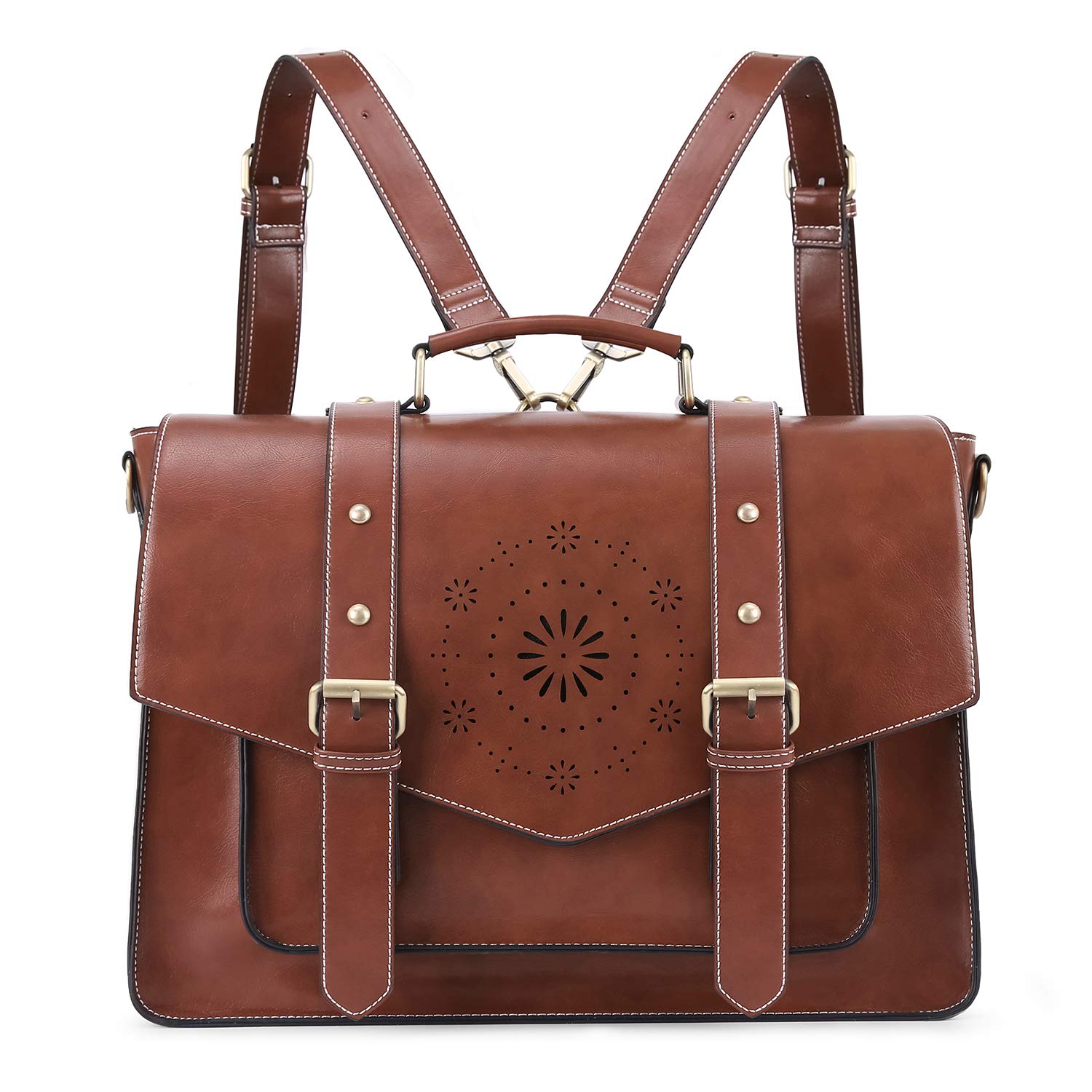 Perfect for women that are looking for a bag that they can carry in multiple ways, this messenger bag will quickly become your everyday solution. Its design is fantastic as you can use it for work, but it's also ideal for weekend excursions and everyday errands.
Our favorite features include:
Multiple Carrying Options: This is one of the most versatile bags on this list as you can carry it in many ways. Using the adjustable straps, you can use it as a backpack. You can also detach one of the shoulder straps to carry it as a shoulder bag or crossbody bag. Easily detach both straps and use it as a briefcase.
Multiple Storage Options: Inside of the bag, you'll find one zippered compartment, a padded compartment, a large A4 folder compartment, two small slip pockets, two pen slots, and an outside pocket under the main flap. The padded compartment is designed for laptops up to 15.6".
Vintage Materials: With the use of soft PU leather, the bag looks authentic and vintage. You'll also have two secure metal locks that help to offset the brown of the leather.
4. UGRACE Slim Business Laptop Backpack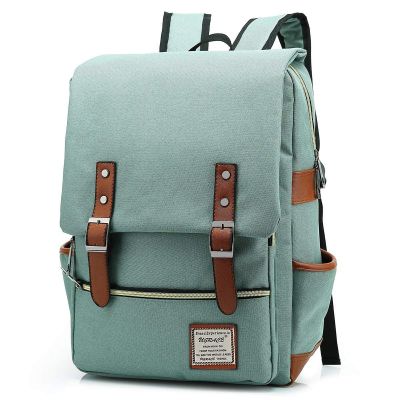 Not every woman is able to carry a messenger bag or a handbag to and from work. For example, if you bike into the office, you'll want a backpack that you can easily throw over your shoulders. This is a fantastic option for someone who needs a bag that can easily transition through all stages of life including work, school, and vacations.
The main features include:
Tear Resistant: With the help of the Oxford fabric, the exterior of the backpack is entirely tear-resistant. This will help to keep it in its best condition for as long as possible. There is also quilted lining on the inside of the bag made of polyester.
Innovative Compartments: Out of all of the other bags on this list, this backpack has the most storage with five total compartments. First, there is a main compartment with a laptop sleeve that fits laptops up to 15.6 inches. You will also have two front zipper pockets and two bottle pockets on either side of the bag for beverages and snacks.
Reinforced Lining: In all of the high-stress areas of the backpack, there is a specially reinforced lining. This helps to prevent wear and tear but is also essential for protecting all of the valuables you might have stored in the bag.
5. ZMSnow Laptop Bag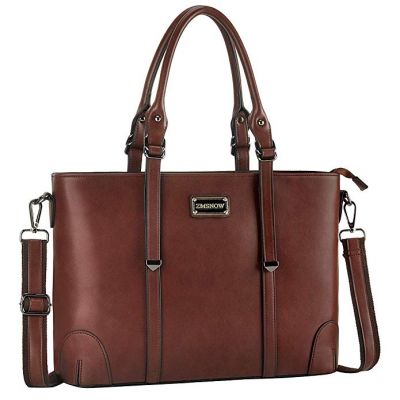 The final work bag we recommend for women is this beautiful leather laptop bag that could easily double as an everyday purse. With stunning features that will look fantastic in a professional work setting, it's surely an accessory you'll love to have on hand.
Our favorite features include:
High-Quality Materials: All of the synthetic leather used on the bag is manufactured in an eco-friendly way. You'll be giving back to the environment meanwhile looking stylish all at the same time.
Plenty of Storage: You'll easily be able to store your files, books, chargers, wallet, keys, and even a 15.6-inch laptop with the highly organized pockets in the bag. It features a single padded sleeve, one zippered pocket in the middle, and two compartments. You'll also love the two slip pockets and additional zipper pocket for any keycards or your cell phone.
When it comes time for you to choose the perfect work bag, there's plenty to think about. You'll want a bag that is functional, offers plenty of storage and helps to keep you organized.
Above all else, you'll need to choose a design that looks fantastic and makes you feel confident and comfortable every day. With one of these five bags, you'll be ready to take the workforce by storm.
Pin for later