A Great School Gift That Your Kid Will Love? Check These 10 Monogrammed Backpacks!
last updated:
Apr 29, 2019
1627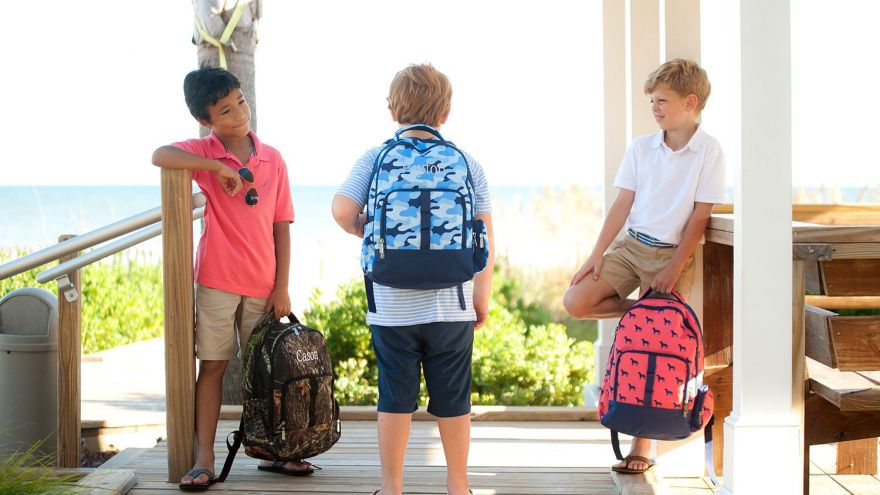 Children love backpacks, especially if they have cool and awesome designs that they can show off to their friends. Instead of relying on the same traditional styles that everyone else at school has, they can own one that they're proud of. We've found 10 of the best-monogrammed backpacks that are fully personalized for your kids.
1.Broad Bay Personalized Soccer Backpack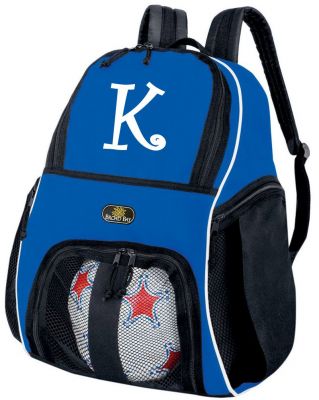 The main reason as to why we love this bag is because it's great for sports but also for everyday school activities. Additionally, you can customize the bag with the first letter of your kid's name or you can have their entire name printed on the front of the bag. Some of the most notable features of the Broad Bay Personalized Soccer Backpack include:
High-Quality Fabric: The entire backpack is built using 600 denier fabric, which is designed to last over a long period of time. No matter if your kids are particularly rowdy or if you simply want your investment to last, the high-quality fabric is very durable.
Special Storage: Apart from the normal compartments that you'd find on any bag, the Broad Bay Personalized Soccer Backpack also features a special soccer ball compartment. It won't take away from the space in the rest of the bag either, which is an added benefit.
Easy to Use: Your kids will love having access to the main pocket and two zippered side pockets. Additionally, there are padded shoulder straps, a handle on the top of the bag, and durable pull zippers.
2. Crocodile Creek Whimsical Owl Backpack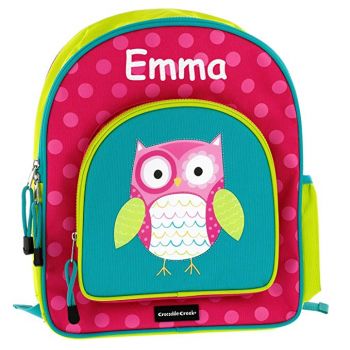 Your kids are sure to love the different designs that you can choose from with the Crocodile backpack. Not only is it able to be fully personalized, but the regular design of the bag is also quite impressive. Some of our favorite features include:
8 Different Designs: There are 8 different backpack designs to choose from ranging from robots to fairies, depending on your child's personality.
Adjustable Straps: To make the backpack far more comfortable for your kids to wear, there are two adjustable straps that can create a custom fit for the bag. These straps are also cushioned for additional comfort.
Storage Options: Apart from the main compartment of the backpack, there is also a side pocket and a front pocket for all of their school necessities.
3. Stephen Joseph Quilted Bag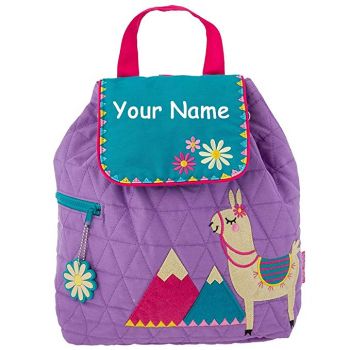 If you're in the market for a children's backpack that looks and feels unique, this is the one for you. Instead of using thick plastic for the bag, this quilted backpack is incredibly comfortable and lightweight. Not to mention you can monogram it with any name of your choosing. The best features include:
Secure Closures: The main compartment of the backpack can be sealed with a drawstring. Additionally, there is a heavy-duty metal clasp under the main flap to add an extra layer of protection.
Adjustable Straps: The straps on this backpack are adjustable similar to any other backpack. However, they use buttons to help create the perfect fit for your kids. This adds a special touch to the bag.
Special Details: You can really tell that there was special attention put into the details of this backpack. It features stitched detailing as well as a removable flower charm as an added flair.
4. Monogrammed Me Blue Contrast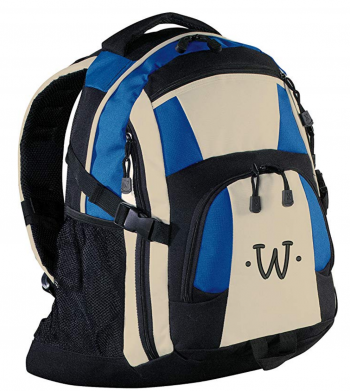 Ideal for kids who are looking for a basic backpack with everything they need, this design is sure to impress. We also love the idea of using this backpack as a sports bag, especially as it's built using durable materials. The best features are:
Ergonomic Straps: The straps on the backpack are designed to sit comfortably on your child's shoulders. They are also filled with special padding that helps to make the straps ergonomic.
Ergonomic Back: The back of the bag is also filled with padding. This helps to take a lot of the pressure out of your child's back so they don't experience fatigue and muscle soreness.
Plenty of Storage: The storage options are the most impressive. It has an interior panel used for organization, a water bottle holder on the side of the back, and an exterior pocket.
5. Threadart Athletic Backpack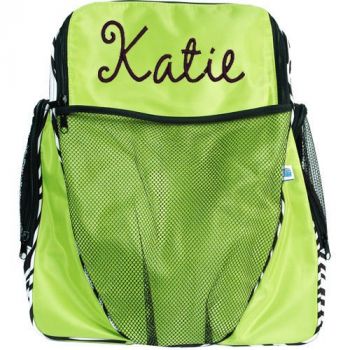 As another option that your kids will put to good use, the Threadart backpack looks amazing. With its unique design, your kids are sure to be impressed and will be proud to show off their brand new backpack. The most notable features include:
Microfiber and Polyester: The backpack is constructed using soft microfiber with a polyester lining. Not only does this help to offer some weatherproofing, but it also makes the bag lighter and easier to carry.
Large Pockets: There are two large main pockets on this bag. The pocket on the front easily fits a size "3" soccer ball and the main compartment does as well. There are also 2 mesh side pockets on the bag for school or sports accessories.
Padded Components: Both the straps and the back of the bag are padded, so your kids will always feel comfortable while carrying their school supplies.
6. District Retro Backpack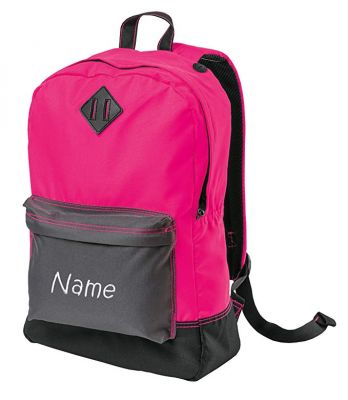 If your kids have been looking for a trendy option, this is one of the best designs to choose. The District Retro Backpack emulates more expensive backpack brands but still offers the versatility your kids need. Your soon-to-be favorite features of the District backpack include:
Media Port: The media port is easily our favorite part of the backpack. It's located at the top of the main compartment and gives your kids the ability to run their headphones through their bag. This is a fantastic addition, as they won't have to expose their MP3 player or phone while at school.
Three Main Pockets: There are three main storage options in the backpack. First, you have the main compartment and second, there is the front zippered pocket. Additionally, there is an interior elastic pouch for additional organization.
Padded Straps: The shoulder straps on the backpack are padded, similar to most other models. They help to make the bag easier to carry, especially with larger textbooks.
7. Stephen Joseph Sidekick Shark Backpack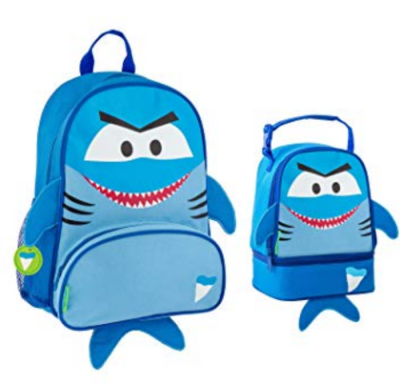 Designed with smaller kids in mind, this backpack makes it easier for your younger children to bring their favorite toys and items to school. The shark character on the front of the backpack is unique and cool enough to where your kids will love their bag. Some of our other favorite features of the Stephen Joseph backpack include:
Cushioned Straps: The straps on the bag are fully cushioned and they are also fully adjustable.
Mesh Pockets: There are two side mesh pockets that can easily be used for water bottles and snacks.
100% Polyester: You can easily keep the backpack clean, as it's made of 100% polyester and is quite easy to wipe down at the end of the day.
8. Monogrammed Me Two-Pocket Backpack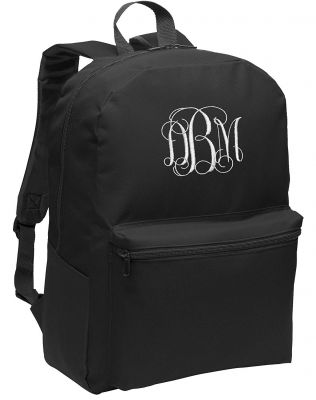 We love the idea of this backpack for teens or even for yourself. Its traditional black design is quite modern and the contrast of the monogram really helps to set it apart from other styles. The most notable features of the Monogrammed Me Two-Pocket Backpack include:
Ergonomic Straps: The straps on the backpack are designed to be ergonomic and lightly padded. It's one of the best features of the bag.
Three Storage Solutions: Aside from the large main pocket, you'll also have access to a reasonably sized front pocket and an interior pouch made of elastic.
9.Stephen Joseph Sidekick Owl Backpack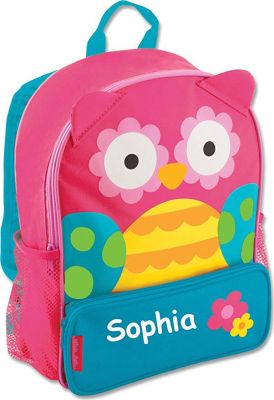 As another bag from the fantastic designer, Stephen Joseph, the Sidekick Owl option is built with premium attention to detail. We love the idea of using this bag for school, but also as an overnight bag. T
Mesh Side Pockets: There are two easily accessible side pockets on the backpack that your kids will absolutely love.
Cushioned Straps: The straps are both adjustable and cushioned, similar to other high-quality backpacks.
10. WK Personalized Sidekick Bag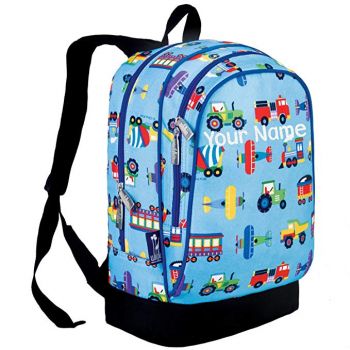 Perfect for children who have a passion for planes, trains, and trucks, the WK Personalized Sidekick Backpack features an iconic print they'll love. It's one of the more expensive backpacks on this list, but it's well worth the investment.
Padded Features: Not only are the shoulder straps on the bag padded, but the back of the back also has light padding.
Sturdy Design: You'll notice just how sturdily the backpack is once you use it for the first time. It's one of the best bags on the market because it's built to last.
Finding the perfect bag is easier than you think! All you need to do is find a design your kids will love, personalize it with a monogram, and let them use it to their heart's content!
Pin for later