The Most Original Wedding Table Number Ideas!
last updated:
Oct 29, 2018
2785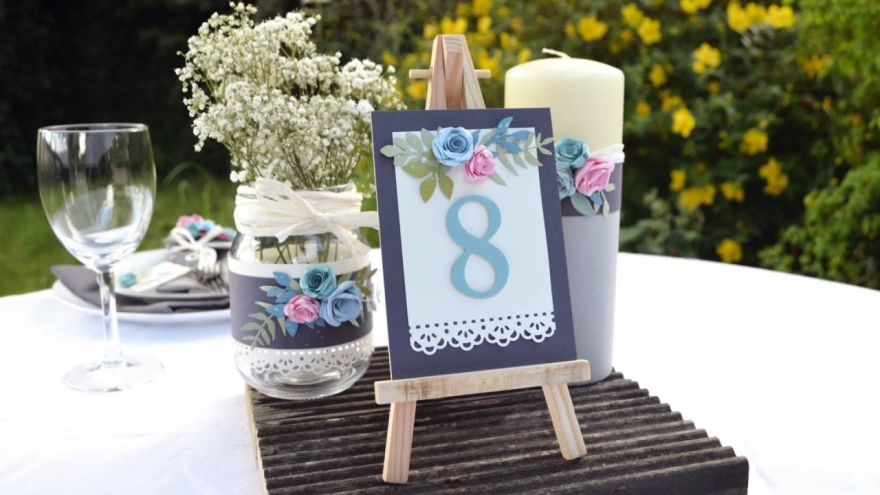 One thing that we love the most about wedding season is seeing all of the new and interesting trends that brides and grooms like to bring into their special day. When it comes to setting the tables for your wedding, it can be quite a chore, especially if you're someone who is particularly picky with aesthetics. Instead of relying on the generic table numbers that your convention center or caterer has on hand, why not try out some of these original number ideas that will really bring the entire look of your wedding together?
Calligraphy Wooden Table Numbers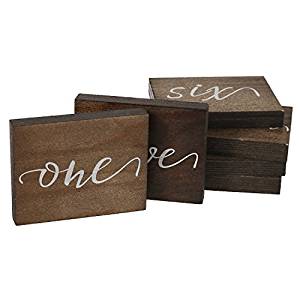 What's better than combining the functionality of table numbers with something that is a little more elegant than traditional printed paper? These Calligraphy Wooden Table Numbers take table décor to a whole new level as they are the perfect combination of rustic beauty and modern elegance, making them perfect for outdoor weddings and indoor events with a touch of the outdoors.
What we love the most about the Calligraphy Wooden Table Numbers is that you get 15 for a very reasonable price and they are crafted out of 3.15" x 3.92" pieces of hickory wood with beautiful calligraphy-inspired table numbers. They'll easily tie everything together and give your guests something to talk about.
Wooden Table Numbers on Sticks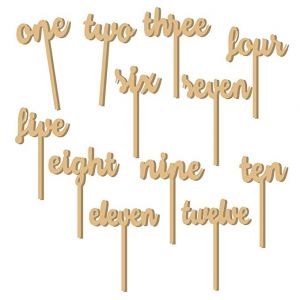 Are you the type of bride or groom who is looking for a DIY project that adds a little bit of flair to your special day? We especially love these Wooden Table Numbers on Sticks because they give you the ability to fully customize your table numbers without being too cheesy or over the top. They are carved out of wood and are left blank, giving you the ability to paint or decorate them as you see fit, and we already have plenty of ideas that you can use to dress them up. For example, if you're focusing on a lot of bling for your big day, why not completely cover the table numbers in a coordinating glitter?
What you'll find very useful about the Wooden Table Numbers on Sticks is that they're completely reusable, meaning that they can stay in the family or you can sell them. They're also easy to work with, as the sticks give you the ability to place the numbers in pots, vases, or other number holders that you might have on the tables.
Rustic Wood Table Number Holders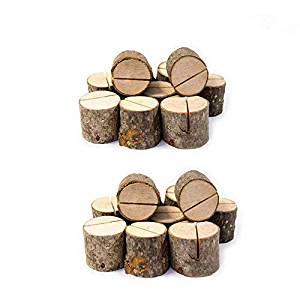 We know that this isn't a specific table number item, however, we had to mention these Rustic Wood Table Number Holders, as they're perfect for a woodsy and bohemian wedding that is looking for a little touch of earthy glam on the tables. With the Rustic Wood Table Number Holders, you have the ability to choose the type of table numbers you want to have displayed, whether you print them out on your own or if you have your invitation designer create them for you.
Their overall aesthetic is what sets them apart from traditional table numbers, as it's the ideal combination of an ethereal setting and youthfulness on your special day.
Hexagon Wood Table Numbers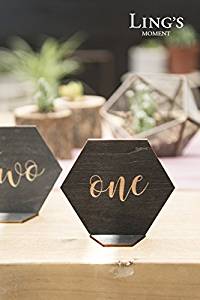 Similar to the other wood table numbers on this list, the Hexagon Wood Table Numbers are very unique and offer a stunning appeal that you're not likely to find elsewhere, especially if you're someone who has an affinity for geometric shapes. The hexagonal shapes of the table numbers are stunning and modern, but what we love the most about the table numbers is the fact that the numbering is carved into the wood, rather than written on. We also love how the numbers are double-sided, so the laser calligraphy is easily viewable no matter where you are standing.
Just like the other wood table numbers, you can get 15 of them in a set and they're still very affordable, especially as they are carved using a laser and not simply painted, which you would be able to do at home.
Antique Copper Key Table Numbers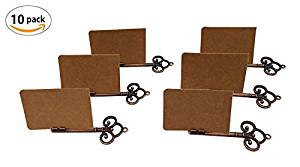 There's nothing that screams vintage more than having your own set of skeleton keys that play off of the romanticism of your entire wedding. In fact, we'd argue that these Antique Copper Key Table Numbers are the most unique and memorable number holders on this entire list because they are designed with every bride and groom in mind. Available in a pack of 10, you'll receive individual bronze keys that easily hold place cards of your choosing and sit delicately on the table. Even if you're not doing table numbers and you want to make individual place settings, they are a phenomenal gift to give to your guests that they can proudly display in their homes.
Table Number Wine Bottle Stickers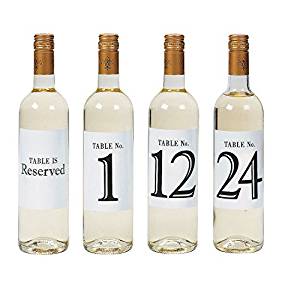 Ideal for the couple that is looking to throw a more cost-effective wedding where all of the items serve more than one purpose, you'll fall head over heels for these Table Number Wine Bottle Stickers. Not only are they stunning, but they are also a great way to save space on your tables meanwhile making sure your guests have plenty of beverages to enjoy throughout the night. The best part is that you have full control over customizing the labels, which gives you plenty of opportunities in terms of adding another décor piece to the table.
Similar to the bronze keys, you can also allow your guests to bring the empty bottles home if they're looking for a memento from your special day, or you can use one to display in your wine cabinet at home.
Final Thoughts
Getting creative with weddings is a big part of the big day, as you're going to want plenty of accents that speak to the character of you and your soon to be spouse. Instead of relying on the generic items that you'd see at nearly anyone's wedding, it's time to bring out your creativity and personality with the help of these stunning table number ideas.
No matter if you're looking for something a little more personalized, such as the wine bottle table numbers or if you're looking for something more elegant, such as the laser carved wood table numbers, there are plenty of options for every newlywed couple.
Pin for later