The Best Travel Pillows That Will Have You Fall Asleep Like a Baby
last updated:
Sep 18, 2018
1032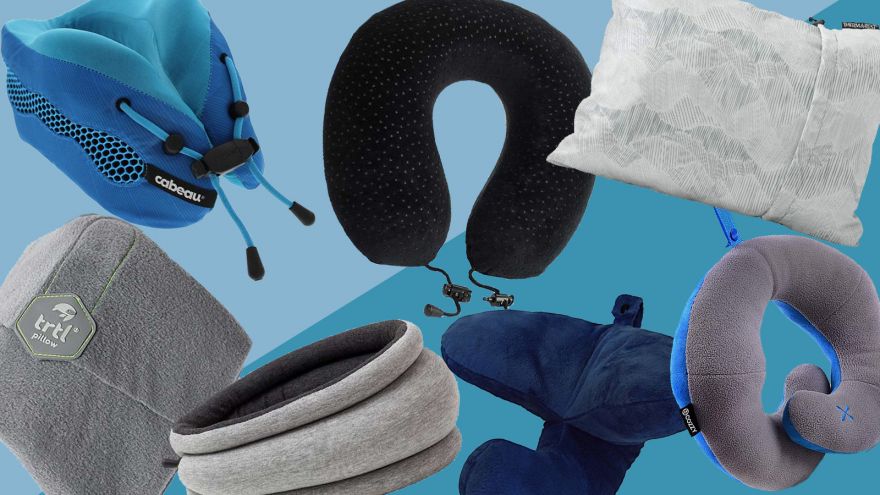 There are plenty of things you'll have to prepare for when you head out on your vacation, however, your comfort while flying is of the utmost importance. With the help of the right travel pillow, you won't have to worry about trying to find an awkward position while trying to fall asleep. Instead, the pillow will give you more than enough support no matter if you're in a car, on a plane, or on a train!
We've collected the top four travel pillows that will not only give you support, but that can also easily be packed in your carry-on so you can feel comfortable for the duration of your trip.
1. Everlasting Comfort Memory Foam Neck Pillow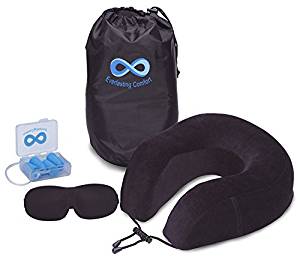 Imagine having the ability to feel like your head is floating on a cloud, even if you're stuck in the middle seat on an airplane. The Everlasting Comfort Memory Foam Neck Pillow comes with plenty of phenomenal features that makes it one of the best travel pillows that you can get your hands on, including:
Pure memory foam: The entire travel pillow is constructed out of 100% pure memory foam without any additional types of filler material. You'll also appreciate the velour material encasing the pillow which only adds extra comfort for adults and children alike.
Ergonomic design: You'll surely appreciate the amount of support your neck will have, as this pillow is designed for you to comfortably lean your head against the pillow yet still have the ergonomic support you need.
Integrated cell phone pocket: There is an elastic added to the outside of the pillow where you can store your cell phone during your trip, giving you the ability to listen to your music without having cords draped around your entire body.
Complete set: Not only will you receive the pillow itself with this neck pillow, but you'll also receive memory foam earplugs, a padded sleep mask, and a protective bag to keep all of your items in.
2. Chin Support Pillow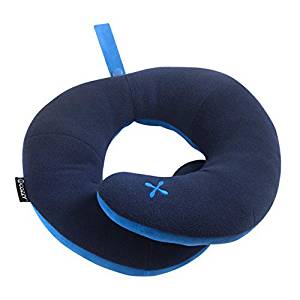 As another great travel pillow to get your hands on, the BCOZZY pPillow is also packed with a variety of features that you're sure to put to good use. If you only want one pillow rather than having to deal with an entire set of items for your trip, this could very well be the perfect solution. Also, you can either purchase a single pillow or two in an assortment of colors, depending on how many travelers you have going with you.
Integrated chin support: It is one of the only pillows on the market that is specifically designed to prevent your head from falling forward when you go to sleep.
Ergonomic design: The entire pillow is completely maneuverable to meet your every need and to ensure that your neck has more than enough support to stay comfortable during your trip.
Two sizes: Even though it is great for adults and children, it's important to note that there is an adult size and a child size, as smaller necks require more support than larger ones.
Machine washable: Instead of having to remove your pillow's filling or spot treating stains, the entire pillow is machine washable, making it easier to have a clean and reliable pillow to use for your travels.
3. ComfyDown Travel Pillow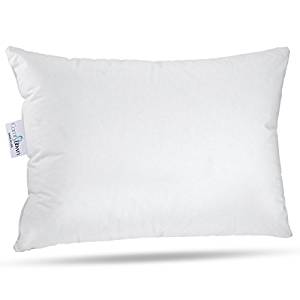 Not a fan of traditional neck pillows? Not to worry, as the ComfyDown Travel Pillow offers the shape of a traditional pillow but in a far more compact design that is easy to bring with you on car rides, planes, and to even use at home. As a 100% hypoallergenic pillow, you can guarantee that sleeping in vehicles has never been more comfortable.
Some of the most notable features include:
Customized fill: If you have a particular amount of fill that you prefer your pillows to have, you can easily customize the amount of padding free of charge when you place your order.
100% European goose down: Manufactured using 100% European goose down, the pillow is 100% hypoallergenic and free of odors. It also is encased in a 233-thread count Egyptian cotton case so even if you don't use a pillowcase, you'll have an incredibly soft material to rest your head on.
Ergonomic details: You might assume that because the ComfyDown Travel Pillow isn't designed like most other neck pillows, it won't have as much support, but you would be quite wrong. Not only are there smooth down seams, but you'll also have the perfect amount of firmness to support your neck, as well as other parts of your body such as your back.
4. Trtl Pillow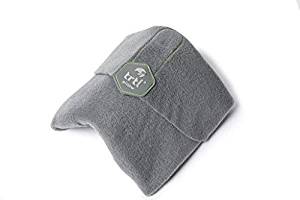 At first glance, the Trtl Pillow looks quite different than your idea of what a regular travel pillow would be, however, it offers an insurmountable amount of benefits that you'll use to your advantage for every trip. In fact, its entire design has been scientifically proven to hold your head in the best position possible for long journeys.
Some of the most interesting features of the Trtl Pillow include:
Hidden internal support: All of the support from the pillow is hidden within the filling to ensure your head and neck head are held in an ergonomic position while resting, this includes preventing your head from falling forward and nodding.
Soft fleece case: The incredibly soft fleece on the outside of the pillow is another feature that adds to its comfort and you can choose from coral, black, red, and grey fleece depending on your personal preferences.
Final Thoughts
When it comes to choosing a travel pillow, there are plenty of things to take into consideration ranging from comfort to reliability. All four models on this list have been tested and proven to be the best travel pillows for planes, car rides, and even resting your head at home. Not to mention they're all affordable, easy to pack in your carry-on, and adaptable for both adults and children!
Pin for later