This product is listed here: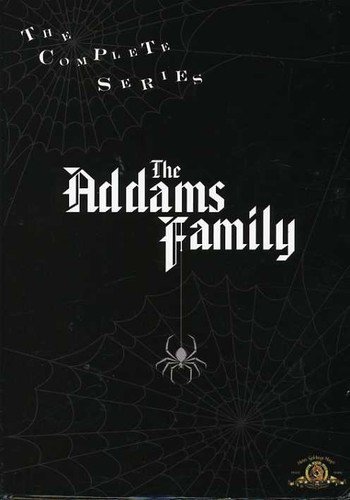 The Addams Family – The Complete Series
Who doesn't remember Gomez and Morticia and their lovely, if slightly creepy, family? One of the most beloved series of the 60s, the Addams Family was an American staple from 1964 to 1966.
The Addams Family, Gomez, Morticia, Pugsley, Wednesday, Uncle Fester and all of the rest were an integral part of family television watching in the 60s. From "Thing" who was a strangely superb household receptionist to the ever faithful and ever silent butler Lurch and crazy Uncle Fester, the characters from this memorable show stick with us and are just as captivating today as they were then. They have lost none of their kookiness or charm.
Detailed information about The Addams Family – The Complete Series
This television sitcom from the 60s portrayed an extremely strange family, that was as loving, passionate and functional as it was unnatural. From Uncle Fester being able to light up light bulbs by simply putting them in his mouth, to the Gomez's love of tortuous living room designer pieces like an Iron Maiden, nothing about this family was typical. Their daughter Wednesday's macabre mourning attire and her headless Marie Antionette doll simply added to this family's creepy mystique and appeal.
And who could forget the lovable furball Cousin Itt? Even though this family was extremely different by "normal" human standards, their love for adventure and for each other made them one of the most "functional" families on television.
WHY WE LIKE IT?
The complete series in an attractive two-volume box set
Available on double-sided DVDs
Unedited versions of the beloved 1960s era family show
WHY WE dont LIKE IT?
None
What we love about this product
In this box set you will receive 9 discs with all 64 episodes of unedited programs that are sure to bring back a certain nostalgia for a simpler and more carefree time.