Super Flavorful Protein Meals You Can Whip Up in Less Than 30 Mins!
last updated:
May 30, 2019
1594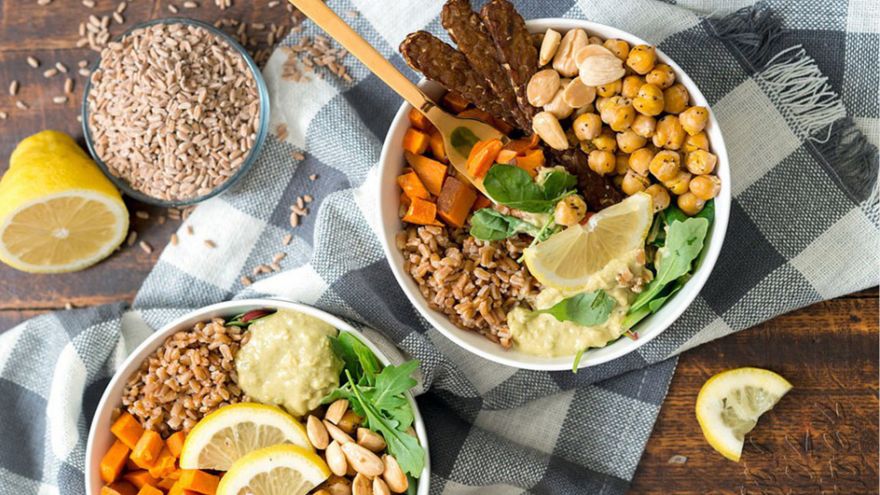 Protein is essential to many vital parts of our bodies. Not only does it help to build healthy and lean muscle, but it also gives us energy and helps our muscles to repair after a workout. With a protein-packed meal, you have the ability to build the best body possible, though it's important to remember that your meals should still be nutritious and delicious.
Here are five of our favorite super flavorful protein meals that you can make in less than 30 minutes, making them perfect for any meal of the day.
1. Bruschetta Burgers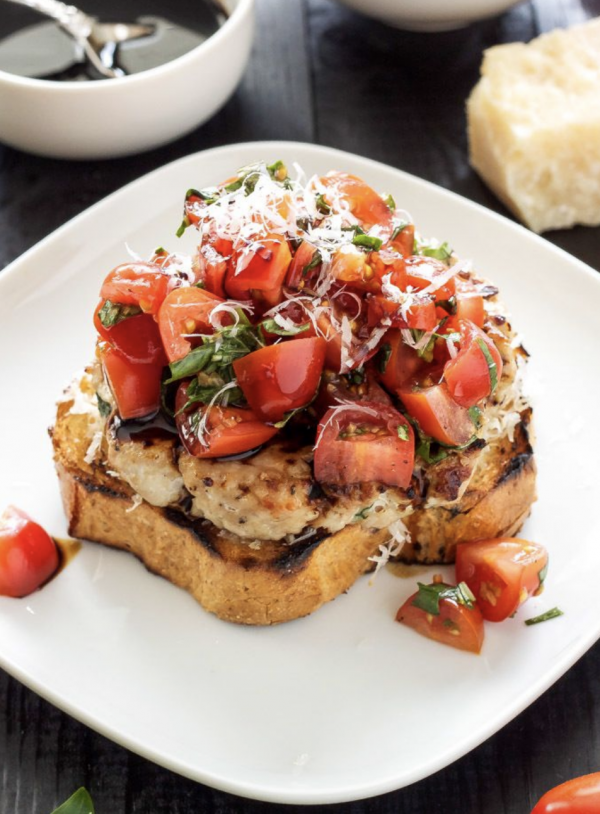 Bruschetta burgers are a combination of everything that we love about summer. Amazing meat, delicious and refreshing ingredients, and perfectly grilled bread.
Ingredients
1 pound of 90% lean ground sirloin
½ teaspoon of kosher salt, divided
½ teaspoon of black pepper, divided
1 ounce of part-skim mozzarella cheese, shredded
1 tablespoon of extra virgin olive oil, divided
8 slices of Italian bread
Cooking spray
2 cloves of garlic, divided
1 cup of diced tomato
¼ cup of chopped basil
Directions
✓ Taking your beef, divide it into 4 equal parts and then shape them into patties of your desired size. Make sure each patty is about a ¼ inch thick and sprinkle with a ¼ teaspoon of your pepper and ¼ teaspoon of your salt.
✓ Heating a large skillet over medium heat, add in 2 teaspoons of oil and then place your patties in the man, cooking each for 2 minutes. Flip the patties and top them with the mozzarella cheese, cooking for another 2 minutes. You can then remove the patties from the pan.
✓ Using your cooking spray, evenly coat your pieces of bread and cut the garlic clove in half, rubbing both sides of the bread with the clove.
✓ Mince the rest of the garlic clove and combine it with the remaining pepper, oil, salt. Then add in the tomato and basil, tossing all of the ingredients until they are coated.
✓ Take your patties and top each of the bread slices with one. You can then divide the tomato mixture across the patties and finish the burgers with the remaining 4 pieces of bread.
Full recipe: MyRecipes
2. Salmon, Kale, and Beet Salad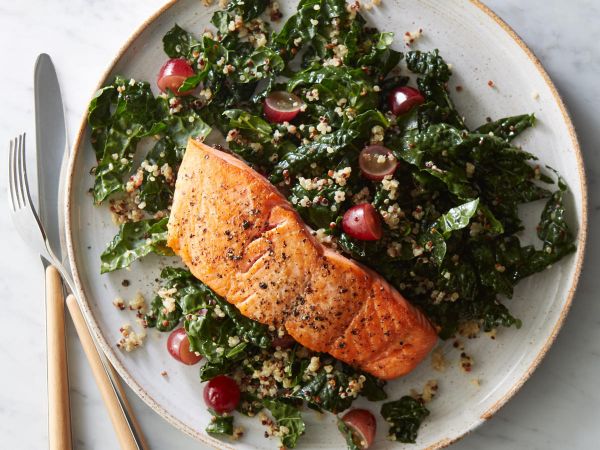 If you're not particularly interested in a red meat dish, we love this alternative, as salmon is the main protein you'll be eating.
Ingredients
2/3 cup plus 2 tablespoons of apple cider vinegar, divided
½ cup of water
1 tablespoon of honey
1 cup of red onion, sliced
2 tablespoons of olive oil
4 medium golden beets
1 teaspoon of Dijon mustard
¼ teaspoon of kosher salt
6 cups of curly kale
¼ teaspoon of black pepper
2 cans of pink and boneless salmon
¼ cup of sliced almonds
Directions
✓ Using a small saucepan, bring the water, 2 teaspoons of honey, and 2/3 cup of apple cider vinegar to a boil. Once boiling, add in the onion and boil for 1 minute. Allow the mixture to sit for 10 minutes and then drain.
✓ Taking a knife, pierce small holes in your beets and wrap them in microwave-safe parchment paper. Microwave at "High" for 7 minutes or until they are tender. Once finished, use a paper towel to rub off the skin and cut the beets into wedges.
✓ Combine the rest of the vinegar, honey, Dijon mustard, pepper, salt, and oil into a bowl. Add in the beets and kale, tossing the ingredients. Once finished, divide the kale evenly across 4 plates.
✓ Once the kale is divided, top each plate with even amounts of salmon, the onion mixture, and 1 tablespoon of almonds.
Full recipe: MyRecipes
3. Tuna Quinoa Protein Bowl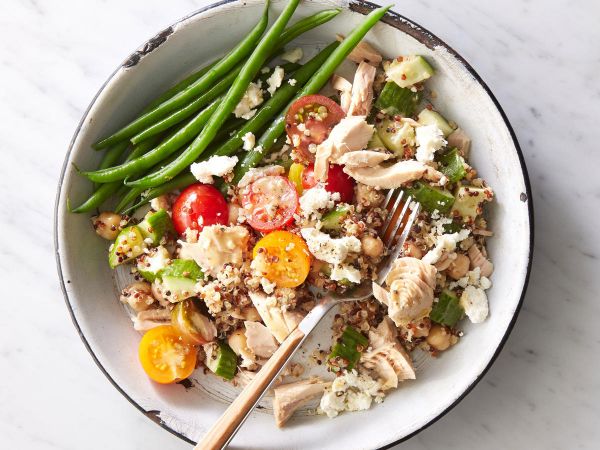 Protein bowls are incredibly popular because they contain plenty of healthy ingredients in one meal.
Ingredients
1 teaspoon of red wine vinegar
2 teaspoons of extra-virgin olive oil
½ teaspoon of lemon juice
½ teaspoon of Dijon mustard
Dash of pepper
Dash of salt
½ cup of cooked quinoa
¼ cup of chopped cucumber
¼ cup of canned chickpeas, unsalted, rinsed and drained
5 cherry tomatoes, halved
1 tablespoon of feta
1 pouch of solid white tuna
Directions
✓ Combine the first six ingredients together in a bowl, stirring everything together using a whisk. This will become your dressing.
✓ Add in the quinoa and the remaining ingredients, mixing them together with a fork. You can then drizzle the dressing on top of the mixture and your meal is ready to eat.
Full recipe: CookingLight
4. Garlic Shrimp and Miso Dressing Soba Noodle Bowl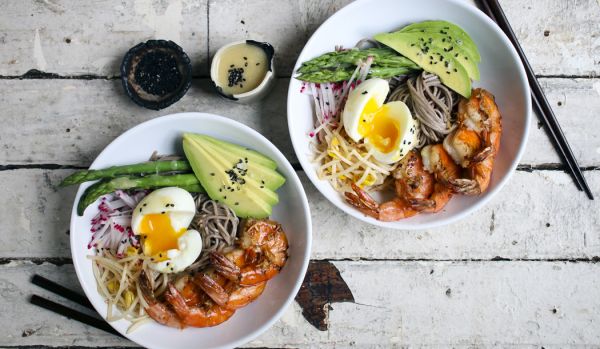 There's nothing quite like this fresh and flavorful meal to make the perfect lunch or dinner. The best part is it's prepared in less time than you'd think.
Ingredients
Sprouts
2 ½ cups of soybean sprouts
2 teaspoons of rice wine vinegar
1 ½ tablespoons of sesame oil
½ teaspoon of salt
Dressing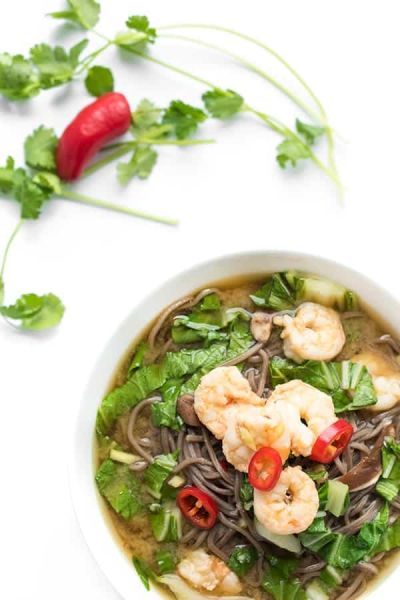 ¼ cup plus 1 tablespoon of white miso paste
¼ cup of rice wine vinegar
2 cloves of garlic, minced
2 tablespoons of grated ginger
1 tablespoon of mirin
2 tablespoons of fresh lime juice
¼ teaspoon of salt
2 tablespoons of sesame oil
1/3 cup of grapeseed oil
Eggs
Noodles
5 oz package of soba noodles
Shrimp
¾ pound of deveined precooked shrimp
2 tablespoons of olive oil
Salt
2 tablespoons of unsalted butter
2 cloves of garlic, minced
Bowls
12 steamed asparagus spears
2 radishes, julienned
1 avocado, sliced
Black sesame seeds
Maldon sea salt
Directions
✓ Season your sprouts with all of the sprout ingredients, tossing the mixture together and refrigerating for 10 minutes.
✓ Combine the dressing ingredients using a whisk and add in the oils until the dressing is emulsified. Set this mixture in the fridge as well.
✓ Bring a pot of water to a boil and prepare an ice bath in a bowl of your choosing.
✓ Make a small hole at each end of your eggs and place them in the boiling water for 6 minutes. Once finished, remove from the hot water and put the eggs in the ice bath for 4 minutes, peeling the shells.
✓ Bring a second large pot of water to a bowl and add in the soba noodles, cooking for approximately 4 minutes. Drain the noodles and rinse with cold water, transferring them to a large bowl. Add in the miso dressing and set the mixture aside.
✓ Season the shrimp with salt while heating olive oil and butter in a skillet over medium heat. Sear the shrimp for 1 to 2 minutes on each side, removing them and placing them on a plate.
✓ Turn the heat down on the pan and add in the garlic, sautéing for 30 seconds. Pour the mixture on top of the shrimp.
✓ Place your noodles in the bowl first, arrange all of the fresh ingredients, shrimp, and eggs on top of the noodles. Drizzle the dressing on top and finish with sesame seeds and sea salt.
Full recipe: FoodNetwork
5. Balsamic Roast Pork Tenderloin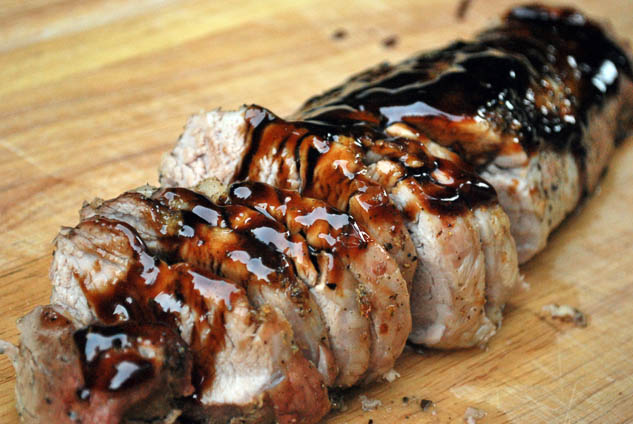 There isn't much need to get fancy when it comes to protein-rich meals. This pork tenderloin recipe is sure to be a fan favorite.
Ingredients
4 ½ lb. pork tenderloins
4 tablespoons of balsamic vinegar
4 tablespoons of extra virgin olive oil
Steak seasoning
8 cloves of garlic, cracked
4 sprigs of rosemary, finely chopped
4 sprigs of thyme, finely chopped
Directions
✓ Preheat your oven to 500 degrees F. Trim the connective tissues from the tenderloins.
✓ Put the tenderloins on a cookie sheet with a rim and coat with a few tablespoons of balsamic vinegar, rubbing it into the meat. You can then use the olive oil to drizzle enough to coat the entirety of the meat. Taking a knife, cut slits into the pork and stuff the cracked cloves in the slits.
✓ Using a small bowl, combine the steak seasoning, thyme, and rosemary together and rub the pork with the seasoning blend.
✓ Roast the meat for 20 minutes, allow to rest before cutting and serving.
Full recipe: FoodNetwork
Pin for later