5 Get Well Soup Recipes to Lift the Spirits When in Need
last updated:
Apr 09, 2019
1769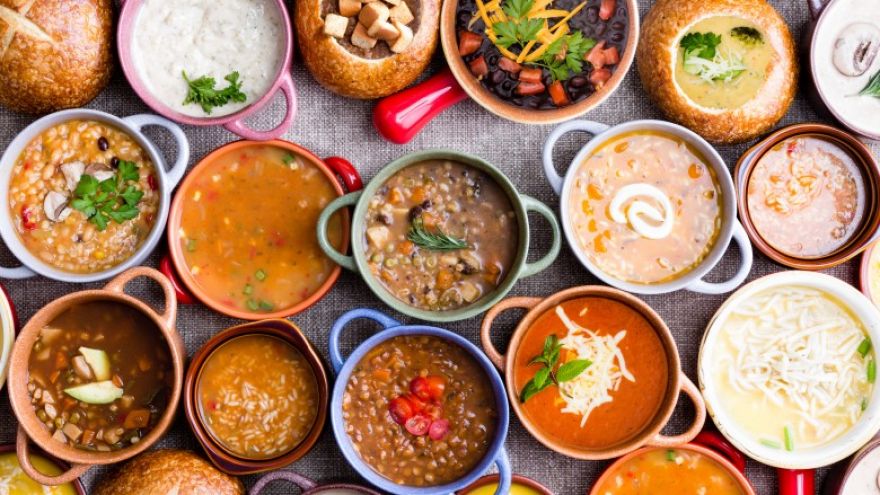 Whether you're feeling down emotionally or physically, sometimes the best thing you can do is cozy up in bed or on your couch with a nice bowl of soup. It's warm, it's comforting, and it's good for you! In truth, as the weather continues to cool off, soup is a favorite go-to dinner option no matter what the situation is. But it is especially helpful if you need to lift your spirits!
No matter what is currently ailing you, we are here to tell you that the right bowl of soup may just make you feel better. Seriously! There are tons of get well soup recipes out there, all focused on improving your physical and mental health.
We have come up with our top 5 picks for the best get well soup recipes and are going to share them with you now. Whether you make it yourself, or have someone make it for you, you are sure to be feeling better in no time!
1. Cold-Busting Ginger Chicken Noodle Soup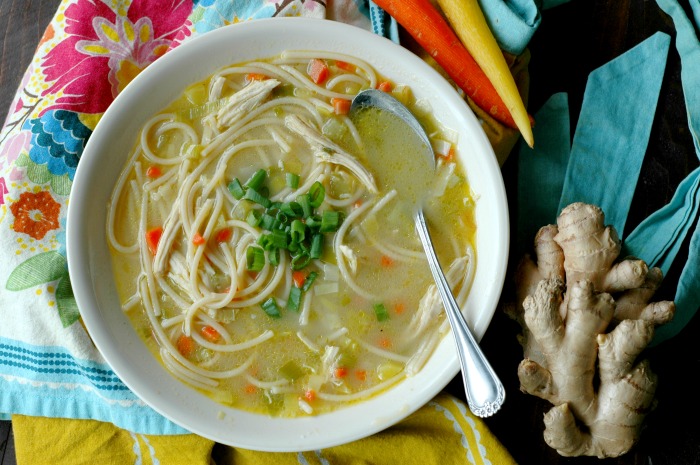 First on our list is a healthy, cold fighting take on the classic chicken noodle soup. When you think of soup to cheer you up, chicken noodle is probably what pops in your head first. And with good reason! Delicious, warm, but easy on the stomach, this soup is perfect for helping just about anything.
By adding in ginger to this recipe you are boosting this soup's ability to blast away a cold or similar illness. The ginger will help to calm an upset stomach and the soup in general is healthy and packed with vegetables that will help boost your strength and help you get back to feeling like yourself again!
If you like sticking with the classics, this is a great recipe to try. Don't be afraid to switch it up just a little with the ginger, it will taste great and make you feel great!
Get the full recipe here.
2. Quick Homemade Ramen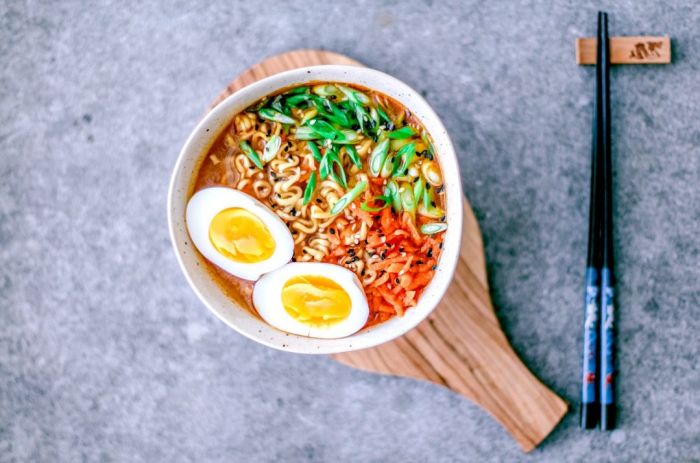 Good ole ramen noodles- the food choice of all college students! Cheap to buy at the store, it also always tasted surprisingly good, especially on a chilly evening. No matter how old you are, sometimes it can be hard to resist the delicious noodle soup packets. This is a classic comfort food, but did you know that you can also easily make it yourself?
Typical ramen you buy in blocks from the store is usually loaded with sodium. However, you can easily change that by making your own! To make this truly quick and easy you can use the prepackaged noodle, but make your own broth and include some vegetables to make this more of a healthier soup. Healthier, but equally delicious and comforting!
The word quick is right there in the title, perfect if you aren't feeling well and don't want to spend hours in the kitchen. See the full recipe here.
3. Immunity Soup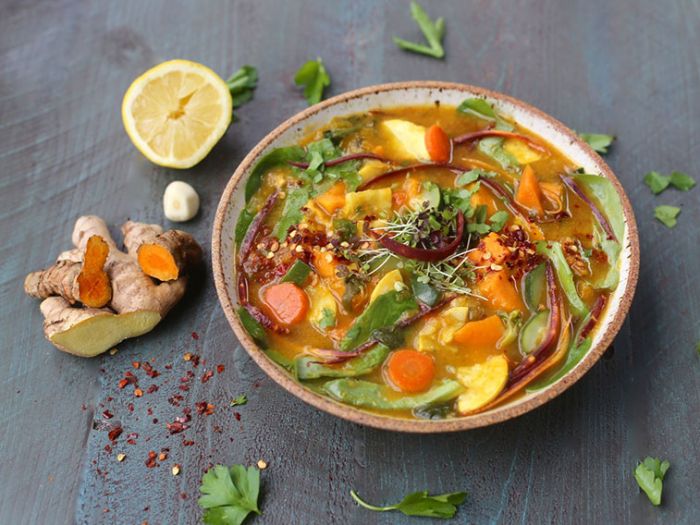 Looking for an immunity boost? Then you certainly can't go wrong with this soup – the word immunity is right there in the title! If you feel like you've got a cold coming on, or if you simply want to stay healthy and avoid getting sick, this comforting soup is a great option to try out. It is incredibly healthy, but also incredibly delicious! With ingredients like onion, celery, carrots, mushrooms, and kale, this soup is filled with flavor as well as all sorts of vitamins and nutrients that will keep you healthy all the way through flu season.
This soup recipe is similar to traditional chicken, but instead of using noodles, there are chickpeas instead. For a delicious, unique spin on a classic recipe, you need to try this immunity soup. Get the full recipe here.
4. Ginger, Turmeric Spiced Spring Carrot Soup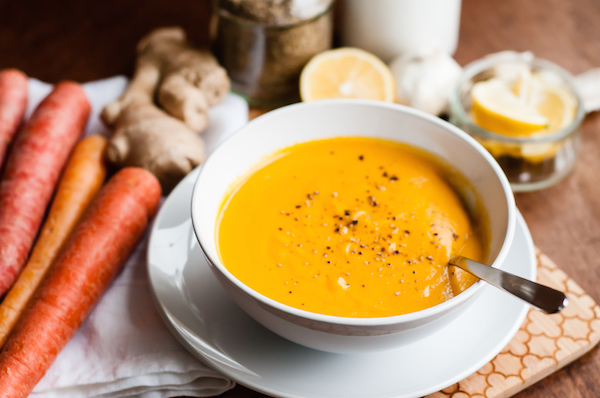 Do you prefer creamy soups over more broth based soups? If so- this carrot soup is the perfect one to try out when you need a little spirit lifter! Packed full of flavor, this soup relies on healthy spices like ginger and turmeric which are proven to help ward off illness, reduce stomach pain, and even reduce inflammation! This is a great soup if you need something warm and comforting to deal with an upset stomach, or if you're simply feeling down.
We also love the warm yellow color of this soup and that alone can do a lot to brighten up your day – literally and figuratively! Best of all, this is another guilt free soup to enjoy as the soup gets its creamy appearance simply by pureeing carrots with other healthy, delicious ingredients! To add some creaminess you can consider adding a bit of something like greek yogurt, or even coconut milk. You can eat this hot or cold, but served hot is how you will best like it during cooler months!
Interested in trying this soup out? Believe it or not it is pretty easy to make. Get the full recipe here.
5. Miso Soup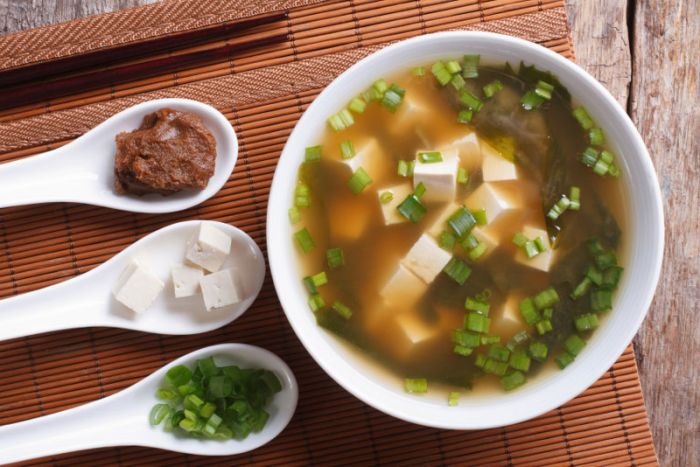 Finally, this classic Japanese soup is a great option if you want something comforting and easy on the stomach. Best of all, it is also easy to make and doesn't have a lot of ingredients! If you want to whip something up in a hurry but want plenty of flavor, miso soup is something you should try out. You can typically find the ingredients you will need at most grocery stores that have an international aisle.
Best of all, this is a soup that you can also customize a bit to your personal taste, and even to what you currently have sitting in your fridge! Want to add in some more vegetables? Go for it! Put in your spinach, carrots, even potatoes if you've got them! You can make it your own, or follow the easy recipe. Either way, the result will be delicious!
Give miso soup a try! Find the full recipe here.
Wrapping Up
The next time you are feeling a little under the weather, why not try one of these soup recipes? Packed with healthy ingredients, they are just as good for you as they will make you feel! Guilt free, these soups are great choices to eat on all fall and winter long, and are sure to lift your spirits whenever you need it!
Which soup recipe sounds best to you? What was your go-to soup option as a kid? Let us know!
Pin for later