Dinner Ideas for Two You Can Make in Less than 30 Minutes
last updated:
Aug 22, 2018
1553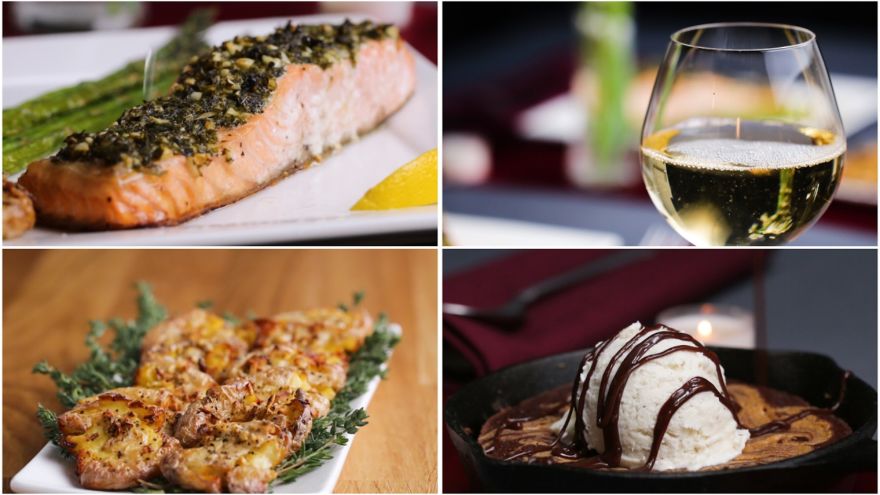 It's guaranteed that is most people realized that planning a romantic dinner date could take less than an hour, there would be far more couples enjoying meals together at home. Luckily, with the help of these phenomenal recipes, you'll be well on your way to cooking a high-class dinner for you and your significant other (or friend) in less than 30 minutes.
All you'll need is the ingredients, the right cookware, and someone who is interested in trying some of the most delectable dishes that look like they took hours.
1. Greek Corn Salad and Grilled Steak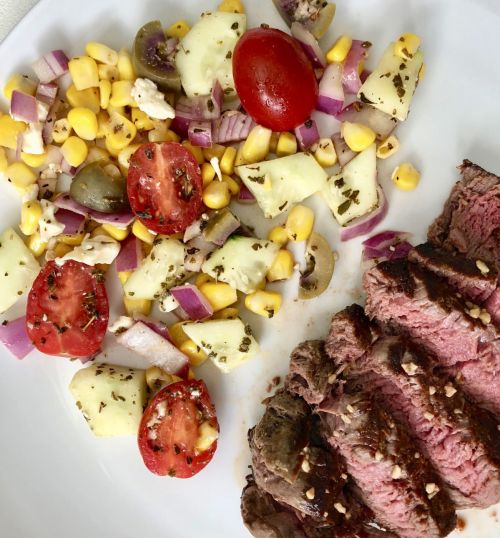 Ideal for the grilling aficionado, Greek corn salad, and grilled steak is the perfect pairing for a summer meal that is equally as hearty as it is refreshing. Considering steak is one of the fastest meats you can prepare and salad is its perfect partner, you'll have an impeccable combination of flavors that will surely impress your dinner date.
Ingredients (for 2)
1.5 tablespoons of extra-virgin olive oil
1 tablespoon of red wine vinegar
1 tablespoon of chopped oregano (or mint)
1 teaspoon of honey
½ pint of halved cherry tomatoes
½ peeled and chopped cucumber
½ cup feta cheese
½ diced red onion
1/3 cup of sliced green olives
1 ear of shucked corn
1 ¼ pounds of cube steaks
Directions
1. Preheat your grill to the highest heat setting.
2. Whisk together the vinegar, honey, herbs, pepper, salt, and olive oil in a medium-sized bowl. Take 3 tablespoons of the vinaigrette and set aside.
3. Add the feta, onion, olives, tomatoes, and cucumbers to the 3 tablespoons of vinaigrette.
4. Place the corn on the grill and cook for approximately 8 minutes.
5. Take the steaks and season them with salt and pepper and then place on the grill, grilling until the edges are brown. You can then flip the steaks and repeat on the opposite side.
6. Put the cooked steaks in the main batch of vinaigrette, tossing the meat so it's thoroughly coated.
7. Cut off the kernels of the corn and add into the batch of vegetables, serve when fully mixed.
2. Tortellini Soup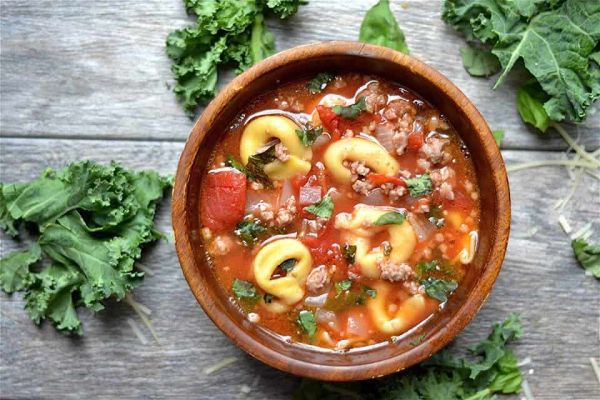 If you're in the mood for a warming dinner where you can also save leftovers for the following day's lunch, you'll love this tortellini soup recipe. It has the perfect balance of vegetables, noodles, and a soothing bone broth, which also makes it an excellent choice for if you're dealing with a cold or flu.
Ingredients (for 2)
2 tablespoons of extra-virgin olive oil
2 thinly sliced carrots
2 thinly sliced leeks (light green/white parts)
4 mashed garlic cloves
2 thinly sliced stalks of celery
4 cups of chicken broth
1 piece of parmesan rind
2 strips of lemon zest
12 ounces of diced bone-in pork chop (keep the bone aside)
9 ounces of cheese or meat tortellini
A pinch of ground pepper
Directions
1. Heat the olive oil in a large pot and add in the celery, garlic, and leeks until the leeks begin to wilt.
2. Add the chicken broth with 2 cups of water, the pork bone, lemon zest, and the parmesan rind while bringing to a simmer. Continue to cook until the vegetables are tender.
3. Remove the bone, lemon zest, and parmesan rind while bringing the mixture to a high boil.
4. Add in your tortellini, diced pork, and pepper, cooking until the tortellini is tender.
3. Caramelized Pork Chops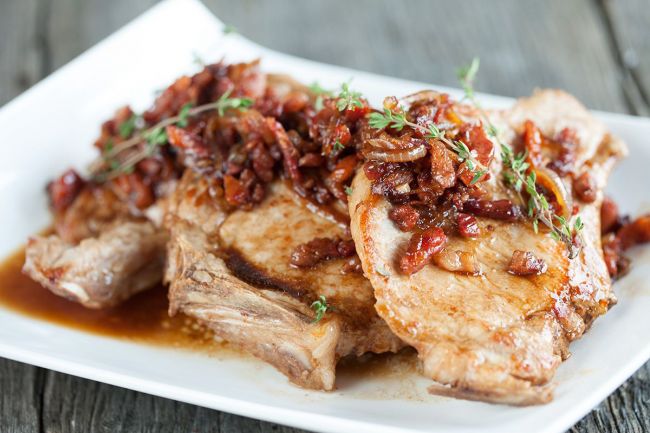 For an elegant meal that will surely appease the palate of meat lovers, caramelized pork chops are incredibly easy to make and they can also be served with a wide variety of different sides. As a versatile dish that even children will appreciate, you can achieve this perfect dinner for 2 in under 30 minutes.
Ingredients (for 2)
2 bone-in pork chops
Salt and ground pepper
1 tablespoon of extra-virgin olive oil
½ crushed garlic clove
½ teaspoon of fennel seed
½ chopped onion
1 teaspoon of crushed pepper flakes
1 teaspoon of dried oregano
¼ cup of tomato paste
½ cup of red wine
1 cup of chicken stock
Directions
1. Season the pork chops with the salt and pepper while heating the extra-virgin olive oil in a skillet.
2. Add in the garlic and stir until mixed.
3. Add the porch chops and caramelize on both sides. Once caramelized, remove and place on a plate.
4. Stir in the fennel seeds, pepper flakes, onion, and oregano, reducing the heat for approximately 8 minutes.
5. Add the tomato paste and wine, stir together for 2 minutes and add the pork chops back into the pan for approximately 6 minutes.
6. Serve with the remaining tomato paste as sauce.
4. Shrimp and Kale Pitas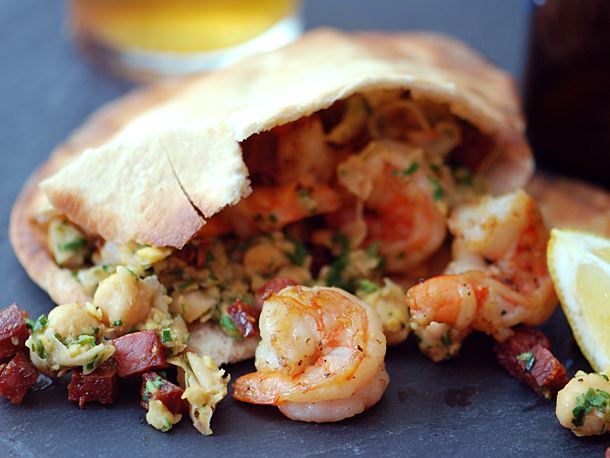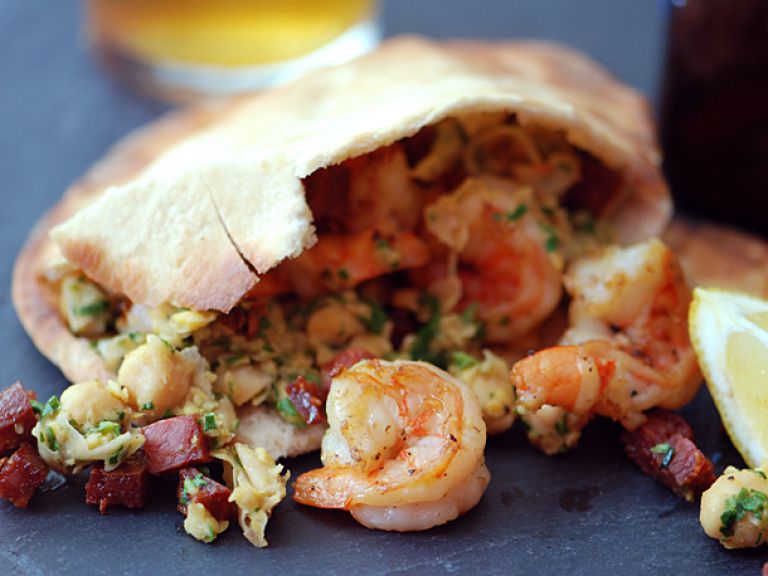 If you're looking for a less hearty meal and something that is a little lighter and healthier, these shrimp and kale pitas are a great option. They are also ideal for a warm summer evening where you don't want to be overwhelmed by the heat of soup but still want a little bit of comfort food.
Ingredients (for 2)
½ cup of low-fat yogurt
3 tablespoons of extra-virgin olive oil
1 clove of grated garlic
Juice of a single lemon
Salt
1/8 teaspoon of cayenne pepper
1 bunch of thinly sliced kale with the stems removed
¾ pound of deveined and peeled shrimp
15 ounces of drained chickpeas
1 pint of grape tomatoes
½ thinly sliced red onion
4 halves of pita bread
Directions
1. Preheat your broiler.
2. Whisk together the yogurt, 2 ½ tablespoons of olive oil, ¼ teaspoon of salt, cayenne pepper, lemon juice, and garlic in a large bowl, then add in the kale. Set aside.
3. Prepare the shrimp and toss with the remaining ½ tablespoon of olive oil, placing the shrimp on a baking sheet.
4. Broil the shrimp until they are fully cooked, approximately 5 minutes, and allow to cool.
5. Add the chickpeas, onion, tomatoes, and shrimp to the kale mixture and toss to coat.
6. Warm the pitas in the microwave and fill with the kale-shrimp mixture, then serve.
Final Thoughts
There's no need to worry about trying to come up with a luxurious three-course dinner for your upcoming date when you have these great 30 minute (or less) recipes to choose from. There is a recipe for everyone, no matter if you're a meat lover or someone looking for something a little less heavy, which will surely help you to create the most memorable dinner in as little time as possible.
Pin for later