This product is listed here: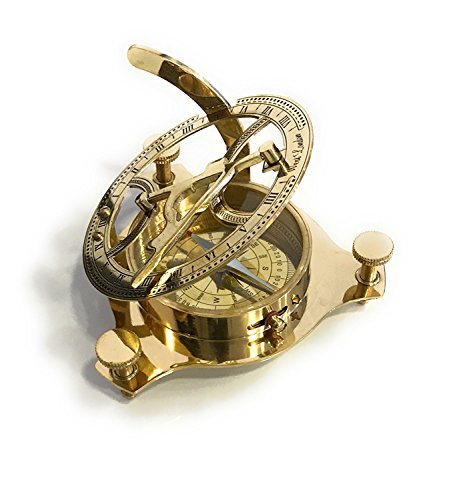 Idia Overseas Trading Corp Sundial coMPASS
A unique gift perfect for anyone who likes decorating their home or office with unique finds, this sundial compass is a beautiful decorative piece that makes a great housewarming gift. Complete with a beautiful teak wood box, this gift looks incredibly expensive without having to actually break the bank. The box itself has an inlaid brass anchor on it along with detailing on the edges of the box. Open the box to reveal a beautiful inner velvet lining and of course, the compass!
The compass itself is intricately designed and has the words 'West London' inscribed on the bottom of it. Best of all, this is not just a decorative piece, it is functional. Take the sundial outside and watch it work. This is a great conversation piece to keep in ONE'S home or office and will impress almost anyone. The attention to detail gives this sundial a very vintage look, everyone will be convinced you have had this in your family for years!
Detailed information about Idia Overseas Trading Corp Sundial coMPASS
The compass itself is almost 4 and a half inches in diameter, and the teak box is 5 and a half inches wide in order to easily and comfortably fit the sundial. The velvet lining ensures the sundial will not get scratched, making this an incredibly luxurious and smartly designed gift that anyone would want to display.