This product is listed here: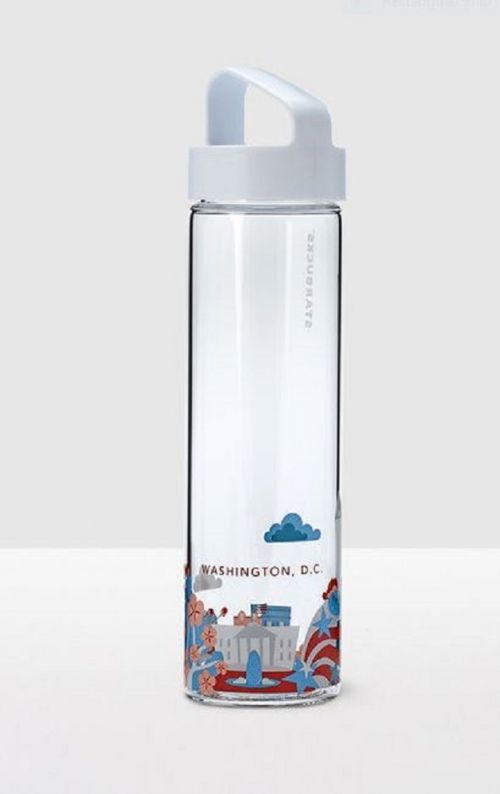 Starbucks Washington D. C. You Are Here Water Bottle
We can't get enough water nowadays. Water is important to keep the body functioning well and to make sure that we're in a good state of health.
The body is up to 70% water after all.
We're always told to drink up to 8 glasses of water, but how is that possible for the busy person on the go? The answer, you'll find, is so simple it's funny. Water bottles. What a great invention!
Kidding aside, have you ever wanted a water bottle that's hip and cool? Something that's lightweight and easy to carry but is also great fun to look at?
If that's the case, then perhaps the Starbucks gift that is the Washington D. C. You Are Here Water Bottle, is the right water bottle for you.
Detailed information about Starbucks Washington D. C. You Are Here Water Bottle
Bearing a cartoonized version of the White House and sporting patriotic shades of red, white, and blue, this water bottle is fresh and beautiful.
See the vibrant colors as you carry it around, refill it, and drink from it. Sport that Washington D.C. pride.
Or perhaps you're getting this to commemorate a visit there? In any case, this is a great Starbucks tumbler for those purposes.
This bottle holds 18.5 fluid ounces or almost 550 mL of water. It's compact in size, perfect for bringing around in your bag or holding in your hand while you're going for a jog or are at the gym.
It also sports a handle on the lid for easier carrying and transport.
WHY WE LIKE IT?
Environmentally friendly
Really practical
Durable and long lasting
WHY WE dont LIKE IT?
None
What we love about this product
Reduce your plastic bottle usage by bringing your own water in this reusable container. Not only does it look good and do the job, but you're also taking part in making sure Mother Earth stays happy.