This product is listed here: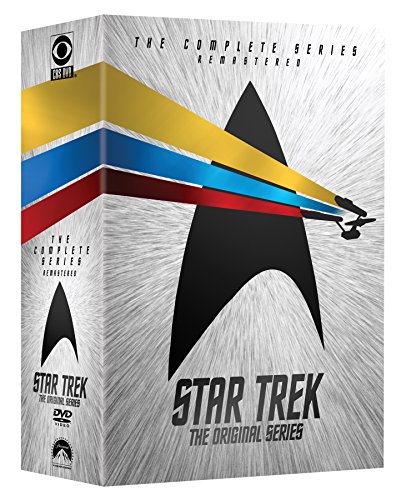 Star Trek: The Original Series Set
These days you will find Star Trek fanatics and enthusiasts worldwide, and it is a strange fact that there is at least one of the Star Trek series being aired on television in every country in the world that imports American television shows. The series is so popular that even catchphrases and vocabulary that started in the original Star Trek universe are now in common use in all English speaking countries. The main problem that the original series had, however, was the primitive television formats and special effects systems that were available at the time. When watched today, they really show their age.
That is where this set comes in really useful. This is the "Star Trek: The Original Series – The Complete Series".
Detailed information about Star Trek: The Original Series Set
This Remastered Box Set is sold in two options: DVD and Blu-ray whichever format you prefer. This box set version is regarded as the definitive set for die-hard Trekkies. The viewer has an option to watch each and every episode in its original format or with new 'enhanced' special effects.
For Trekkies, this is a fantastic option because there are so many enthusiasts who prefer to watch the old grainy formats and primitive special effects. They say that it adds to the nostalgia. There are other Trekkies who prefer to watch the shows in a more updated format. This box set caters to both preferences.
WHY WE LIKE IT?
A nostalgic set of all the episodes from the original series
Completely updated versions with better image quality and modern special effects
The viewer can choose whether to watch the original or updated versions
WHY WE dont LIKE IT?
None
What we love about this product
It has been remastered to make the viewing more palatable to a modern viewing audience by including modern CGI special effects where possible and by reducing the 'graininess' of the old television format.