This product is listed here: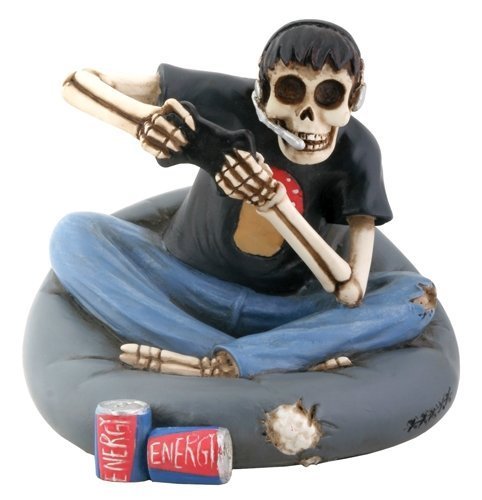 Skull Gamer Sitting on Cushion Collectible Figurine
The Skull Gamer Sitting on a Cushion from the Summit Collection is a collectible figurine cool enough and suitable for any computer gamer to decorate their room.
The collectible ornament measures 3.75" long x 3.5" wide x 4" high and is made from cold cast resin. The figurine is hand painted to give that truly homemade appearance.
Detailed information about Skull Gamer Sitting on Cushion Collectible Figurine
The figurine portrays a typical gamer dressed in a tee shirt and holed jeans sitting barefoot on a threadbare floor cushion with two cans of high energy beverage on the floor beside him.
The resin figurine is small enough to comfortably sit on a display shelf or even on top of the game console where he can oversee the standard of play. Maybe he is a reminder to the gamer that now and again it is wise to surface from the gaming experience and see what is going on in the world or maybe it is just a really cool ornament!
WHY WE LIKE IT?
Cool skeleton gamer, just right for displaying in the games room
Made from cold cast resin and handpainted for the home-made appearance
Small enough to sit comfortably out of the way on a display shelf
WHY WE dont LIKE IT?
None
What we love about this product
The only difference between real life and this figurine is that the gamer is portrayed as a grinning skeleton. Anyone can see that the Grim Gamer is enthralled in deep concentration and is conscious of nothing else. All he needs in life are his floor cushion, his favorite beverage, and his games. What more can he ask?