This product is listed here: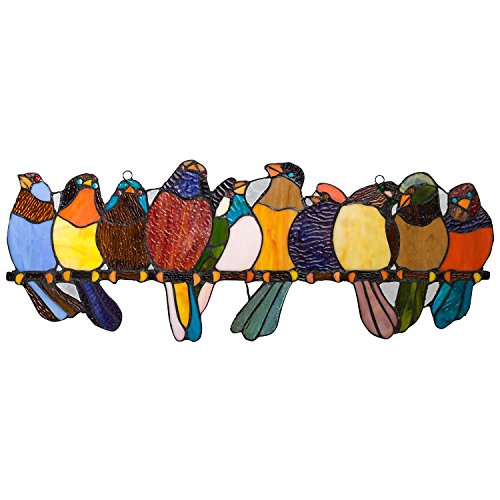 River of Goods Bird Suncatcher Stained Glass Birds on a Wire
This beautiful stained glass "Birds on a Wire" suncatcher would make a stunning gift for any bird lover or anyone who just loves beautiful things. This creation by River of Goods will be sure to put a smile on anyone's face.
Such a beautiful piece of stained glass! These delicate birds with all of the intricate detail could only be done by using the Tiffany or copper foil method of creating stained glass masterpieces.
Unlike traditional stained glass work, the Tiffany style is renown for the ability to bring incredible detail into each and every piece, accomplished by using copper foil rather than lead came.
Detailed information about River of Goods Bird Suncatcher Stained Glass Birds on a Wire
Each individual piece of glass is carefully selected, cut and shaped carefully by hand and the edges wrapped with copper foil.
At the end of this painstaking and labor-intensive process, all of the individual pieces are soldered together, again by hand, creating a one of a kind piece of art.
The true to life vibrantly colored glass used for the plumage of these birds on the wire makes this piece of art as bright as it is beautiful. Any bird lover would be happy to be the recipient of a gift like this!
WHY WE LIKE IT?
Measures over 24 inches wide for maximum viewing impact
Comes with a chain for hanging that measures 30 inches
Beautifully and skillfully crafted out of vibrant shades of stained glass and done in the Tiffany style
WHY WE dont LIKE IT?
None
What we love about this product
Using the Tiffany method allows for the incredibly fine detail that is evident in this piece, especially when looking at the level of detail on the birds' beaks and feet.