This product is listed here: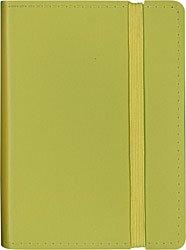 Pentalic Traveler Pocket Journal
Artists are always looking for small sketchbooks they can take on the go. Now, Pentalic has created the perfect little travel journal for artists and even writers.
The journal comes in 3 sizes, 4" x 3", 6" x 4" or 8" x 6" and can comfortably fit in a bag or be carried around in hand. It features 160 pages of blank, acid-free recycled paper for a smooth surface to draw on. And it's also good for the environment! For an extra useful addition, the back includes a pocket for storing essentials like loose drawings or notes.
Detailed information about Pentalic Traveler Pocket Journal
This journal can be used by anyone, not just artists. It's the perfect little notebook to carry around as a planner or diary. Write down little reminders, keep track of your shopping lists or write down what happened during your day. It's compact and can go with you anywhere.
For artists, this is a fabulous little sketchbook for observational drawings. They can take it to the park to draw plants and animals or pull it out when on the bus and draw the passengers sitting around. If you want to improve as an artist, then practice is key and Pentalic's Travel Journal will ensure that you get plenty of it.