This product is listed here: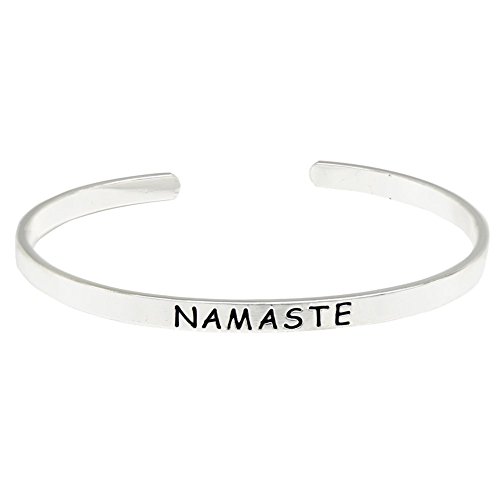 O.RIYA NAMASTE Brass Hand Stamped Bracelet
This Namaste hand stamped brass bracelet from O.RIYA is simply adorable and fancy. It would make a lovely gift idea for a special friend or a loved one. If you have a yoga lover in your life, this bangle might just be your perfect pick as a gift for them. It will lift their spirit, keep them calm and fill them with kindness.
It encompasses just enough glamour and pizzazz which subtly reminds one to be kind, and keep calm. It's the kind of bracelet that will quietly start conversations and become a nice reminder of beautiful memories, experiences, dreams and special moments.
Detailed information about O.RIYA NAMASTE Brass Hand Stamped Bracelet
It can be dressed down or up, or as needed and it will still complement whatever outfit one chooses to wear. She can adorn her evening wear with this bangle and look spectacular. Or wear it with a casual dress on a shopping trip to the mall and still look stylish!
This simple yet elegant women's bracelet is made of brass material which is gentle and safe on skin. It measures approximately 6 inches long and its 1/8 wide. This is quite a good size, and it will be a perfect fit for an average sized adult wrist. It can suitably fit teens and adult women. If you have a teen daughter, goddaughter, niece, or granddaughter who deserves a cute and fancy gift, this namaste bracelet will be an excellent present for them.
WHY WE LIKE IT?
High-quality brass material bracelet
It's lead and nickel free- safe on skin
Handmade with a simple, elegant design
A perfect fit for an average adult sized wrist
WHY WE dont LIKE IT?
None
What we love about this product
It's simple, yet stunning. The subtle design makes it suitable for all day wear, anywhere, anytime. It's a versatile bracelet, with an intriguing style that allows one to dress it as they wish.