This product is listed here: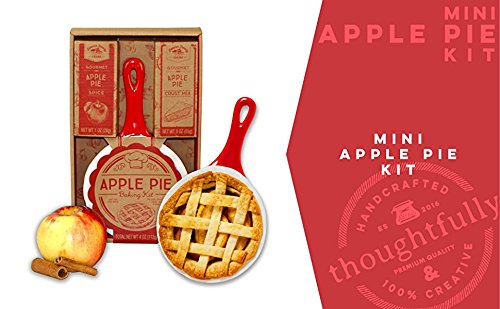 Mini Apple Pie Baking Kit
Mothers and grandmas always make the best apple pies, don't they? Because of that fact, you are either a superb cook or have always felt intimidated about trying to compete with them. Have you always been a bit worried that if you make a big apple pie and mess it up, you will be wasting food?
All you need to add is the fruit and butter, all the rest of the ingredients as well as the baking pan and full recipe is included within the kit. This cute little baking kit will be perfect to teach older children how to bake as well.
Detailed information about Mini Apple Pie Baking Kit
The kit contains: a 5" ceramic pie dish; 3oz bag of Gourmet cinnamon apple pie spice mix; 1oz bag of flaky buttery pie pastry crust mix and of course the recipe. All you need to add to the kit is 1 small apple; 1.5 tablespoons of water; 3 tablespoons of unsalted butter and of course somewhere to bake the pie.
The recipe included within the kit is written as a proper baked apple pie recipe explaining how to make the pastry, how to prepare the apple and how to bake the finished pie. The only thing it doesn't tell you is how to eat it, but we are sure you won't need any help with that! If you do need some help with ideas then how about some runny or whipped cream, lemon or vanilla ice cream, vanilla egg custard or maybe even eat it on its own, cold or hot. Delicious!
WHY WE LIKE IT?
Perfect little gift for children to learn how to bake
Buy it for you to make a pie small enough for two people or one
All the ingredients are included as well as the skillet and the recipe, all you need to do is add the fruit, butter and water
WHY WE dont LIKE IT?
None
What we love about this product
Buy this Mini Apple Pie Baking Kit from Modern Gourmet Foods and you have everything you need to make the best apple pie.