This product is listed here: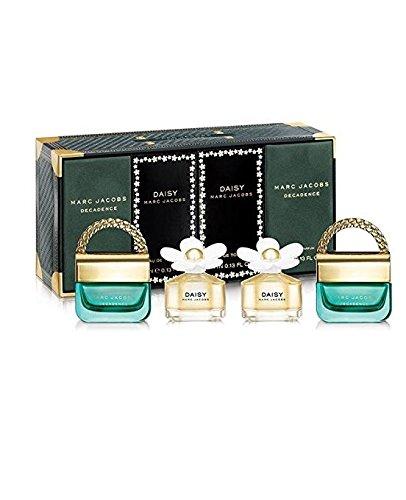 Marc Jacobs Decadence Fragrances Mini Gift Set
When choosing gifts for your loved ones, you don't always have to go with the obvious. For example, you do not have to keep buying jewelry and other common gifts. Sometimes, it doesn't matter how small a gift is – as long as it is unique, your loved ones will be impressed. One good example is getting them a fragrance that they really like. This set from Marc Jacobs's fragrance collection is ideal and would be a lovely gift for the ladies in your life.
The scents come in Daisy and Decadence scents from the collection. There are two bottles of each type, so that is a double benefit. Each bottle has a capacity of 0.13 ounces which is a perfect size to carry in the purse. The floral fragrance is a blend of violet, mandarin, apple blossom, lotus, magnolia, and jasmine.
Detailed information about Marc Jacobs Decadence Fragrances Mini Gift Set
This combination gives the splashes whole a new definition and makes them unique from most on the market. The set is a perfect item for gifting your loved ones. The bottles come in lovely shape and have flexible caps to open and close. The good thing is that you do not have to repackage the gift since the bottles come packed in a quality case combining all the other individual boxes.