Little Black Dress Picks That Are Truly Timeless! (Plus Size LBDs Included!)
last updated:
Jul 01, 2019
1495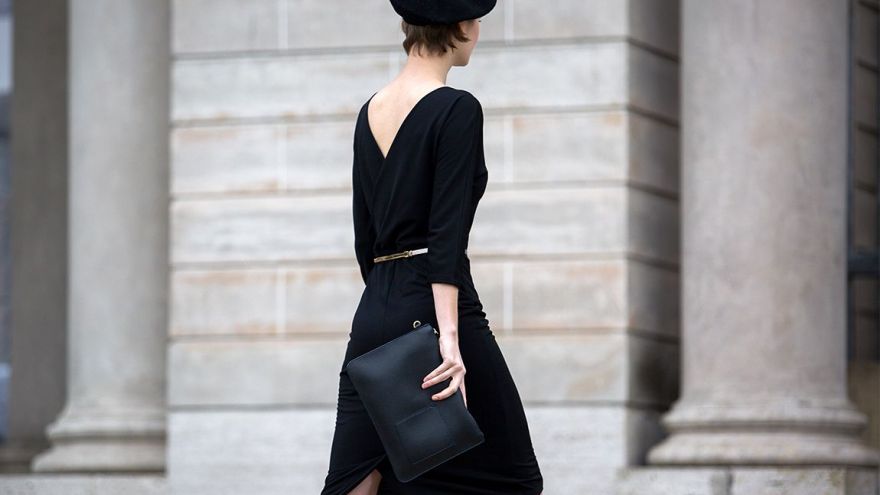 Having the perfect little black dress is the best way to set the stage for an upcoming event. No matter if you're getting ready for a formal work function or a weekend brunch date with the girls, a little black dress will be your best friend.
We've found eight of the most fabulous styles on the market that will have you looking your best meanwhile feeling comfortable through the whole day and night.
Our Fave Little Black Dress Picks!
1.Grace Karin Boatneck Vintage Dress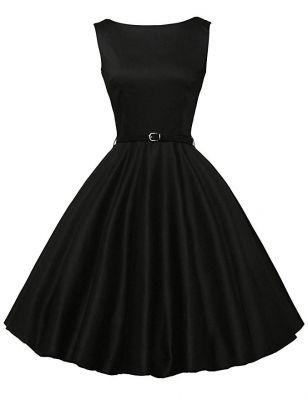 Our favorite little black dress on this list is easily this style. It has a classic vintage silhouette with a cinched waist and a flowing skirt that will surely have you turning heads. Not to mention you can buy the dress in over 30 different colors, making it perfect for absolutely any occasion!
Designed using cotton and spandex, the dress is incredibly breathable and comfortable against your skin. We especially love the belt accent that comes with the dress to show off your more desirable features.
2. InsNova Cold Shoulder Skater Dress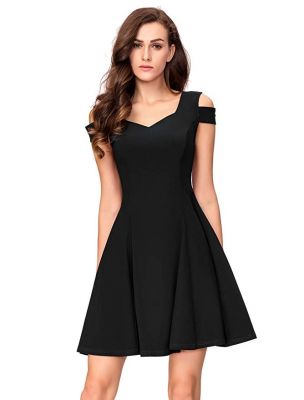 If you're looking for elegance but in a more casual way, this is the dress to choose. Our favorite part of the dress is the sleeve design, as it shows the perfect amount of your shoulders to be sexy but still classically beautiful.
Designed out of nylon, spandex, and cotton, this garment has the perfect amount of breathability and flexibility no matter if you are sitting, standing, or dancing the night away.
It also has a sweetheart neckline, which will accentuate the beauty of your neck and shoulders meanwhile staying slightly conservative.
3. Miusol Vintage Floral Lace Dress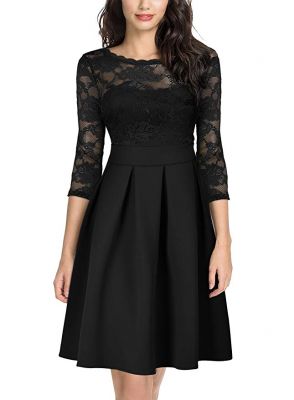 There's nothing quite like pairing lace with the color black, especially if you're in the market for a vintage dress that is appropriate for any occasion. Also available in dark green, navy and bright blue, as well as burgundy, there are plenty of color options available in this style.
The most notable thing of this dress is that it has a very slim cut but is still available in plus sizes (up to size 18). You will be able to look absolutely stunning with the 2/3 sleeves and the elegant lace covering across the bodice of the dress.
We also find that this is the type of style that works perfectly on younger and older women.
4. Longwu Loose Front Tie Party Dress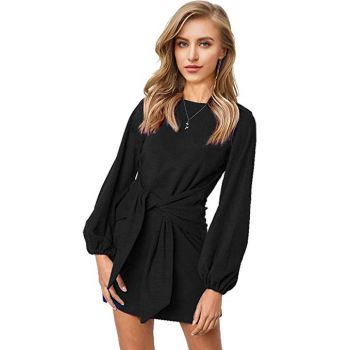 Compared to the other little black dresses on this list, this style is something far more unique. When paired with the right heels and accessories, you could easily style this dress up or down.
Our favorite feature is easily the unique and modern belt that can be tied as a bow either in the front or back of the dress.
You'll fall in love with the billowing long sleeves that offset the short cut of the dress. In addition, it's made mostly from polyester, so you can guarantee it's incredibly soft, breathable, and flexible.
No matter your body type, this dress is the type of style that you can customize to make sure you look your best.
5. Mokoru Bodycon Midi Dress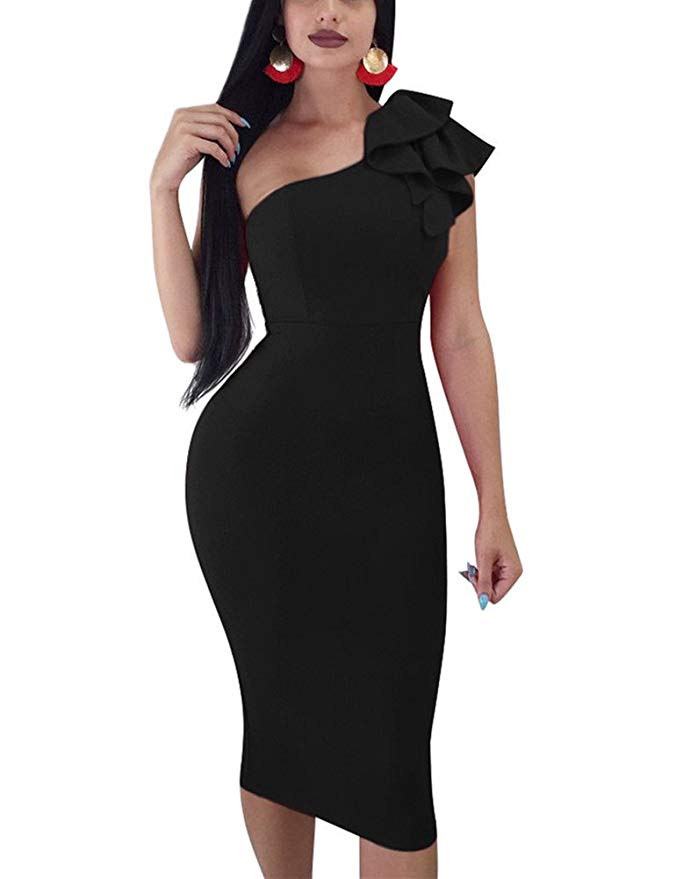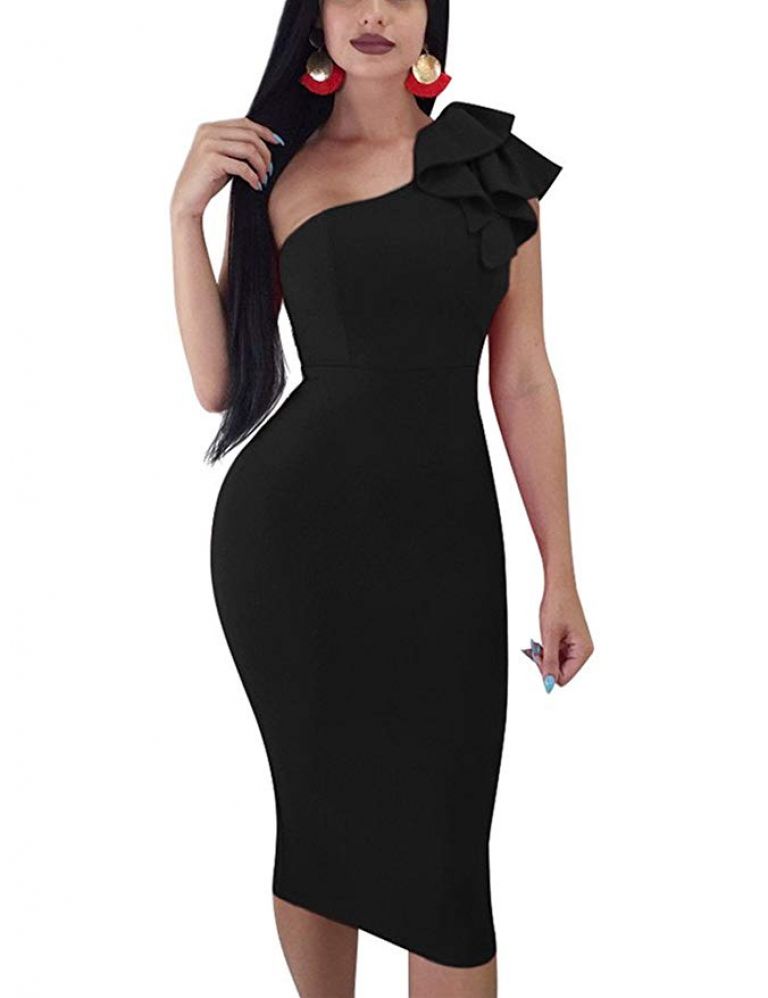 If you're looking for a garment that accentuates your elegance and femininity, we highly recommend the Mokoru bodycon dress. It has a type of sex appeal that is incredibly hard to find with most other little black dresses, especially as the majority of them are more conservative.
With that said, this style isn't overtly flaunting, but it showcases sensuality in all of the right places. It's an incredibly form-fitting garment that is soft against the skin and breathable but holds everything in place.
The most notable aspect of the garment is the ruffle sleeve that drapes over a single shoulder, adding a slight Spanish flair.
6. Unbranded Casual Pocketed Dress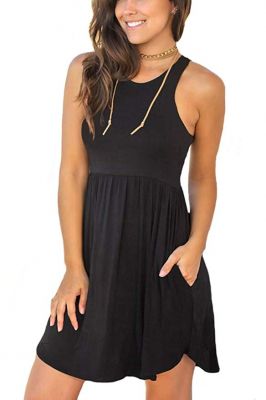 Perfect for informal outings, the Unbranded dress is the type of little black dress that you can throw on and look great in a matter of minutes.
It's ideal for groceries, trips to the mall, or even hanging out with friends in the backyard. In fact, it would also work perfectly as a coverup for the beach.
Instead of dealing with finicky buttons and zippers, this dress simply needs to be pulled on. It's also one of our favorite plus size dresses (up to size 20) because it flows beautifully and is lightweight, keeping you comfortable in even the warmest weather.
7. Sylvestidoso A-Line Cocktail Dress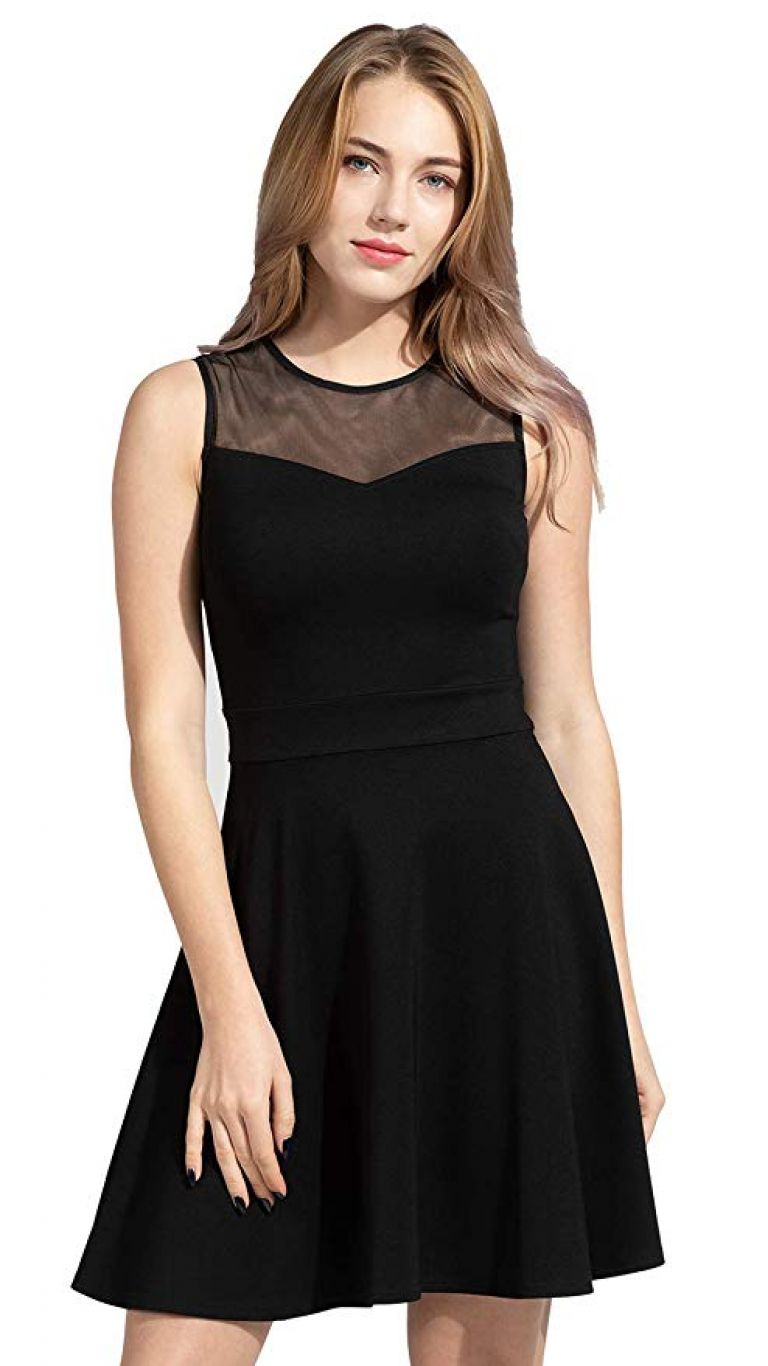 Ideal for women who are looking for a timeless yet modern little black dress, this style is something that you'll love to have in your closet.
The striking difference between this garment and the others on this list is the stunning mesh detailing across the chest and shoulders. This sleeveless gown helps to accentuate all of your best features without being too over-the-top.
The A-line silhouette looks fantastic on any body type and the mesh detailing simply takes it a step further. You also have the ability to substitute the mesh for black floral lace.
8. Sidefeel Off-Shoulder Mini Dress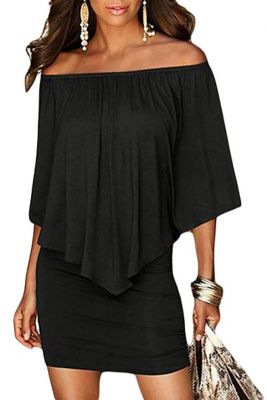 It's quite likely you've seen this style in plenty of dresses before, though they've surely never been this comfortable. The Sidefeel Off-Shoulder Mini Dress is perfect for a night out at the club or for a wedding reception. It's also a style that is available up to size 24 for plus size women.
The draping ruffled top helps to add an illusion to the dress and the comfortable elasticized shoulders will sit comfortably throughout the night.
The shortness of the dress will compliment your stunning legs and the curve-hugging material will show off all of your assets. It's easily one of the sexier little black dresses we've come across and it would look spectacular on younger and older women alike.
When you're stuck trying to figure out what to wear to an upcoming engagement, it's always best to set your sights on the perfect little black dress.
Having one of these eight garments in your wardrobe will give you the perfect outfit to wear for a wide variety of occasions. All you'll need to do is style them with your favorite shoes and accessories and you will look your best no matter where you're headed.
Pin for later