10 Super Elegant Plus Size Dresses for Parties
last updated:
Apr 10, 2019
1738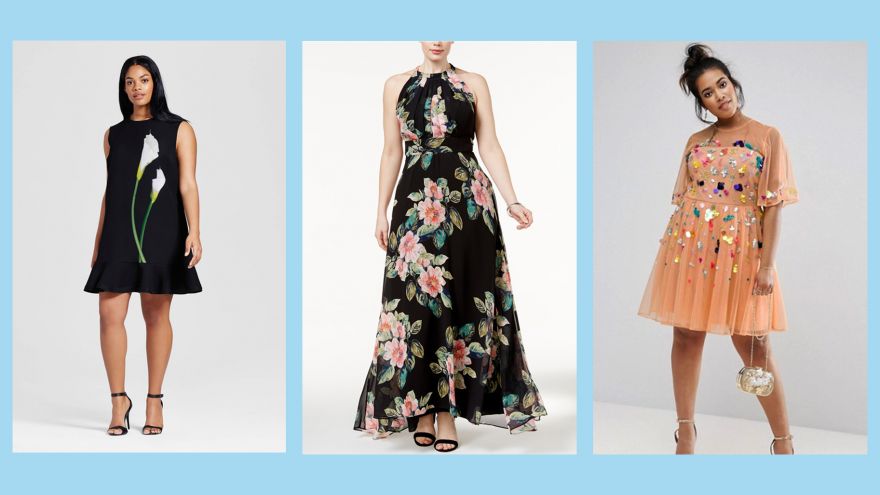 Finding the perfect dress for a party can be difficult. Especially if you're someone who has a specific style that you prefer to wear for your body type. Plus size dresses can come in many different styles, ranging from formal to more casual.
However, the most important thing is to make sure you find a design that accentuates your beautiful curves. Below are 10 of our favorite plus size dresses that are highly adaptable to any type of party. You'll find that some of the styles are even fantastic for weddings!
1. Long Sleeve Casual Maxi Dress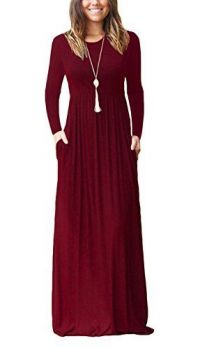 Maxi dresses are one of the best items to have during the spring and summer. Instead of putting a lot of effort into piecing an outfit together, you can throw on the dress and look fantastic. Not to mention you'll have the comfort you need to get through the day. This fantastic long sleeve casual maxi dress is the perfect combination of everything you'd expect in an everyday dress.
Constructed out of rayon and spandex, the material is incredibly stretchy with a mid-weight feel. With the right accessories, you can either dress it up or dress it down. The best part is that the dress comes in an exceptional number of sizes ranging from large to 4X.
2. Vintage Patchwork Party Dress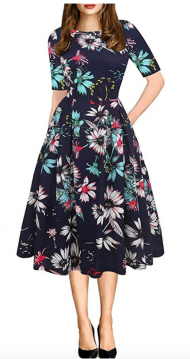 If you're looking for a dress that is slightly more structured, this vintage patchwork party dress is a fantastic option. It has the perfect level of femininity that is highly adaptable for any event. Additionally, you could dress it down to wear for brunch or a casual afternoon date. Our favorite thing about this piece is that you can choose from over 24 different colors, depending on your style.
Designed around the 1950s, this vintage patchwork party dress also features convenient pockets in the skirt which help to make it feel a little more casual. It's hand washable and machine washable, as long as you opt for the gentlest setting.
3. Off-Shoulder Bodycon Mini Dress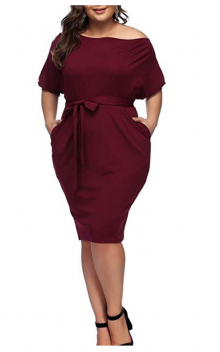 There's nothing better than having a sexy dress that you can slip on if you're going out for dinner with the girls or dancing with your best friends. This off-shoulder bodycon mini dress could also be an exceptional choice for a wedding. It has a unique style that can be dressed up or dressed down and it accentuates sensuality without being too over-the-top.
The cinched waist with wraparound bow helps to add a level of formality that you wouldn't find with most other bodycon dresses. Additionally, the length of the dress is ideal, as it falls just above the knee. We also love the comfortable sleeves that reach your elbows.
4. ¾ Sleeve Faux Wrap Floral Dress
When summer is quickly approaching, it's time to start your collection of floral print dresses. This ¾ sleeve faux wrap floral dress is the perfect choice for a casual outfit. In fact, paired with the right accessories, it's something that you could easily wear to work as well. We love the faux wrap detailing that makes it look like you put in the effort to personally wrap your dress. However, you have the comfort and security of knowing the dress is built to stay in place throughout the day.
Crafted out of polyester and spandex, the material is incredibly breathable and stretchy. It's also a pull-on garment, so you won't have to worry about dealing with buttons or zippers.
5. Half Sleeve V-Neck Lace Cocktail Dress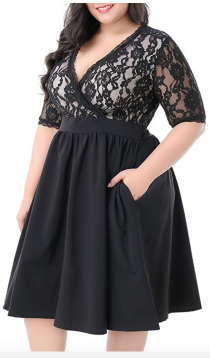 If you're in the market for something that is far more formal than most of the other designs on this list, this is the dress for you. The half sleeve V-neck lace top to this dress elevates it above most other common designs. Additionally, the structured look and feel of the swing skirt adds an extra ounce of luxury. Not to mention you can also choose from four different colors.
The half sleeve V-neck lace cocktail dress is the type of design that you can easily wear to weddings. It's a much more formal design with two side pockets and a back zipper. No matter if you're attending a cocktail party or a banquet, it's the ideal choice.
6. Casual Flare Midi Dress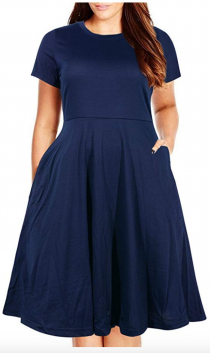 As another fantastic option for an everyday comfortable look, this casual flare midi dress is something you've always needed. If you're not the type of person to work with a maxi dress and if you're interested in something more breathable, this is the style for you. This casual flare midi dress has everything you would expect from a comfortable yet stylish outfit.
There are also 15 different color choices, including unique patterns that bring the entire design together. Made of 100% polyester, the care instructions for the garment are simple and it truly is the type of dress suitable for everyday wear.
7. ¾ Sleeve V-Neck Maxi Dress
We certainly mentioned a maxi dress earlier on this list, but that design was slightly more conservative than this one. If you're looking for a comfortable maxi dress that still accentuates your body, this dress is fantastic. With ¾ sleeves that sit comfortably on your arms, a belted bust line, and a plunging V-neck, you'll be able to show off all of your best features.
One of the things we love the most about this design is that it's iconic for formal settings as well as casual outings. It's a blend of jersey knit and spandex, which gives you more than enough stretch for your comfort.
8. Velvet Faux Wrap Midi Dress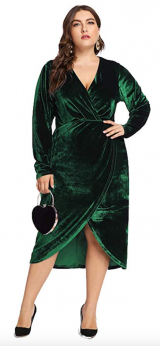 Paying homage to the faux wrap design again, this velvet number is something you won't soon forget. In fact, it's one of our top choices for holiday parties when you'll want to wear a more luxurious fabric. The faux wrap creates the perfect neckline that adds to the femininity of the dress. Additionally, the cinched waist helps to accentuate your curves with ease. Once you put it on for the first time, this fantastic piece will surely become one of the most worn items in your closet.
9. Short Sleeve High Low Maxi Dress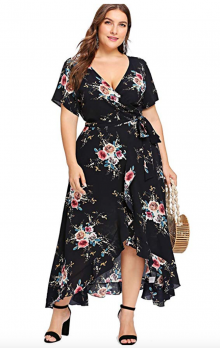 [easyazon_link identifier="B07JFDN5HY" locale="US" title="Milumia Women Plus Size Tribal Wrap V Neck Short Sleeves Empire Waist Maxi Dress Black 0XL" nw="y" tag="thatsweetgift-20"]Get It Here
At first glance, you can easily see that this dress is designed to wear for any occasion. However, it's perfectly lightweight to wear on the hottest days of the year. With elegant short sleeves and a high low hem, this dress focuses on classic trends that show off your best features. What we love the most about this design is that it's not a faux wrap.
You will have complete control over the tightness or looseness of the garment, based on your preferences. This short sleeve high low maxi dress is perfect for vacation, dates, or even daily shopping excursions.
10. Floral Wrap Maxi Dress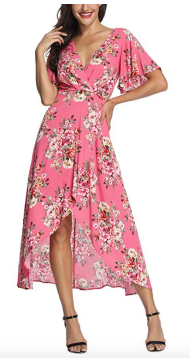 As the final dress on this list, we have another floral printed garment. However, it has a unique design and is incredibly luxurious once worn. With over six different floral prints to choose from, this maxi dress is everything that you've been looking for. It has the beauty of ruffled and flowing sleeves, a stunning neckline, and the movement you'd expect from a highly feminine garment. Similar to the previous dresses, it's a multi-purpose design that you can easily wear anywhere.
Pin for later