This product is listed here: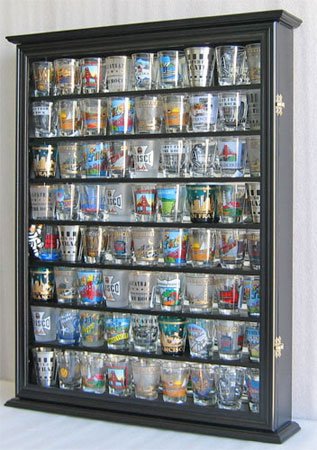 Large Shot Glass/Shooter Display Case
We always have that one friend who can down alcohol more than we ever could and won't even pass out from it. This results in unforgettable nights (or forgettable, if you blacked out) and fun for everyone involved, with stories you can reminisce about when you are older and tell your kids and grandkids. And since this particular friend is the stuff of legends when it comes to a wild night out or even a sit-down and chill get together with friends, they probably have a nice collection of shot glasses to commemorate not just every place they went to, but also the awesome memories that are attached to it.
As we can imagine, they probably have a lot but does not have a place to store them in, and since a special occasion is coming up, why not give them something to house their memories, or literally, their shot glasses in?
You don't need to look any further, because we have just the perfect one for the avid shot glass collector in your life, and that is this Shot glass display case cabinet by DisplayGifts.
Detailed information about Large Shot Glass/Shooter Display Case
It has a clear acrylic door so the collection is visible and showcased. The cabinet is matte black and has a smooth finish due to the quality hardwood being sanded down quite a few times to achieve this elegant look and texture. It also has a mirror background which enhances the look of the overall collection and has brass hinges and door latches for that added sophisticated aesthetic.
WHY WE LIKE IT?
Minimal, sleek and design does not overpower shot glass collection
Sturdy
Holds 72 regular shot glasses
Removable shelves
WHY WE dont LIKE IT?
None
What we love about this product
This large collection holder boasts of housing 72 regular shot glasses and has 7 wooden shelves, with 4 of them being removable so you can place taller shot glasses as well.