We Selected 5 Fantastic Kids Subscription Box Options
last updated:
Aug 27, 2019
680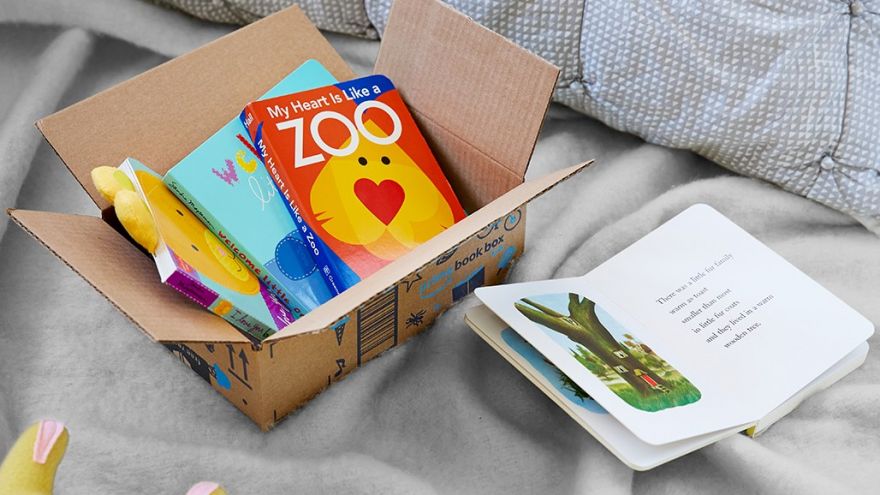 Who doesn't love a good subscription box? The past few years have seen them explode in popularity- and it is so easy to see why! Combining convenience with surprise, you can get a kids subscription box delivered right to your door containing nearly anything you could ever want.
From food to beauty products, clothing, pet supplies, wine, to date night activities- they really have thought of everything!
Did you know that in addition to subscription boxes for adults, there are plenty out there for kids? There are! If you've got kids, you know that it can be difficult to find fun activities for them to play with, especially during those long summer breaks.
If you feel guilty to always sit them down in front of the TV or iPad, you aren't alone! If you are trying to get your kids away from technology, a great idea is to sign up for a new subscription box that will keep new exciting games, puzzles, and toys coming to your door each month!
Kids tend to have pretty short attention spans, so keeping them engaged and interested in new things month to month is a great way to help them have fun and learn something! If you struggle to regularly come up with ideas for new activities, or simply don't have the time to run out to the store to purchase new items all the time, a subscription box is your perfect solution!
We have rounded up our top picks for kids subscription box services. With different focus areas – from travel to science, to reading, there is something for every kid out there! Let's see what made our list.
Our Fave Kids Subscription Box services
1. Highlights Puzzle Club – Kids Puzzle Books Subscription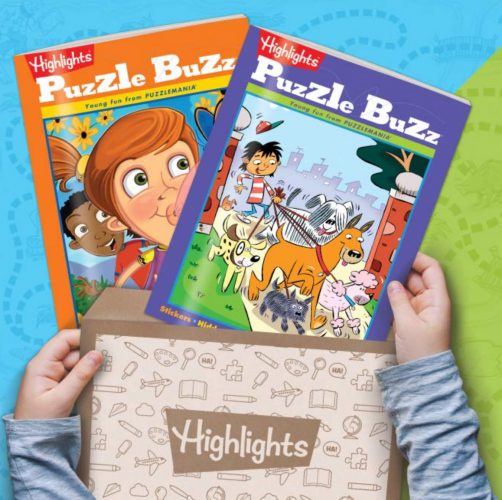 Delivery Schedule: Once a month
Do you remember Highlights books from your childhood? We know we do! We used to love receiving these books in the mail and solving all the various fun puzzles and games.
Now you can pass along that love to your children! These boxes deliver each month and come with 2 books in each box. Each book also contains 3 sticker puzzles- meaning your child will get two books and 6 sticker puzzles to play with each month!
Best of all, there are two age groups for these boxes so that you can find the right fit based on how old your child is. The younger box is appropriate for children aged 4-7 years old, and the older box is for children 7 years of age and older.
Each book has a variety of activities and puzzles that will easily keep your child entertained all month long, right up until their next box comes!
2. Little Passports World Edition – Kids Subscription Box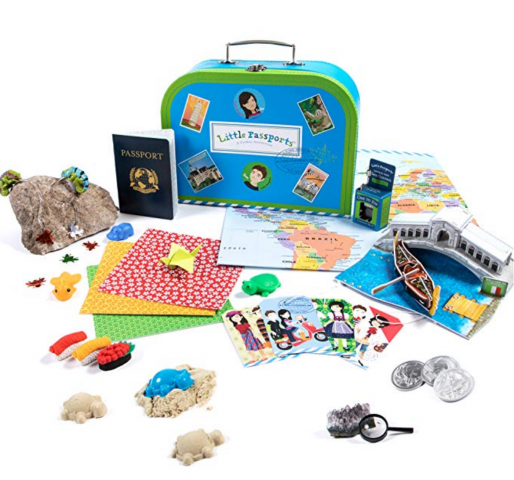 Delivery Schedule: Once a month
We aren't going to lie, this subscription box looks exciting even for us! If you love to travel and want your child to develop a love for different countries just like you do, this Little Passports World Edition box is perfect.
This box is all about geography and exploring the world one country at a time. Each box helps educate about a certain country and its culture, and is also packed with all sorts of kids fun activities and projects that help keep your child engaged and excited to learn more!
The first box comes with some initial items that will be used with all subsequent boxes including a blue suitcase, a passport (very authentic looking!), a world map, a coin board, welcome letter, mini stuffed animals, and more.
This is a great way to get your child, or children, excited about geography and to learn about the world and other cultures.
Trust us, they will be so excited when their next box comes and they get to travel somewhere else around the world!
3. STEM Discovery Boxes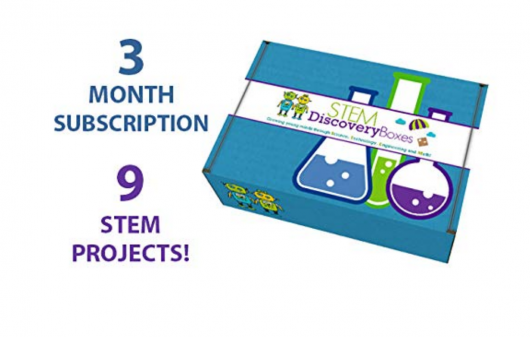 Delivery Schedule: Once a month for three months
If you are looking for some engaging STEM activities to get your child excited about science, math, and technology- these discovery boxes are perfect! This box works a little different than other subscription services in that you pay once upfront and then get your boxes in the mail once a month for a set period of 3 months (so there are 3 deliveries total).
Inside each box comes 3 projects, meaning in total you will get 9 awesome projects that will excite your child and get the hands-on learning about science, technology, engineering, and math!
The suggested age range for these boxes is from 7 years old to around 13 years old. If you've got a little one who loves all things STEM, they will absolutely love getting these boxes each month.
We think this is a great subscription service to sign up for at the beginning of the summer- you'll have something to play with all summer long that way! No matter when you decide to get it, you can be sure your child will have a blast learning, building, and engaging.
4. Prime Book Box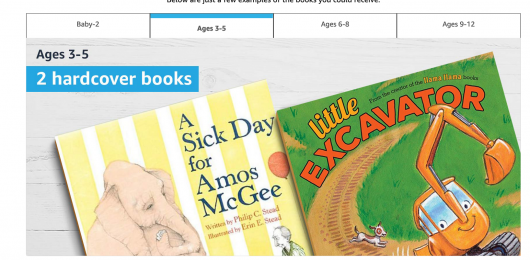 Delivery Schedule: Choose either once a month, every two months, or every three months
What could be more important for a child than learning to read? Reading is such an important skill and such a fun one too if you get your child excited to read early on in life!
We love the simple concept of this book box. Simply pick your schedule, and have a curated selection of children's books delivered to your door.
We love that you can choose how frequently you want these books delivered. Pick a schedule that fits your budget, and help get your child excited to read.
There are also different age groups to choose from. Start off with the baby books, and keep up with this subscription service until your child is 12 years old!
The first age range is for babies-2 year olds. This box includes 4 board books.
The next box is for children between the ages of 3 and 5 and comes complete with 2 hardcover books.
Next, children ages 6-8 receive 2 hardcover books, and finally, children 9-12 years old get 2 hardcover books each as well.
5. Bitsbox – Coding Subscription Box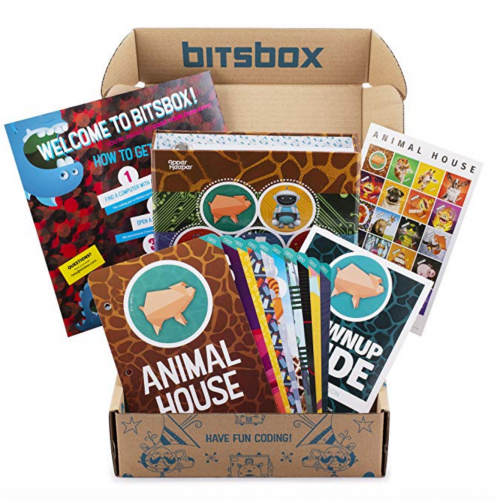 Delivery Schedule: Once a month
Finally, this Bitsbox coding subscription box is a super cool idea for any tech-loving family. The slightly elevated price is totally worth it once you understand what you are getting each month.
These boxes give your children various projects that allow them to actually build their own digital creations. We are talking about mobile apps, video games, and more!
We think this is such a cool idea for any child who loves coding and wants to learn more about what it takes to build some of their favorite programs. This box will help them learn while also ensuring they have tons of fun!
Better yet, when a child is finished, any apps that they build are actually usable and can be accessed on a phone or tablet.
Better yet, these boxes build on each other, ensuring that kids learn the basics of coding and then get a little more advanced with each box and each project.
This is such a great idea, and perfect for kids who love all things tech. Instead of sitting around playing video games all day, why not learn how to build your own??
Wrapping Up
So there you have it! We love this selection of kids subscription box services. Whether you want to focus on reading, geography, STEM, or just general fun, you have so many awesome options to choose from! You don't have to worry anymore about finding engaging activities for your children that will help them learn while still having fun. These boxes will handle all the hard work for you!
What was your favorite activity to do as a child? Were you more into reading, puzzles, running around outside, or something else? Let us know!
Pin for later