"It" Girl Accessories for Summer 2023!
last updated:
May 09, 2018
2463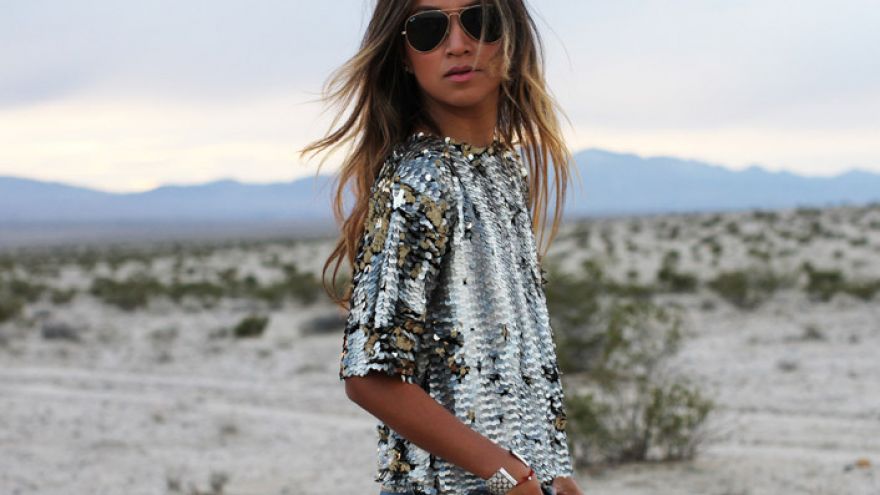 Who wouldn't want to be the "it" girl? The girl that just seems to have it all. She's amazingly attractive in every way but nobody can seem to put their finger on exactly why. She just has IT. The cool thing about the "it" girl look is that it isn't that hard to achieve. The important thing about achieving this highly sought-after look is actually to just relax and be your natural self. If you look like you're trying too hard, you'll totally miss the point. With that being said, though, there are some stylish fashion choices that you can make to help you get that look. We chose a few awesome accessories for summer 2018 that will compliment that "it" girl look perfectly with almost no effort.
Boho Floal Style Criss Cross Head Wrap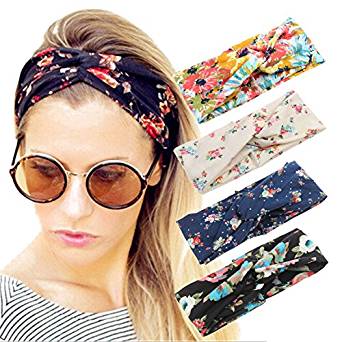 These super cute head wrap headbands from ELACUCOS make the perfect summer "it" girl accessory! These are absolutely adorable and so easy to just throw on. The cool thing about these head wrap headbands is that they add a lot to your look and attract a good amount of attention without becoming tacky, over-the-top, or making you look like you're trying too hard. They are attractive and stylish but retain a good amount of subtlety and ease that many accessories just can't compare to.
These head wraps also have a great value because you get a 4-pack for a killer price. They even come in a variety of different great designs. They come in 6 different sets. Some sets have simple solid colors like black, pink, and red; while other sets include beautiful floral patterns and color-block looks. There is definitely something perfect for anyone trying to obtain the "it" girl look. They are highly versatile and perfectly made of wide, breathable fabric and elastic that will stay perfectly in place all day long.
Cat Eye Mirrored Street Women's Sunglasses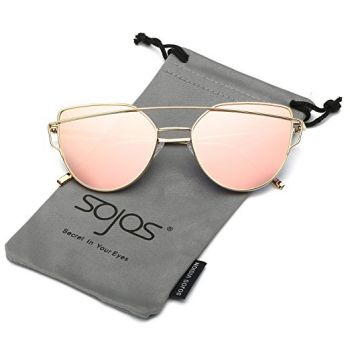 Every girl needs a great pair of sunglasses in the summertime. These fabulous Cat Eye Mirrored Sunglasses by SojoS are the perfect choice when you're going for the "it" girl look! These are highly stylish sunglasses that are not only fun and fashionable but also very useful and practical! They are attractive sunglasses with a stylish metal frame. They get that cat eye appearance that is popular with their rounded bottom lenses that have an angle at the top outside corners. The frame of the sunglasses also has a thin metal bar that curves across the entire length of the glasses crossing over the top of both lenses.
These Cat Eye Sunglasses have stylish mirrored lenses and have UV400 protection for your eyes. That means that they look amazing and also do a wonderful job at protecting your eyes from dangerous UVA and UVB radiation. They are made of high-quality materials for a delicate look that is actually very durable. The soft silicone nose pads even make these sunglasses incredibly comfortable. We really love the gold frame and pink mirrored lenses but there are plenty of great color options for these versatile sunglasses. These are a very stylish choice of sunglasses that are just unique enough to go great with your "it" girl style!
Moon Rhinestone Pendant Choker Necklace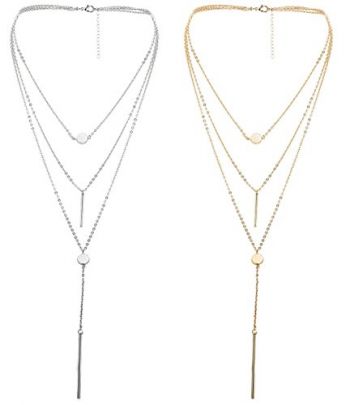 Another amazing "it" girl accessory is this stunning Layered Chain Necklace from Wowanoo. It is a gorgeous piece of jewelry that really helps achieve the "it" girl look. That is because it has the perfect level of effortless style combined with eye-catching details. It will gain lots of attention, but it won't seem like that is what you are trying for. This is one single necklace that has 3 different beautiful and stylish layers that go together perfectly to achieve an amazing look that will have others unbearably envious of your seemingly effortless style.
The top layer of this necklace sits right around your neck nearly as tight as a choker necklace. It helps create an elongated neck appearance that can be seen as very sexy. The top layer also has small metal balls dispersed in equal distances along the chain. The second layer hangs down around where traditional necklaces hang and features a very pretty crescent moon pendent that increases the unique style of this layered necklace. Finally, a third layer hangs down low and features a Y-style look where a long straight chain hangs from the center of the lower layer. A small stone is featured at both the top as well as the bottom of this straight chain. This entire necklace has a unique, almost-bohemian style that will certainly help you achieve a great "it" girl look.
UTAKE Women's Shoulder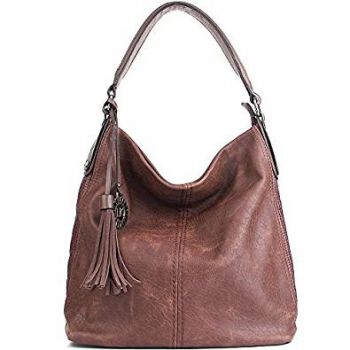 Another very practical "it" girl accessory with tons of amazing style and usefulness is this great handbag by UTAKE. This is an important part of your "it" girl look because you need a good way to carry your belongings that adds to your look without taking away from you yourself. This bag is perfect for that because it is subtly stylish. It is very fashionable but simple enough to not take away from the most important thing in your "it" girl look which is of course, you!
This is a nice and roomy bag without being so large that it is distracting or tacky. It features both a top handle as well as a cross-body strap which make it versatile, convenient, and stylish. It is made of PU leather for a durable bag that looks great, feels great, and even remains vegan-friendly. It has multiple pockets and zippers to easily hold everything you need and even comes in a variety of colors to fit any preferences. It is available in black, blue, dark red, khaki, and more. No matter which color you choose, this bag will be a fantastic addition to your "it" girl style.
Wrap Leather Bracelet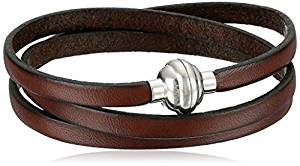 For an easy and affordable "it" girl accessory, this Leather Wrap Bracelet from Amazon Collectionis a must-have! It is so easy to just throw this bracelet on before heading out the door and it adds so much to your overall style. It is made of suede lather and even though it is one bracelet, it is actually made of quite a few small leather strands. It is made in a length that is perfect to wrap the bracelet around the wrist twice before securing it with the built-in snap closures that are lead- and nickel-free.
The bracelet comes in a variety of fun colors. This bracelet in purple, red, blue, or green will be the perfect pop of color that every look needs. The popular style of this bracelet combined with it's touch of unique qualities will really accent the "it" girl look perfectly and effortlessly. It can even be a great idea to get several different colors of this affordable bracelet, so that you can quickly add the perfect touch to whatever outfit you choose. This will add more versatility and unique style to your overall "it" girl look!
Be Yourself
You can spend years chasing that perfect look or style, but the truth is that styles are always changing and the best thing you can do if you really want to achieve the ever-popular and constantly-changing "it" girl look is to be yourself and do the things and wear the things you love. We love to give you great suggestions of fun and stylish accessories, but in the end, what really matters is what you truly love.
Pin for later