Timeless Clothing Items Every Woman Should Own
last updated:
Apr 09, 2019
1244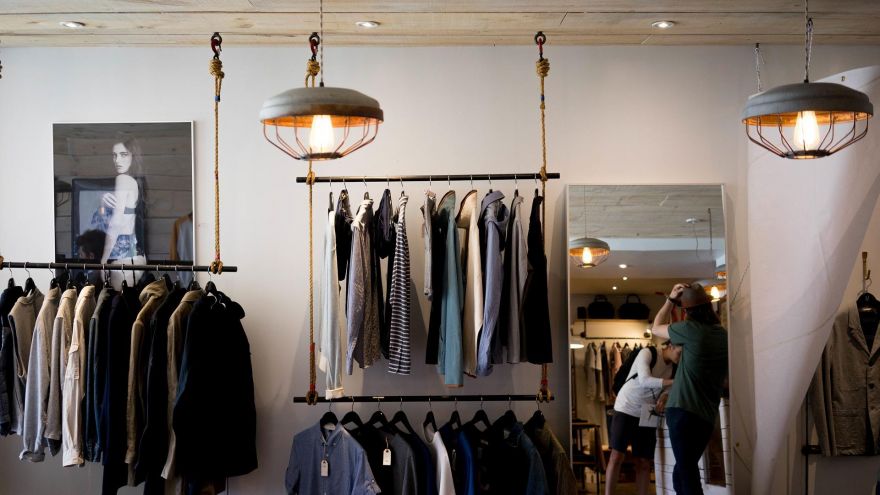 Every morning, a woman wakes up. She might wash her face and go through the motions of her morning routine. There's often brushing teeth involved and floofing the hair post-shower. After all that's said and done, she goes to her closet to peruse the options for a day's wear of clothes. So many options! What to choose? The amount of clothing can be overwhelming for any brod! What can be more difficult is the sift-through of impractical items for an event. For example, all you might want is a basic sweater to wear to work. Seems like you must have had to consider a basic, formal work sweater for a day in the office on your many trips to your favorite local boutique or thatsweetgift.com.
Yet, you throw open your closet doors shuffling to search from hanger to hanger and there is no work sweater in sight. There's the college-never-to-work crop top sweaters, the one you got for an ugly sweater party, a few summer-not-fall light pull-overs, and two long shoulder-to-knee, winter-not-fall sweaters.
Where was your practicality when you last went shopping? It's time to pull back a layer and start from scratch. What items do you keep and what items do you throw away? What do you need?
There's a few items that every woman should have in their closet for practical purposes that surmount to the necessity. You want clothing items that cross the four quadrants of style, season, weather, and variety.
Styles change over time. For example, let's take a pair of rain boots. Rain boots will never go out of style, because rain will always come and go. Rain boots are fitting for rainy seasons, like spring, and any surmounting storm-including rough wind and rain or a snow storm. As well, Rain boots will vary your choice in shoe so you don't destroy the other pairs on wet days trudging to your office. In this sense, rain boots, although not the prettiest of footwear, are timeless; you'll use them forever.
We've compiled a list of timeless items that we think will serve you well, and fill your closet with the go-to items you've been searching for. Re-assess and re-scan your clothing items in your closet after reading this list, and ask yourself, what do I need that's timeless? Consider the practical style of the item, the seasonal wear, whether it is weather-optional, and if it plays into the variety of items you have in your closet-no duplicates! Can you check off all four boxes, and call the piece of clothing timeless?
A big scarf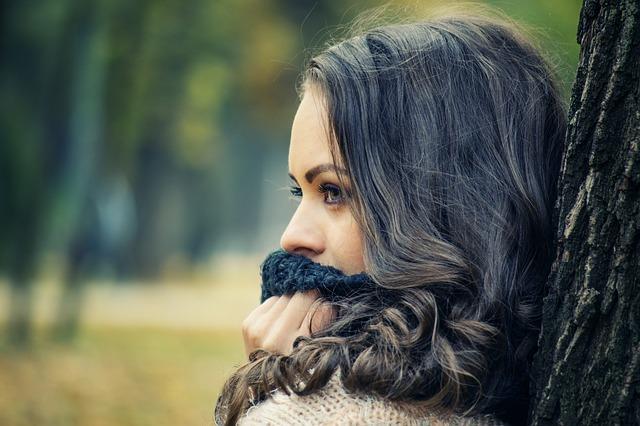 A chunky, warm scarf is the perfect layer for any fall, winter, or spring day. A scarf is a layering item that works across many seasons and types of weather. They are both stylish and practical, and can add variety to your choice of sweaters and throw-over fleeces when it is cold (see what I'm doing, here).
Pick your favorite solid color and find a scarf that appeals to your taste and style of clothing. I would find a big, cozy scarf that can be worn around the shoulders at an evening dinner or around the neck in a frigid storm.
Scarfs can last years and serve so many purposes. This is a necessity for any gal in any state or country. You pick the material and brand and match it to your personal taste in clothing.
A pair of denim jeans
Not much to say here aside from the fact that a good pair of denim jeans is a necessity for the office and outside of work! Get a pair of jeans that you slide into and immediately gain a sense of confidence in yourself and in the way you look.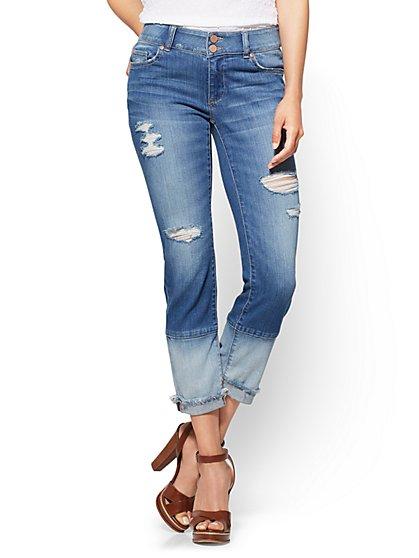 A pair of dark denim jeans are practical for the professional field and in life-whether out on the town or going apple picking at a local farm. If you haven't found the pair that hugs your hips just right and hugs your stomach with care and kindness after that second cup of coffee, then you need to keep looking. Denim is a timeless material, and will always be stylish, no matter the where or the when!
Fall Booties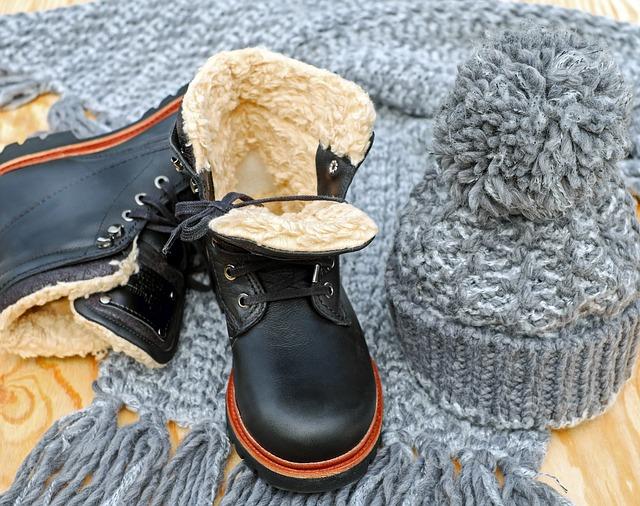 Fall calls for boots! Make sure you have a brown or black pair of short boots to go with your fall whites and denim jeans in your closet. A pair of booties are versatile for play and for work. They can be dressed up and dressed down, and fortunately are heel-optional.
Booties are a necessity for a night out on a date with a short dress and jean jacket, or for the big meeting at the office with a blazer and silk shirt! Booties are the ultimate go-to item when the weather drops and you want to slip into something warm and stylish, and booties go with just about anything!
A leather jacket
Thick or thin, black or brown, leather jackets are necessary to survive city nights out on the town. Leather jackets are both warm and adjustable. They can be zipped up or left open for a stylish flair. Leather jackets are the ideal candidate for parties and attending events at a bar or restaurant because they dress up your look and are warm enough to bare any weather outside.
Since leather jackets aren't too heavy and are shorter, they are also a better candidate item for events where you most likely won't be wearing your coat the whole night.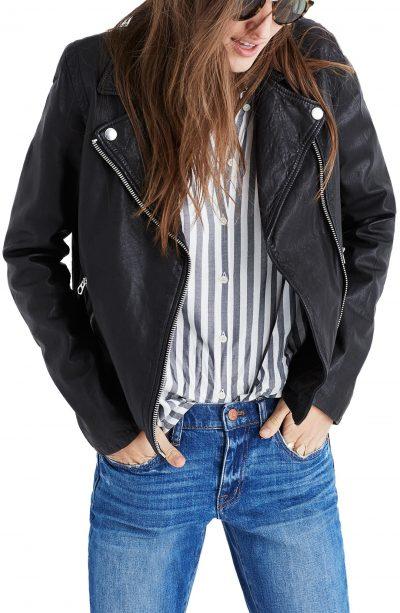 Real leather is pricey, but it is worth the money because of how cozy and luxurious you'll feel. Leather jackets come in different styles and fits. Pick one that fits your personality and your body well. It is a staple item that you'll come back to year after year, so shop carefully and pick the perfect fitted leather jacket!
A white v-neck t-shirt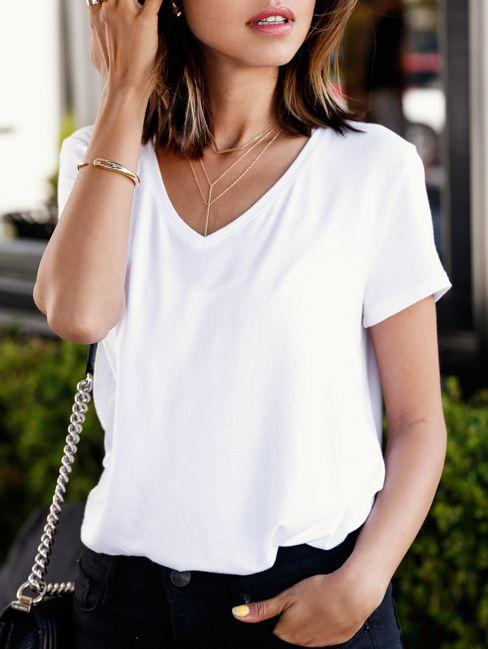 A white short sleeve shirt, preferably v-cut, will go with any festive outfit you want to rock. A white basic v-neck goes great under a leather jacket, a big sweater, or even over your exercise clothing for a post-yoga class coffee date. You can slip it under formal and professional wear, or wear it casually with cut-off jeans and a pair of loafers.
The white t-shirt also goes with any color and any style item, and can be dull down any bright or festive wear you have on!
Pin for later