This product is listed here: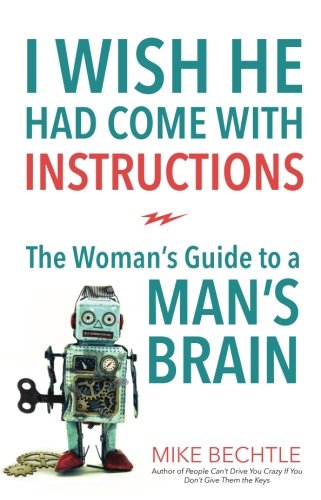 I Wish He Had Come with Instructions: The Woman's Guide to a Man's Brain
For those women in a relationship who have ever wished that their man had come with an instruction manual, here it is! "I Wish He Had Come With Instructions" is a wonderful primer into the complexities of the male brain and how those complexities can affect your interpersonal relationships.
This book is the perfect gift for the bride to be and will be of great value to her before she plunges into the ocean of wedded bliss and her first efforts at decoding the male brain. But really, this is a great read for any woman who could use a little help in deciphering the thoughts and actions of her man.
Detailed information about I Wish He Had Come with Instructions: The Woman's Guide to a Man's Brain
How many times has what comes out of your man's mouth completely mystified you? Or perhaps this scenario sounds familiar: You have asked repeatedly for something to be done and you are beginning to think that he is hard of hearing? Well, rather than making a doctors appointment for him maybe you should give this book a try. Perhaps it isn't the way you ask it, but the way he hears you.
Communication and relationship expert Mike Bechtle provides some much-needed insight into the workings of the male psyche and how to communicate effectively across gender lines. The thought process is that although there are many differences between the sexes, we have equally as many things in common, and focusing on those will help facilitate strong and effective conversation.
WHY WE LIKE IT?
An insider's how-to guide on effective communication with the opposite sex
Remove the gender barricades and find out what he is really thinking
Authored by communication and relationship expert Dr. Mike Bechtle
What we love about this product
Any woman will benefit from reading this book and exploring why the men in your life seem hardwired to do and say the things they do. Understanding the "why" will help teach you to deal with the "how" of effectively communicating with your partner. Hopefully, with this new-found enlightenment, you and your significant other will come out on the other end with a stronger and more sensitive understanding of one another.