Winter is Coming! Time to Wear a Scarf: How to Wear One (Bonus: Our 10 Favorite Blanket Scarfs)
last updated:
Nov 19, 2018
1692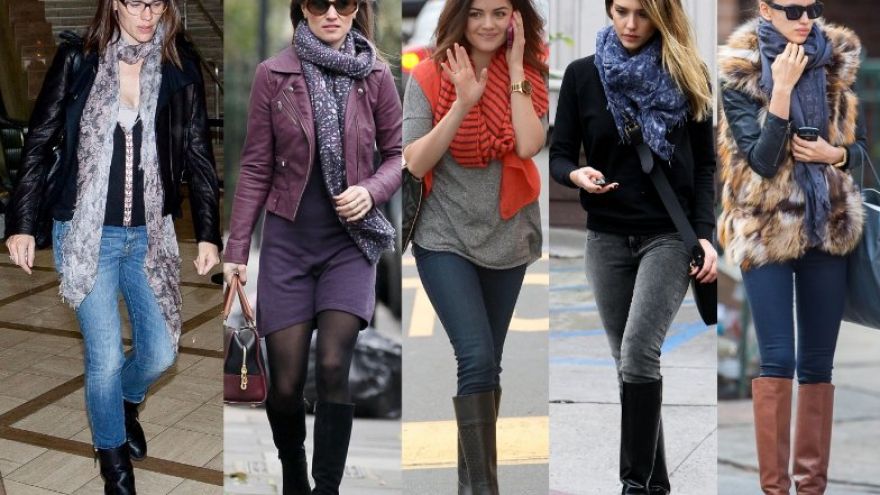 Winter is coming, in fact for many, it has already come! Some of you have already seen snow, and many others have dealt with very cold temperatures already. As the holidays roll around, it is time to get bundled up to enjoy all sorts of festivities! Or, at the very least, you want to be warm as you head off to work or out to visit with friends or to finish all of your Christmas shopping.
One of the best ways to keep warm is to wear a scarf. You might not think this accessory would make a big difference, but we assure you it does! Especially if you have a large, thick scarf- you will feel much warmer no matter where you are off to!
However, if you are like us, you want to stay warm, but you want to look good while doing it. Turns out, that is totally possible. This year a major trend we are seeing everywhere is the blanket scarf. Totally fashion forward, but also totally warm, they are perfect! We love a trend that is functional and fashionable.
Unsure how to wear your blanket scarf (or any scarf, really?) No problem! Here are some of the most popular ways to wear one that you can copy as you head out during the season. And stick around after for our 10 favorite blanket scarfs!
Method 1: The Simple Toss
Looking for a simple, quick way to wear your scarf? This method is the easiest, but is still very chic! All you need to do? Place your scarf around your neck with both sides hanging down towards the front. Simply grab one side and toss it over your shoulder. That's it!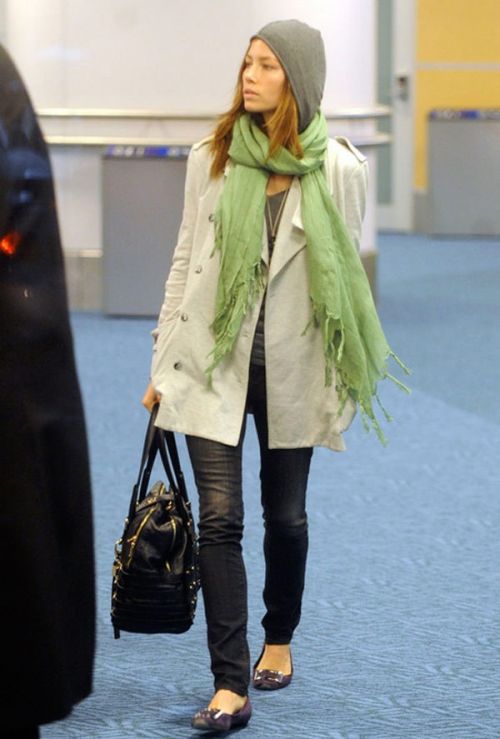 It really couldn't be simpler. You'll be out the door in no time. This works will all types of scarfs, but especially for longer scarves that way you can easily toss one side over your shoulder without it falling off.
Method 2: The Full Twist
Do you have a thinner scarf that you still want to use during the cooler months? No problem! The full twist is a great way to wrap your scarf more tightly to keep your neck warm. Twist the entire length of the scarf lightly and wrap it around your neck twice. The the ends loosely and then tuck the ends into the rest of the scarf.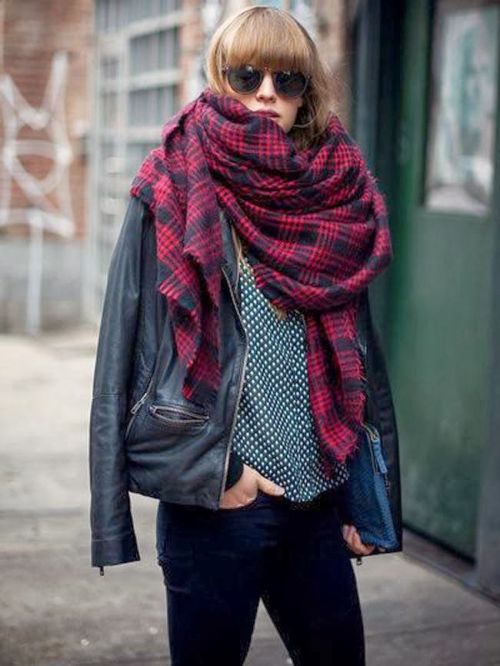 We suggest pushing the knot to the back so it is hidden. That's it! Make sure you don't tie this too tightly (you want to be able to breathe!) If your scarf is very long you may have to wrap it three times. This style turns your scarf into a fashionable, warm choker necklace! Cute!
Method 3: The Wrap
This is perfect for a large blanket scarf. The wrap is an easy, chic way to wear your scarf. Best of all, it will still keep you warm! Unfold the scarf entirely so it is in a big square or rectangle. Simply drape it over your shoulders, and that's it! You can either have the back of the scarf hang down the back, or you can bunch it up a little (maybe have a friend help with that!)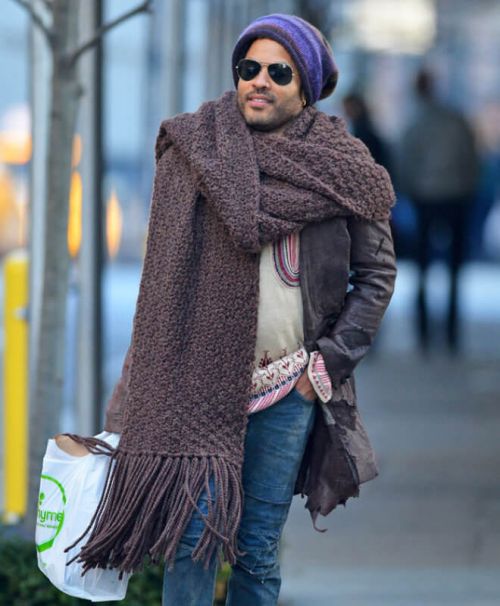 Depending on the size of your scarf you will have varying amounts of material across your back. Either way, this is a chic way to step up the look of your outfit while also adding some extra warmth! Plus, it couldn't be easier!
Method 4: The Loop
This is another fairly simple way to wear just about any scarf. This won't work with a very short scarf, but any other scarf will work perfect. Fold the scarf in half and wrap it around your neck with both sides hanging down at the front.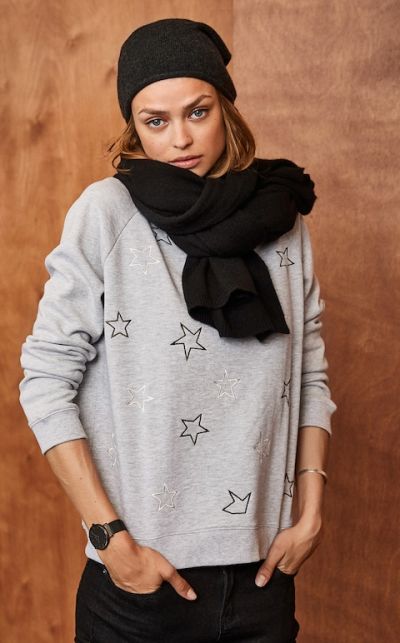 Take the loose ends and simply stick them through the 'looped' end of the scarf. You can either keep it loose or you can adjust the loop up higher (perfect if it is very cold and you want the most warmth possible). Simple, warm, and chic!
Method 5: The Necklace
If you have a larger scarf and aren't sure how to wear it so that it doesn't look 'overpowering' the necklace method is perfect! This also works better with a scarf that is a perfect square, but you can make it work with a rectangle scarf as well. Start by folding your scarf perfectly in half. Grab two diagonal ends and tie them in a knot. Place the loop over your head and place at the back so the scarf hangs in the front. If you have a smaller scarf you might be done, or if you have a larger scarf, loop it around your neck again, and that's it!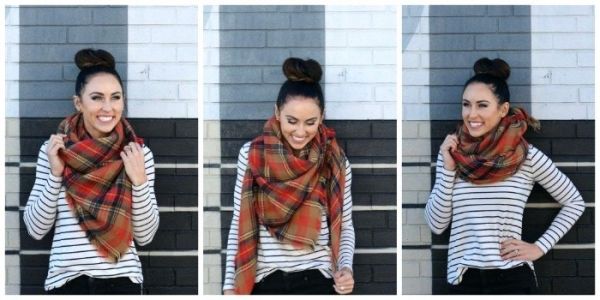 This essentially turns your scarf into an infinity scarf so that you can wear it in either one or two loops around your neck.
Method 6: The Tie
Finally, you can't go wrong with the simple tie method with your scarf. Just as the name suggests, simply place your scarf around your neck and tie the two ends together. You can either tie it loosely towards the bottom of the scarf, or tie it up higher, the choice is yours!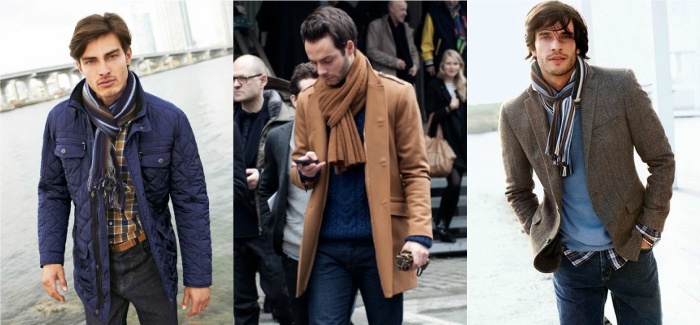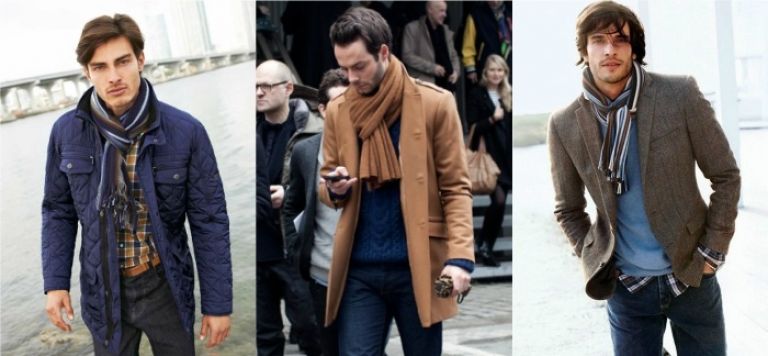 This is an easy way to wear your scarf and get some extra warmth while still looking incredibly chic.
Bonus: Our 10 Favorite Blanket Scarfs
Now that you know how to wear your scarf, are you in need of a new one? Why not try out one of these on-trend blanket scarfs? Soft, cute, and warm! You can't beat that combo. Here are our favorites.
1. Tartan Plaid Checked Large Blanket Shawl Scarf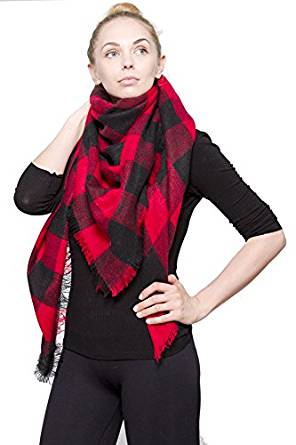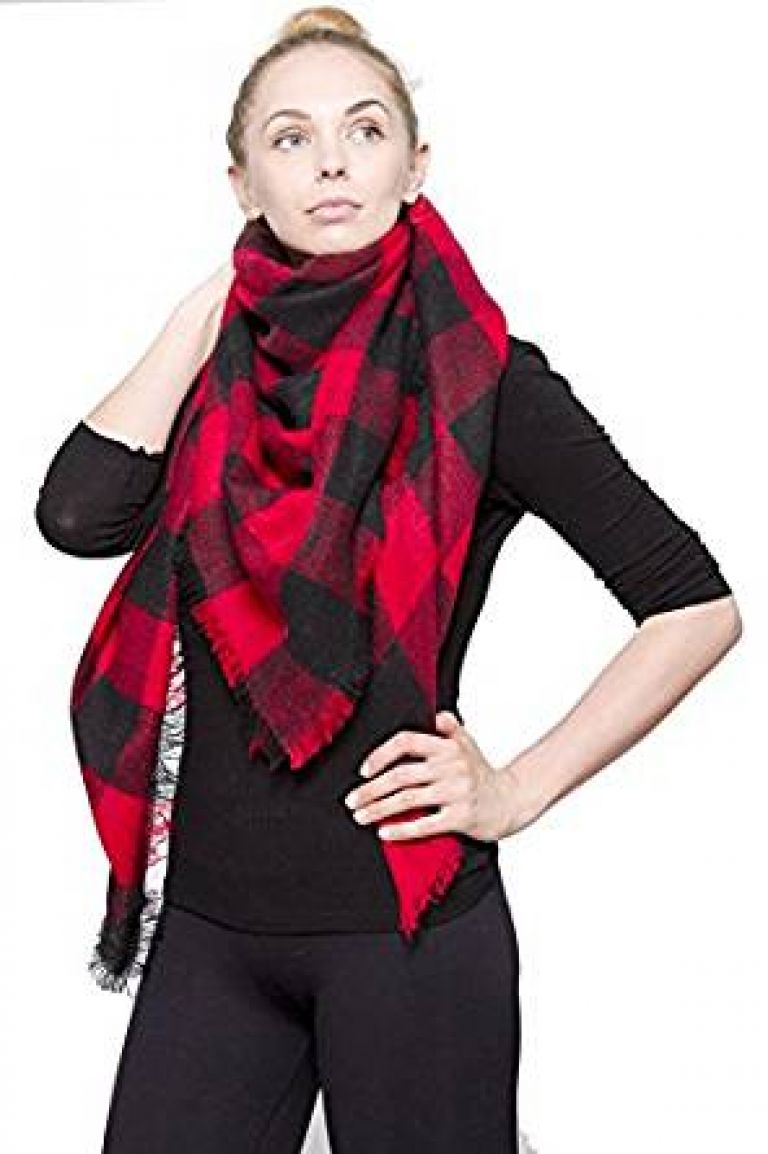 We love this red and black plaid blanket scarf. Perfect to add a bold touch of color to any outfit. The fringe ends elevate the scarf as well and it will certainly keep you warm while also keeping you looking fabulous!
2. Long Plaid Chunky Oversized Big Warm Scarf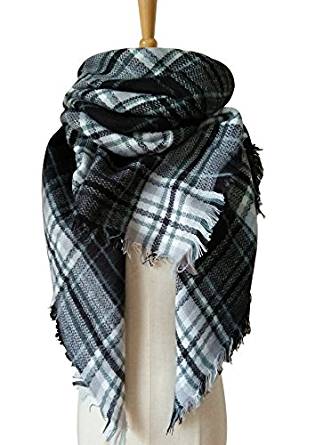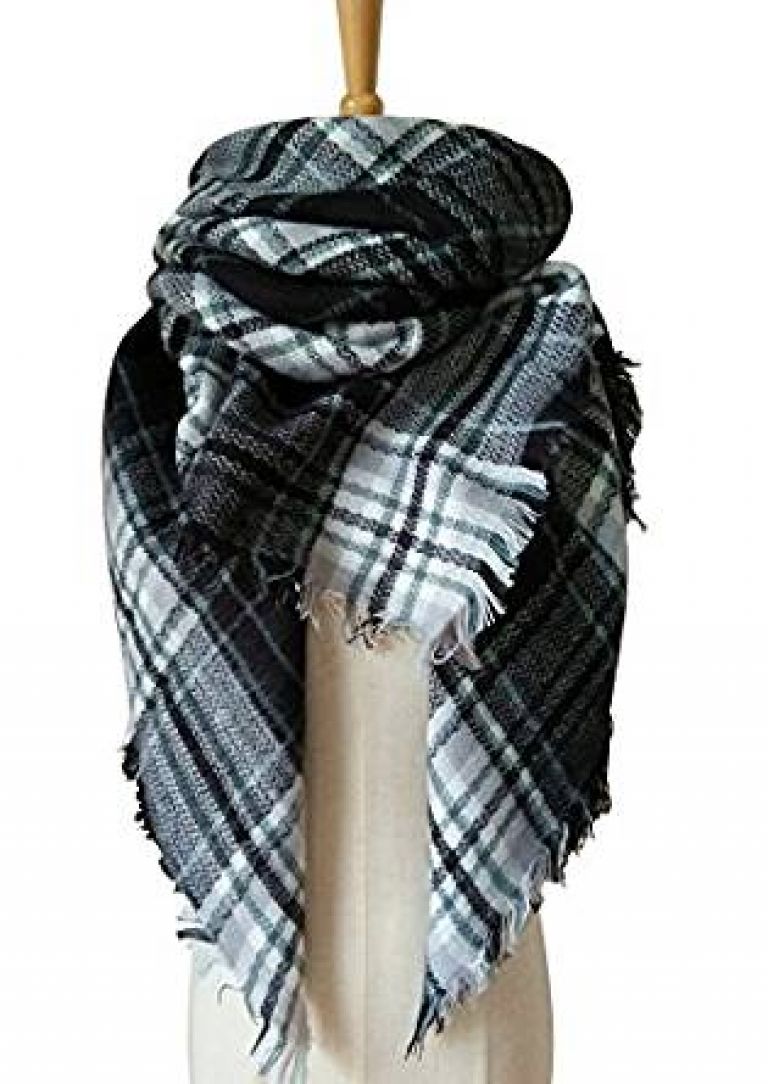 We really love this blanket scarf because of how unique the colors are. If you don't want a more boring neutral, but don't want to go too bold, why not meet in the middle with this gorgeous pink/salmon shade combined with a beautiful rich looking emerald shade. We absolutely love this color combo and love how cozy the scarf looks as well.
3. Warm Cozy Tartan Wrap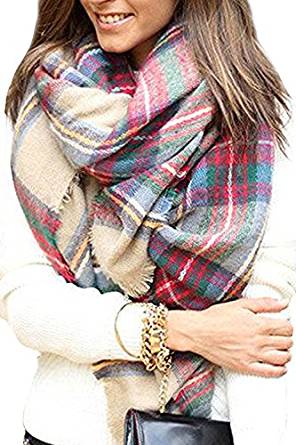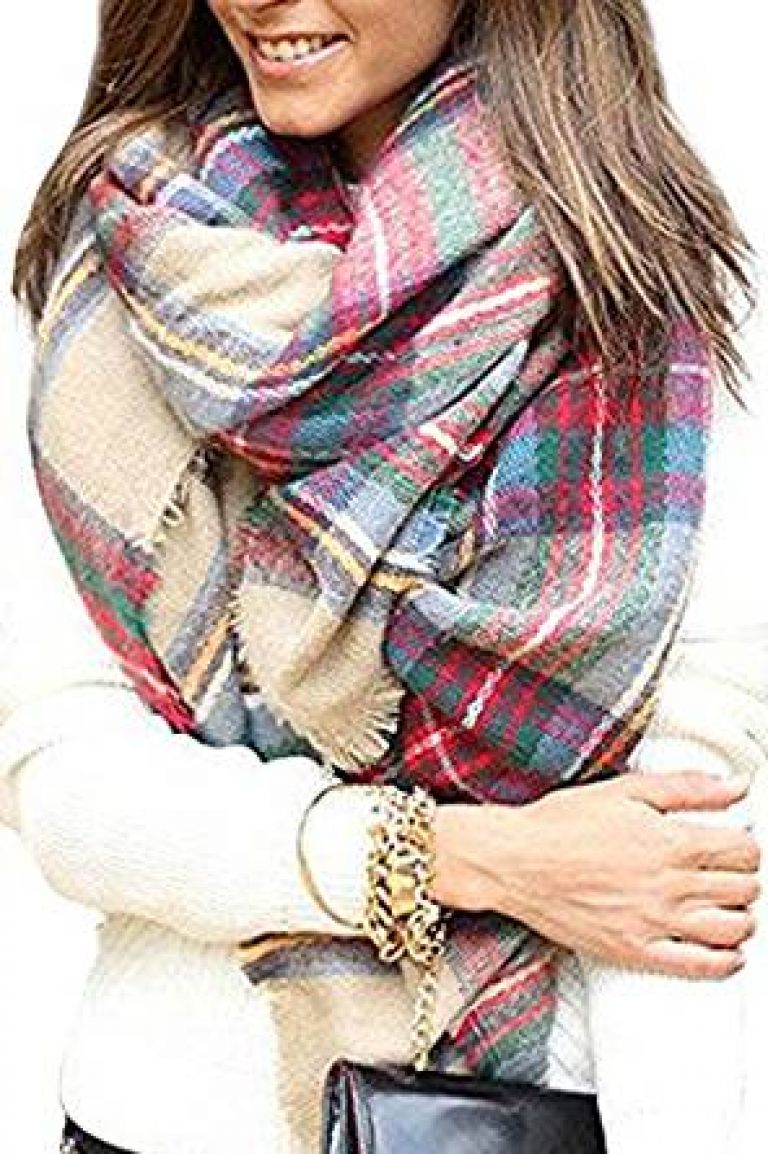 If you want to go all in on the blanket scarf trend, this plaid blanket scarf is perfect. Oversized and totally soft, this scarf will keep you warm even in the coldest of conditions. The plaid is in a bunch of fun colors without being over the top, meaning it is still very wearable all season long!
4. Soft Classic Plaid Large Tartan Blanket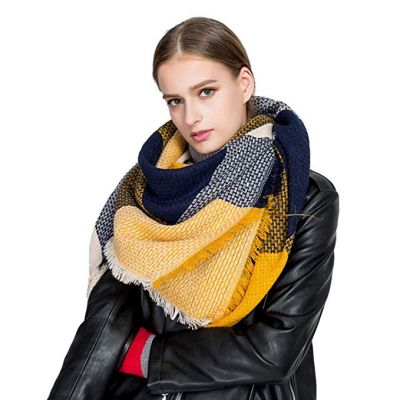 If you are more of a neutral person when it comes to your clothes, why not go with this gray and white blanket scarf? Gray has become the new go-to neutral, and we love how elegant and chic this scarf looks. The subtle plaid print is also something we totally love, and is perfect for anyone who doesn't want a typical bold plaid print but still wants in on the trend.
5. Zando Plaid Blanket Thick Winter Scarf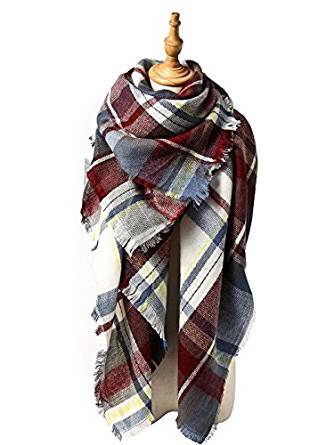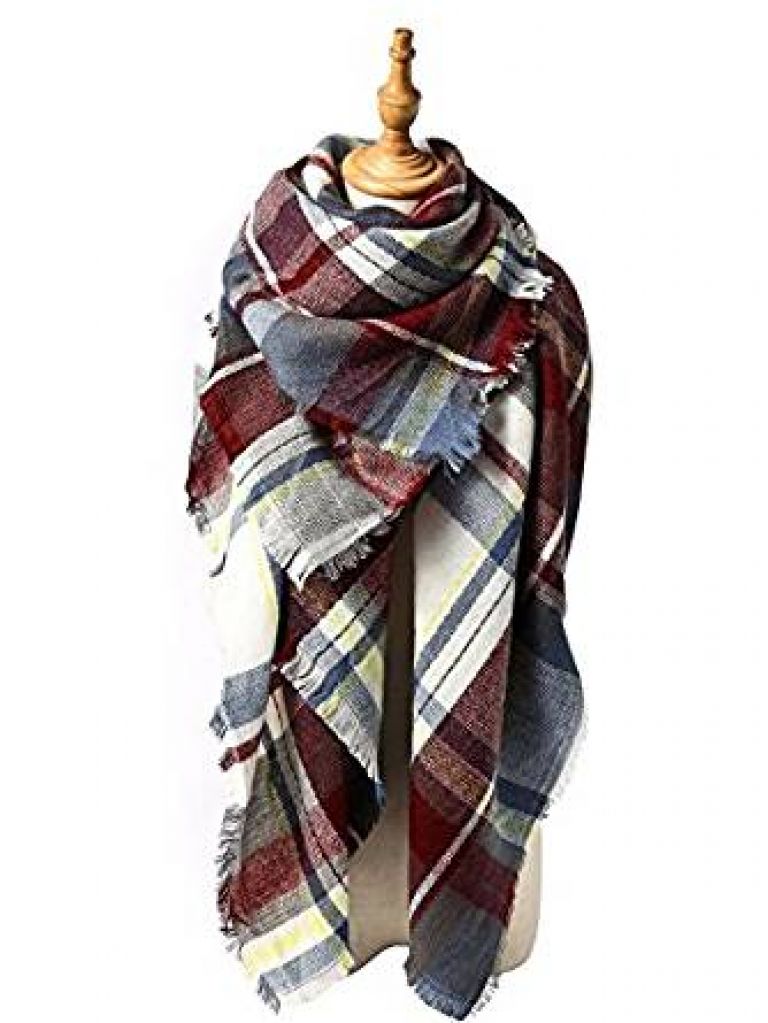 This next scarf is another plaid print, but we love the unique blend of colors this scarf has. You can never go wrong with a deep garnet shade this time of year, but mixing it with the denim shade and a vibrant yellow gives this scarf a totally unique look!
The yellow is subtle enough to not be overpowering, but we love that is really brightens up this winter scarf! A great accessory piece to wear with a neutral sweater and leggings.
6. Women's Cozy Tartan Scarf Wrap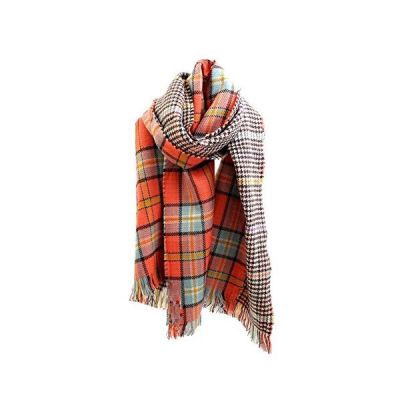 We love the material of this scarf and enjoy its geometric shapes. If you don't want a solid colored scarf but don't necessarily want plaid, this is a great compromise. The gray-blue tone of this scarf is also something we are loving. Perfectly soft and cozy, this will keep you feeling warm and looking chic all winter long.
7. MOTINE Tartan Blanket Scarf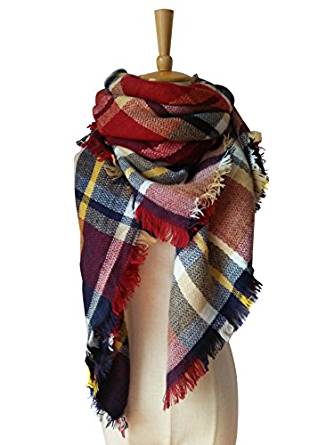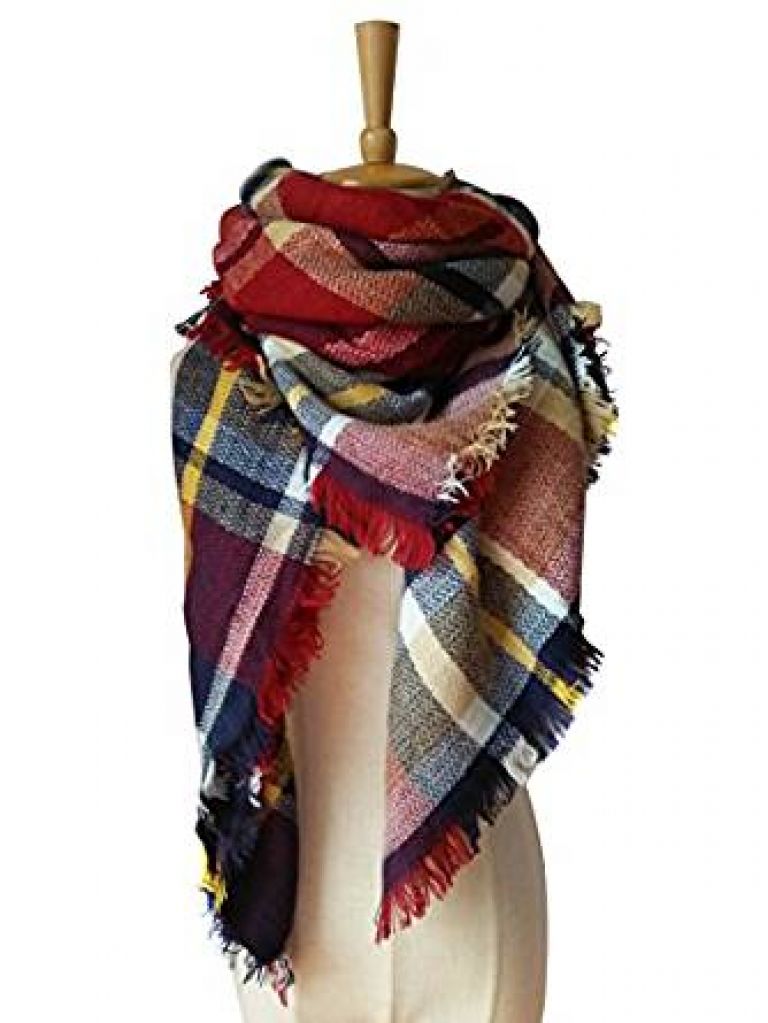 Green is always an accent color that we totally love, which is why we couldn't resist this green and blue plaid blanket scarf. This particular shade of green is a gorgeous emerald shade and is one that is universally flattering. No matter your skin tone, this scarf will be the perfect compliment and makes for the perfect winter accessory!
8. Zando Soft Warm Tartan Plaid Scarf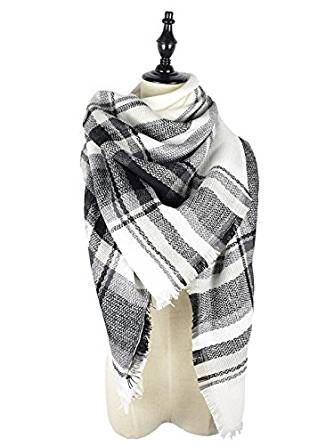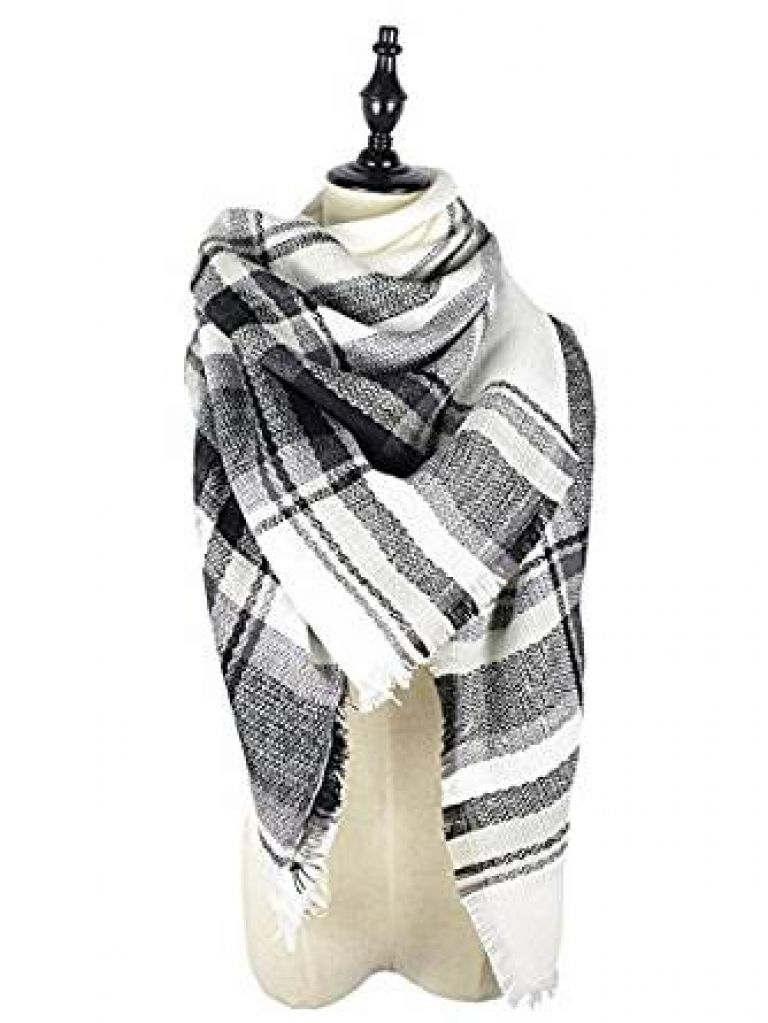 We are seeing a lot of cream and black this season, so this blanket scarf takes care of two major trends! Still neutral, but more interesting than just being a solid color, we absolutely love this blanket scarf. If you want a really elegant looking scarf to add to your wardrobe this season, this is it!
9. Wrap Shawl with Plaid and Herringbone for Cold Weather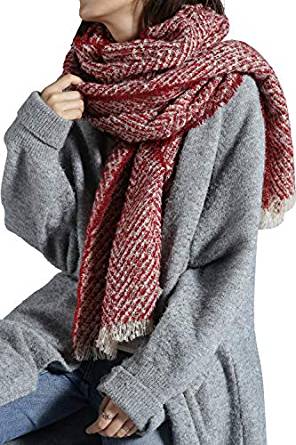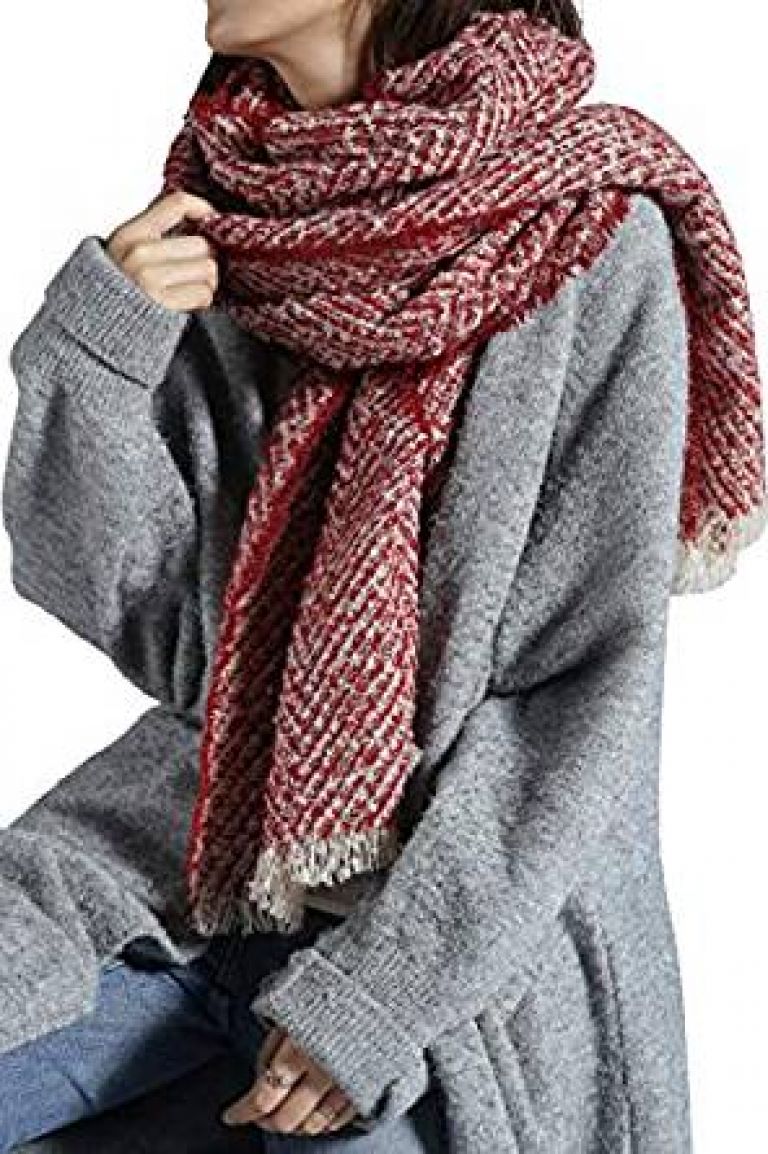 If you are not wanting to mess around this season when it comes to the cold, this blanket scarf is for you. Just look how cozy it looks! Perfect for anyone who lives in extremely cold weather, this scarf will do its job to keep you warm, while still looking incredibly cute. The herringbone design is also a nice change up from the plaid design that most blanket scarves have. This is a winner in our eyes!
10. Cashmere Blanket Scarf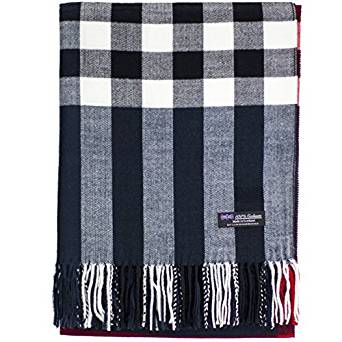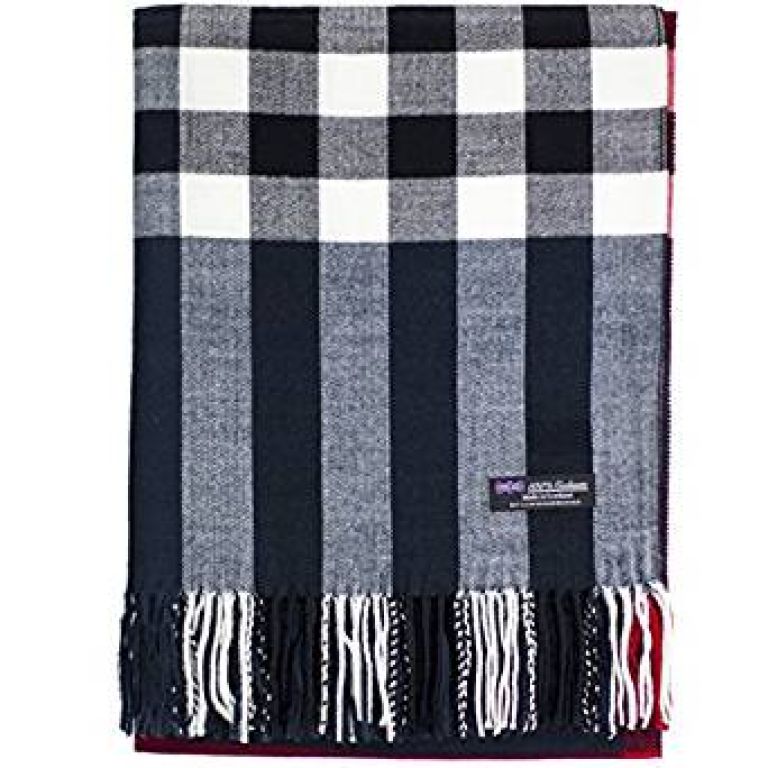 Finally, if you don't feel like going with any type of print, you can always go with the classic black scarf. It doesn't get more timeless than this, and it will go with absolutely anything you have in your closet. Perfect if you want in on the trend but don't want to go too trendy. This is a solid blanket scarf that you will be able to wear year after year. Plus, it is incredibly soft! It's a win win!
Wrapping Up
There you have it! You now know how to wear your scarf, and have 10 new possibilities to try out. Are you loving the blanket scarf trend? Just try one on once and we are convinced you'll love it.
You are sure to be happy, warm, and fashionable all season long with these scarfs. Happy Holidays!
Pin for later