5 Ideas on How to Recycle and Reuse Wrapping Paper
last updated:
Nov 04, 2020
3444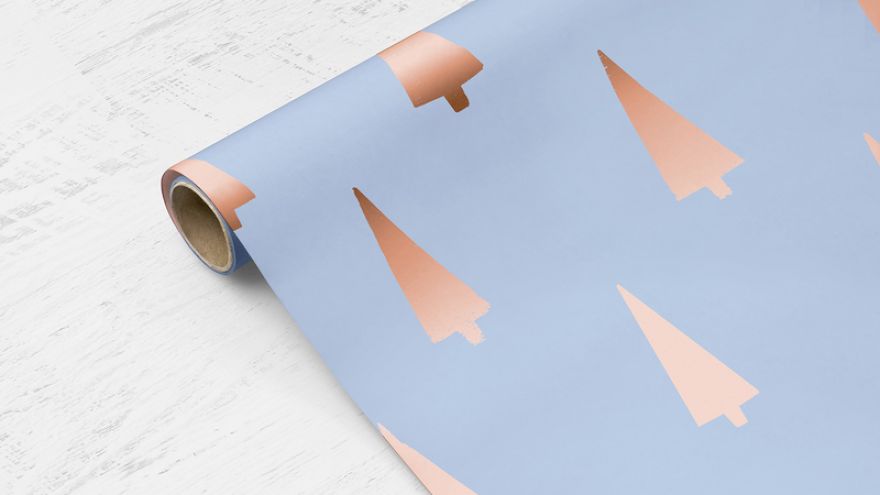 Come the holidays most people are worried about spending money on gifts, and with good reason. But, a significant part of your budget likely also goes towards wrapping paper! After all the gifts have been opened at least everyone can enjoy all the new items they got, but the wrapping paper often goes right in the trash. Doesn't it seem like such a waste?
It is! It is so fun to get creative with wrapping paper, but seeing it all get torn up and thrown away in a matter of seconds always feels like such a let down. What if it didn't have to be? As creative as you can get with wrapping gifts the first time, you can take that creativity to the next level by recycling and reusing the paper!
If you aren't quite convinced, we understand. You don't want your reused wrapping paper to look like reused wrapping paper. Totally fair! And with these awesome ideas- it won't!
Feeling crafty? Good! You're in the perfect frame of mind. Here are 5 excellent ideas on how to recycle and reuse wrapping paper.
1. Framed Art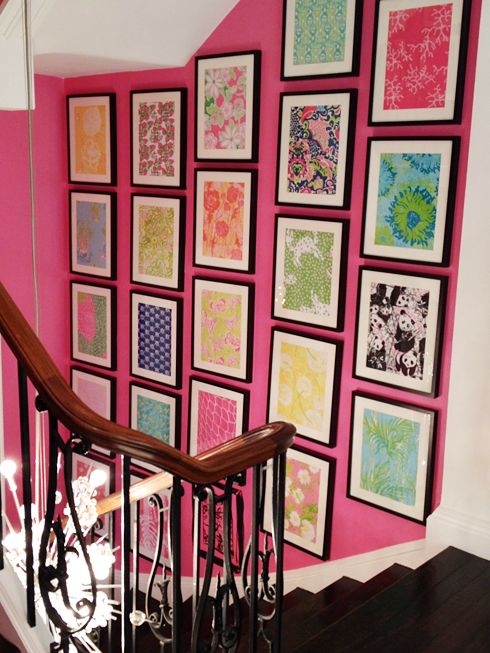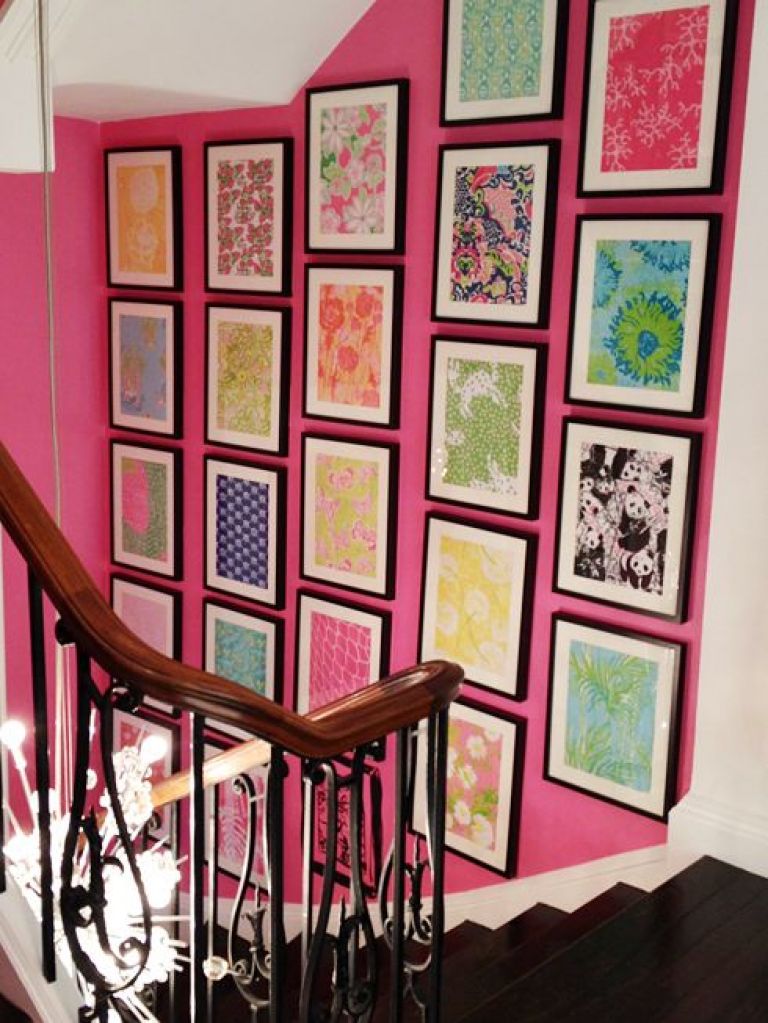 This is such a great idea, and it is really easy! Maybe it's just us, but when we shop for wrapping paper, we select the colors and designs that we think are gorgeous. Don't let those patterns go to waste! Instead, reuse the paper to create simple framed pieces of art that you can then use as decor. Best of all, you can do this for any holiday and have themed decor to use throughout the year. Decorations can get expensive, and this is a great way to make your own with material you already purchased to use to wrap gifts. You probably have some other picture frames laying around that you don't use anymore- use those to frame the paper!
You can easily repurpose those by painting them white or another color. If you don't have any frames at all, go to your local thrift store to find some for cheap! This is a great way to make use of wrapping paper to make some gorgeous, modern decor that you can look forward to displaying year after year.
See the full tutorial here: Thoughtfully Simple
2. Bookshelf Lining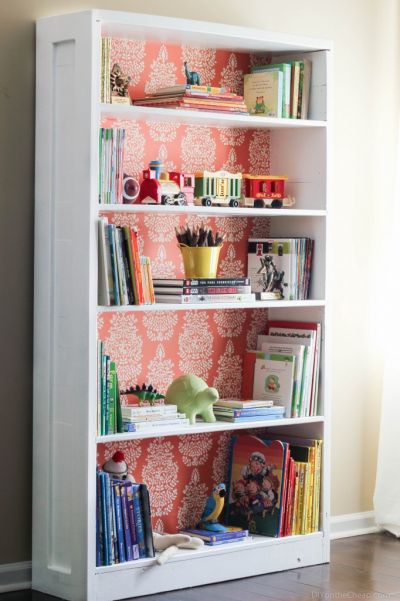 We love the idea of jazzing up a bookshelf and giving it some color! A regular bookshelf doesn't have to be a boring element in your living room or bedroom. Take some old wrapping paper in a design and color you like and either line the back of the bookshelf, or line the shelves themselves! This is an easy way to make a basic furniture piece look like a custom, expensive piece of furniture that becomes a focal point of your decor!
Did you use bright, fun wrapping paper this year for your child's birthday? Use that paper in their room! It is a great, easy, fun way to add some color to a child's room, and is something they are sure to like as well! Believe it or not, it can really make a big difference in a space. Best of all? If you decide you don't like it any more, just take it down, and replace it with something else! This has virtually no cost, as you already have the bookshelf and the wrapping paper, you are just combining these elements together in a really cool way!
See the full tutorial here: Jewels at Home
3. DIY Bows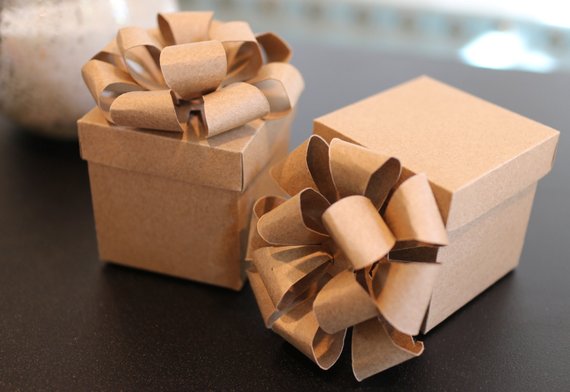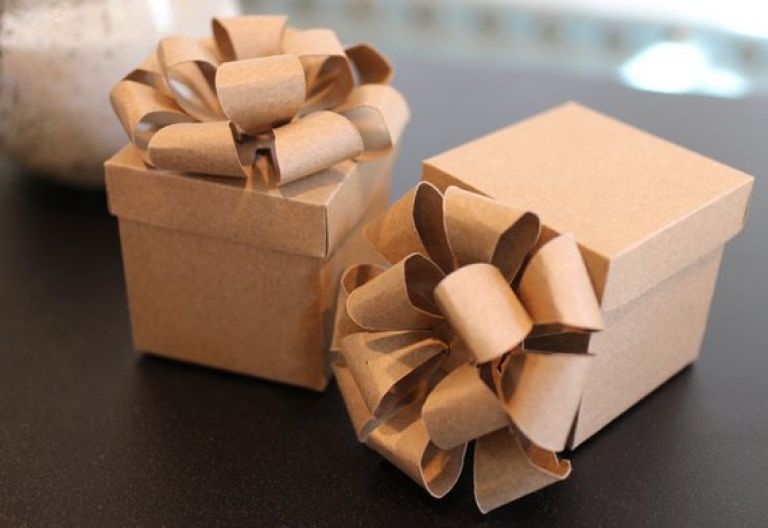 Okay, we think this next idea is so cool. And you might be thinking it would be so difficult to create your own bows, but it really isn't! This is such a great way to make use of old wrapping paper. Use the paper to create another decorative element that you can use on future gifts for friends and family!
Even if you aren't super crafty, you can follow this tutorial and end up with some super cool, unique looking bows! We always find that bows you find at the store are so boring- they come in such basic colors, and they are so expensive! Instead, you can make these bows out of any old wrapping paper you have, giving you a unique set of bows that will make your next gifts look better than ever. Best of all, if you're careful, you can save the bows after the gifts are opened and use them over and over!
See the full tutorial here: 100 Layer Cake
4. 3D Art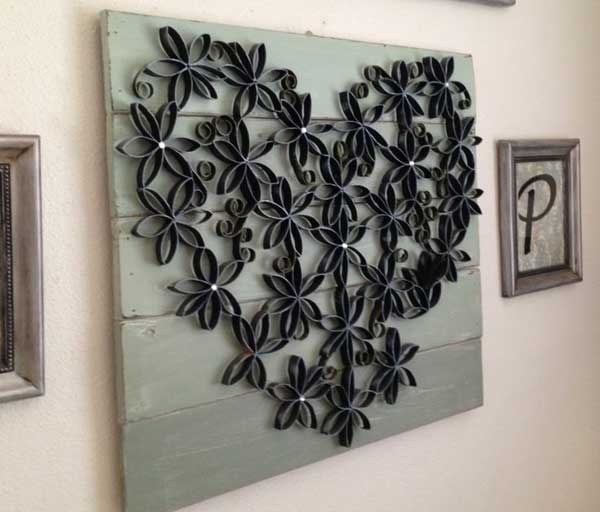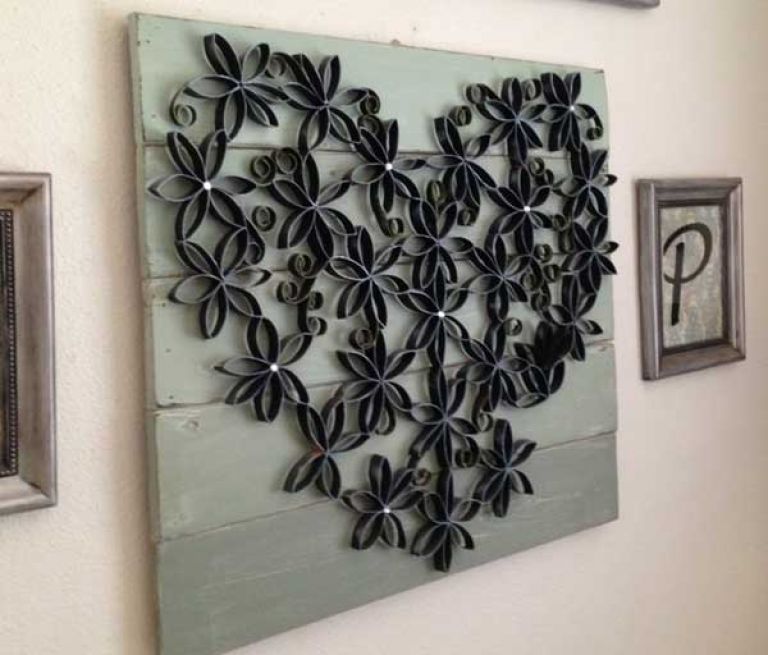 In addition to reusing old wrapping paper, why not also make use of the tube that the wrapping paper comes on? It can be recycled and used for cool projects as well! In particular, we love the idea of making 3D wall art – it looks so unique and like you purchased it from an exclusive art gallery! You have a bit of flexibility with the shapes you make from the cardboard, and once they are glued in place, you can paint them whatever color you want! Either hand paint them, or save time by busting out some spray paint!
This is a fun backyard project that results in some seriously cool artwork. Trust us, every time you have people over they are sure to comment on this art! Just make sure to sign it with your name- it's an original! Who knows you might even get some requests to make more art for friends and family!
See the full tutorial here: Just a Girl
5. Confetti!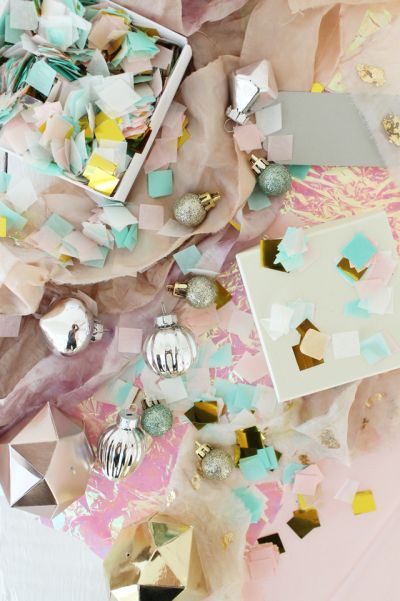 Finally, if you have a bunch of leftover wrapping paper and it is sort of wrinkled and torn, don't despair. You can always put it through a paper shredder and end up with some seriously fun confetti. We think there is a serious lack of confetti in today's world, don't you think? Sure it may make sort of a mess, but it's just so much fun! Best of all, this is an incredibly easy project – you just put it through a shredder! Then, store your confetti somewhere and bust it out at parties all year long.
Whether you choose to actually throw the confetti, or just use it for decor, that is up to you. We think this is perfect to use at a birthday party or on New Year's Eve. This is a super easy project and a great way to make use of absolutely all your leftover wrapping paper. It doesn't matter the condition or the color, shred it, and use it for some fabulous decor!
See the full tutorial here: One Good Thing
Wrapping Up
Who knew there were so many ways to make use of old wrapping paper? From ideas to use it again during the holidays, to smart projects that you can create and make use of all year long, you actually have a lot of options! Your wrapping paper (and wrapping paper tubes) no longer need to go to waste. Reuse it and enjoy your projects year after year, not just for 30 seconds on Christmas morning!
Do you have any special tips or tricks for reusing wrapping paper? Let us know!
Pin for later