Our Favorite Wrapping Papers For a Kid's Gift!
last updated:
Jul 01, 2019
1676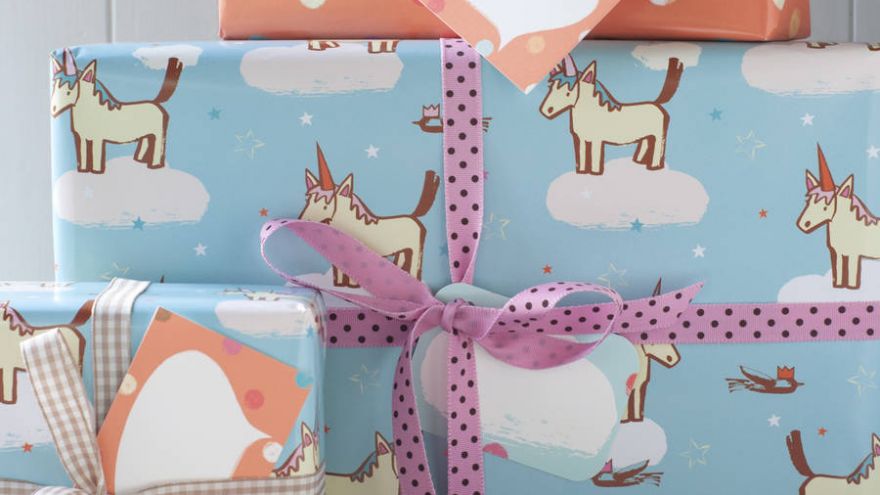 When it comes to opening presents, the vast majority of kids won't care about the wrapping paper, however, everyone else will. In order to set your gifts apart from everyone else, getting your hands on the perfect wrapping materials can make your gift shine above all of the rest. We've collected our favorite wrapping papers for a kid's gift so you can choose the perfect colors and themes for an upcoming special event.
1. Hallmark Justice League Wrapping Paper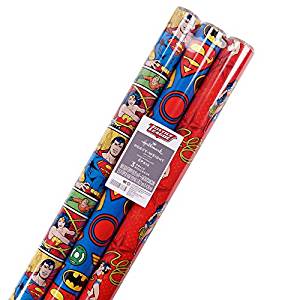 For kids who are a big fan of DC Comics, they're going to absolutely adore the Hallmark Justice League Wrapping Paper, not to mention it will fit perfectly into a superhero themed birthday party. With this item, you'll not only receive one full roll of wrapping paper but three, with a variety of different designs on them.
Another thing that makes the Hallmark Justice League Wrapping Paper unique is that it comes with pre-marked cut lines so you can make the most out of an entire roll without any waste. Each tube offers 35 square feet of paper that are measured at 30 inches by 14 feet long.
Some of the most popular characters pictured on the paper include Wonder Woman, Aquaman, Cyborg, Green Lantern, Flash, Batman, and Superman.
2. Creative Paper Co. Brown Kraft Paper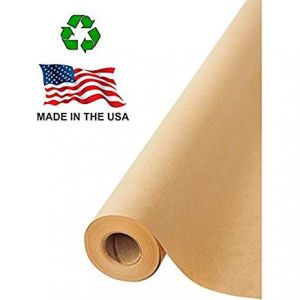 As a staple for any décor enthusiasts presents over the past couple of years, brown kraft paper (also known as butcher paper) is a great choice for the more creative-minded wrappers. If you have kids, this is also the best wrapping paper that you can choose for their friends or family members as it opens plenty of creative opportunities.
As kraft paper is relatively bland and boring on its own, why not have your kids decorate the entire roll with unique drawings and scribbles that their friends will be sure to appreciate? You can use a wide variety of art mediums ranging from permanent markers to watercolor paints to truly transform the wrapping into something unique.
Alternatively, you can use the Creative Paper Co. Brown Kraft Paper blank and add a few special embellishments, such as miniature action figure wrapped in ribbon, that the recipient will be sure to love.
When you order it you'll receive 100 feet of paper that are created out of 100% recycled materials, making it entirely eco-friendly.
3. WRAPAHOLIC Printed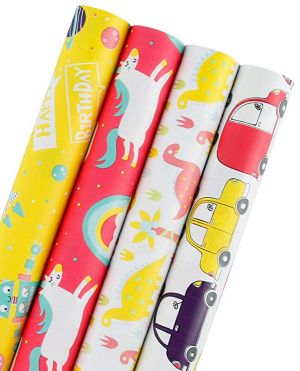 If you're someone who isn't particularly a fan of trademarked superheroes, movies, or characters from novels, then you'll be in the market for an equally as amazing roll of gift wrap that has its own unique flair.
One of the reasons as to why we love it is that you get designs that are adaptable for boys and girls alike and they don't have a particular preference towards a specific group of characters. So, in the event that the recipient might have grown out of a certain phase, the wrapping paper is still adaptable.
In your order, you'll receive 4 different rolls of paper, one roll has "Happy Birthday" and is yellow, the second has dainty unicorns with hot pink paper, the third has yellow and hot pink dinosaurs, and the fourth has cutely drawn automobiles. The wrapping paper is constructed out of eco-friendly material and you get 25 square feet per roll.
4. Sea Life Animals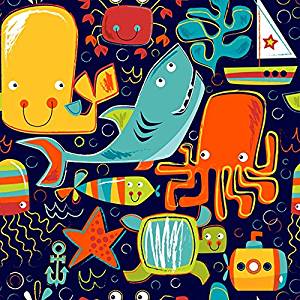 The Sea Life Animals Kid's Gift Wrap is a phenomenal option for a loved one who has always had a passion for life under the sea, however, the print on the paper isn't as realistic as it is fun and cutesy. With a dark navy background, scribbles of waves and bubbles, it sets the perfect setting for all of the adorable and fun characters. You'll see a smiling whale, a funky octopus, little fish, and even a funny shark printed onto the paper.
If there's one thing that can surely be said about the design of the wrap, it's that there are plenty of unique characters to look at and appreciate, plus, it stands out against generic one-tone wrapping paper.
Each roll that you purchase is 24 inches by 15 feet long and are hand measured to make sure that you get as much paper as possible. You'll also appreciate how it's cellophane wrapped to make sure that the paper won't incur any damage during shipping.
5. LaRibbons Paper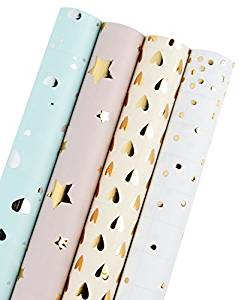 Minimalism is phenomenal, especially if you know the kids won't be too interested in the wrapping paper but you still want to make sure that your present looks modern, chic, and ready to open. The LaRibbons paper comes in a package of four rolls and each roll has their own unique design that is suitable for children of all ages and genders. You'll even find that this wrapping paper would be perfect for teens, adults, and even newborn baby gifts.
On your first roll, you'll receive a soft blue background with silver heart embellishments, on the second roll it's a baby pink background with gold star embellishments, the third roll offers a vanilla background with gold heart embellishments, and finally, a white roll with gold polka dot embellishments.
Similar to the other wrapping paper packages on this list, thewrapping paper is made out of eco-friendly material that is 25 square feet per roll. Also, all of the embellishments are made out of a gold foil material and have a glossy finish for the perfect aesthetic for any occasion.
The Benefits of Choosing the Right Wrapping Paper
At the end of the day, you're going to want to dress your present up as much as possible and with the right wrapping paper, you'll have all of the guests in awe. There are hundreds of different kid-friendly designs to choose from, however, these 5 are surely the best for absolutely any occasion for any child in your family. From eco-friendly 100% recycled material wrapping paper to unique and extrinsic prints that will impress a whole crowd, all you have to do is choose the right one for your upcoming birthday party or family get together.
Pin for later