This product is listed here: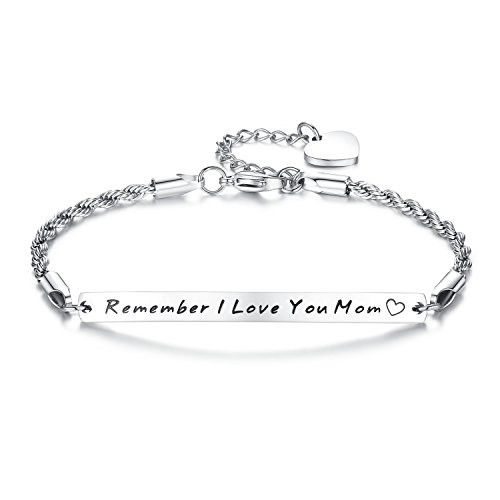 Hannay Stainless Steel Engraved Bracelet
Working out what type of special present to give to your mother is always a bit of a problem. You want to give her something special but there are so many cheap pieces of bling out there, you always have to be careful what you buy.
You want to give her a piece of jewelry that won't leave green marks on her skin and won't result in a rash. But on the other hand, you cannot afford to buy her a solid gold or sterling silver piece, and she knows you can't afford it and she wouldn't expect you to buy something expensive anyway.
After all, it is the thought that counts not the price. So what do you get her for that special occasion? The solution to this problem is to buy your mom this adjustable bracelet from Hannay.
Detailed information about Hannay Stainless Steel Engraved Bracelet
Stainless steel is hypoallergenic, will not rust and will not leave a stain on the skin or clothing. Giving such an exquisitely designed bracelet will make any mom smile and the beautifully engraved sentimental message 'remember I love you mom' will bring tears to her eyes.
It is plated with either 14k white or rose gold so that only the purest metals come into contact with her skin. All this quality is something you cannot miss especially at such an affordable price.
Having said all that Hannay give a 100% satisfaction guarantee to make sure you and your loved one are perfectly happy with the gift.
WHY WE LIKE IT?
Made from hypoallergenic stainless steel plated with 14k white or rose gold
A beautifully designed bracelet with a sentimental message
Very affordable
Comes with a 100% satisfaction guarantee
WHY WE dont LIKE IT?
None
What we love about this product
Hannay jewelry uses only the finest materials and the best craftsmanship to make its quality jewelry. This bracelet is made from allergy free, lead-free and nickel free recycled and recyclable material.