This product is listed here: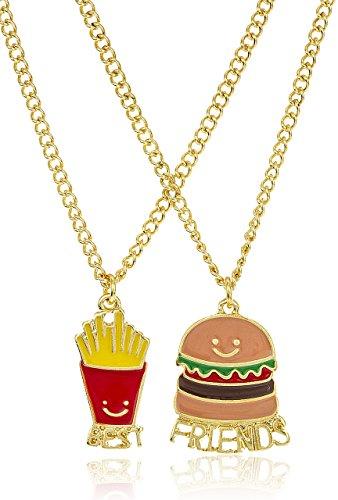 Goldtone Burger and Fries "Best Friends" Necklaces
Best friend necklaces have always been around. Most are in the shape of hearts or circles and are nice, but everyone has them. If you want to get your friend something meaningful, but not cliché, consider the gold tone burger and fries 'best friends' 18" adjustable necklaces. Fries and burger go together like peanut butter and jelly and are rarely seen separate. This adorable necklace pair puts a unique and fun twist on a classic gift. Instead of giving two halves of a heart, give necklaces that are bright, fun, and one of a kind. Plus, they go together just as well as hearts do, because we all know that burgers and fries are the way to any foodie's heart.
Detailed information about Goldtone Burger and Fries "Best Friends" Necklaces
These best friends themed necklaces have adjustable 18" chains that are gold tone, meaning you do not have to worry about size or age differences, they will fit virtually everyone! The necklaces are of good quality and will hopefully last as long as your friendship - forever! The bright colors are fun and attractive and will definitely be the topic of conversation on your way back to school.