5 Gift Ideas to Bring to a Holiday Party!
last updated:
Dec 31, 2018
1356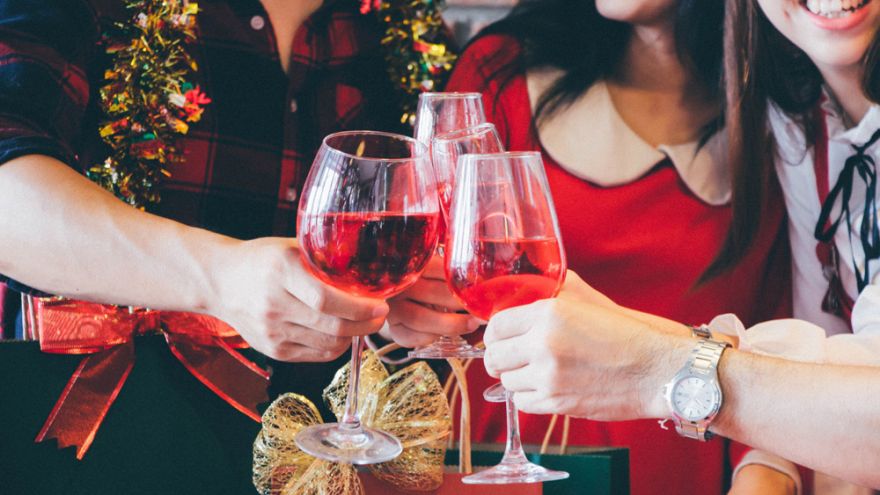 Have you got several holiday parties coming up? Between Christmas and New Years, there is much to celebrate! 'Tis the season for holiday parties, and for most that you attend, it is a good idea to show up with a gift. If you've ever been the host for a party, you know how much work goes into planning. Picking a location, creating the guest list, sending out invites, determining the menu, music, and activities, and so much more!
If you have received an invite for a holiday party (or for several parties) for this year, you should absolutely bring a gift to thank the host for their hard work. Are you unsure what the perfect gift is for the situation? Not to worry! We are discussing 5 great gift ideas that are perfect to bring to any holiday party.
Best of all, these items are also incredibly affordable! We all know how expensive the holiday season is to begin with, and adding one more gift to the list can feel overwhelming. These gifts are all affordable, but are perfect for any host.
1. Wine Charms
This is an excellent gift for a holiday party. Have you ever set your drink down and forgotten which was yours? Not only does this waste whatever you were drinking, it makes you dirty another glass! As a host, this is incredibly frustrating and results in far more dishes to clean at the end of the night. While you could always resort to disposable cups, many people like to use nice glassware during the holidays. The solution is- wine charms! These charms attach to the stem of a glass so that you can easily keep track of your drink all night long.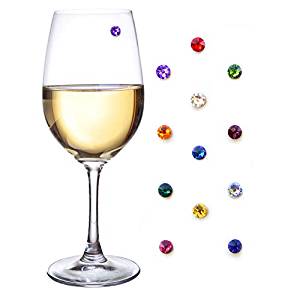 Best of all, there are so many types of charms out there- meaning you can get a set that perfectly matches the personality of the host! From sleek modern charms, to bold designs, or even funny charms, there are so many possibilities. These make the night fun while also being incredibly useful.
2. Party Game
Sometimes there can be a lull in a party and things can get a bit awkward. The perfect solution is a great party game! You can easily save the day for the host by providing a great fun game that can be played during the holiday party. From family friendly games, to more adult games, there are plenty of party games available. Consider getting a game that will be appropriate for the party you are attending so that it can be used right then if needed.
If it isn't needed during the party, it is still a great gift that the host can enjoy during future game nights with friends and family!
3. Chalkboard Serving Tray
While most hosts having a party have some type of serving tray, the truth is that you can never have too many when it comes to holiday parties. These make it easy to quickly serve all sorts of appetizers and desserts. To make it more unique of a gift, we love chalkboard serving trays. Instead of having to answer the same question over and over again (looks great- what is it?) you can write it out on the serving tray and present it to your guests! This is a useful fun gift that is perfect for the holidays, but also for all other parties all year long.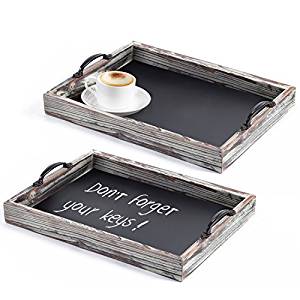 This is also great if you are serving a variety of options based on people's dietary preferences. Easily point out items that are gluten free, vegan, and more!
4. Personalized Cutting Board
A cutting board is also a necessary kitchen item when preparing for a holiday party, but you can easily make this into a special holiday gift by having it personalized! Consider adding the host's name and a favorite quote or special date. Not only will this be useful, it looks great and is something they could even decide to place on display when it isn't being used!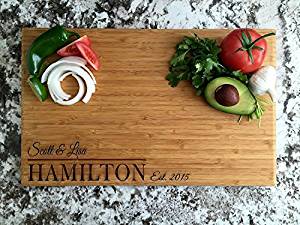 We love finding a practical gift and turning it into something that is also nice to look at, and this does the trick perfectly!
5. Wine/Champagne
Finally, if you are attending a holiday party more than likely there will be various alcoholic beverages served. Showing up with an additional bottle of wine or champagne is actually a great gift idea, even if it feels like it wouldn't be necessary. In truth, the host can either save the bottle and enjoy it after the party in order to relax after the stress of hosting, or, in an emergency it can be enjoyed during the party if other drinks run out!
There is nothing worse for a host than running out of something during a party. In particular, people aren't thrilled when they can't have more to drink (it is the holidays after all- it is time to relax and have fun!) An extra bottle of wine can help save the day to keep the party going. This is a classic gift that you just can't go wrong with, especially during the holidays!
Wrapping Up
It is the height of party season, and showing up with a thoughtful gift is the perfect way to thank the host for planning an excellent party for friends and family. From games, to drinks, to serving platters, and more, these are some of the best gift ideas to consider this season.
What is your favorite gift to receive while hosting a party? Let us know- and Happy Holidays!
Pin for later