This product is listed here: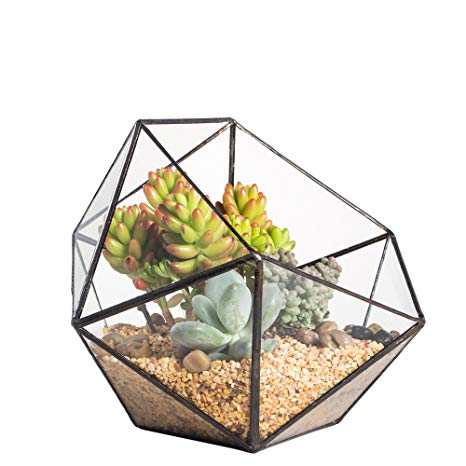 Geometric Glass Terrarium Succulent Planter
This beautiful diamond-shaped succulent planter from Tchan is a highly versatile piece that can bring great value to a wide variety of locations and serve multiple purposes depending on the space and desires. It has a very modern design with its clean, geometric patterns and is a piece of interest that will catch attention quickly and easily. It is shaped like a 3D diamond with the base of the planter actually being the top of the diamond, so that the point of the diamond points straight up into the air. It is made with a brass frame and small glass panels that allow you to easily see into the planter and look at whatever it may contain.
Detailed information about Geometric Glass Terrarium Succulent Planter
Speaking of which, you can put almost anything you can think of inside this planter. As the name suggests, it is a great choice for succulents, cacti, or other small plants, but it can also be used for a wide variety of other things. For example, it makes a lovely place to put some nice candles or a wonderful jewelry holder. You could even simply use the piece all on its own and it would still be a fantastic decoration. The rose gold/coppery appearance of the brass makes it a lovely piece that will go great in a variety of styles and color schemes.