This product is listed here: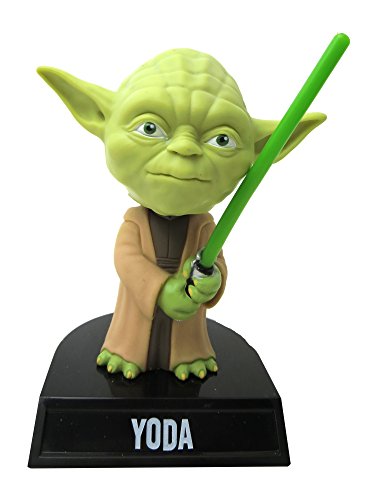 Funko Yoda Bobble – Head Accessory For Star Wars Fans
A little bobble head is essential on your office desk or in your home office. It is not only a lovely collectible but also a piece to have fun with your folks and peers. Most bobble heads are created to represent characters in movie series. They have defined roles and personalities in the movies that you can relate to. For Star Wars fans, Yoda is one of these characters. If you like the personality Yoda displays, then getting the toy is enough to keep a memory of the character.
The toy is made of durable and safe plastic and is also a licensed Star Wars bobble. It is 5.5″ tall and has a sturdy base for support. Just like Yoda in the movie, this one has a light saber to keep off wicked guys from your working area. In his bright green color, Yoda bobble head is as freaky as it is in the show. This makes it a great décor piece and is suitable for use at home, office or class.
Detailed information about Funko Yoda Bobble – Head Accessory For Star Wars Fans
If your folks love Star Wars, this would be a thoughtful gift for this coming Easter holidays. It is a fun toy to keep, and the 'extra force' tagline will entice you as he bobbles. Also, if you love having bobble heads in your space, then having Yoda will add on to the fun. It is appropriate for children above three years all the way to adults that love such toys.