This product is listed here: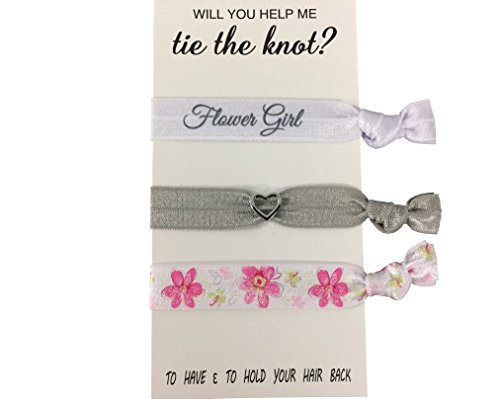 Infinity Collection Flower Girl Hair Ties
As you go about choosing the wedding outfits, it is essential to consider the little girls' designs. This means ensuring matching the outfits will the accessories that suit them the best. With this in mind, you should manage to hack the process of design selections.
On this note, this head ties would be perfect matches for the wedding day. They are designed to spice up the little girls' outfits making them eye-catching and attractive. Again, it is a day they will remember and keep the head ties for a long time.
Detailed information about Infinity Collection Flower Girl Hair Ties
The hairbands are designed to brighten up the flower girls' look without pulling their hair. Unlike the traditional ponytail holders, these are painless, and the elastic is comfortable to pull back the hair. They are made of no crease ribbons that ensures the hair is held back well without pulling it too tight. This feature makes it suitable for young girls.
The pack comes with three hair ties for you to choose the most suitable one for the event theme. One is grey, the other plain white and the last one has elegant details. These head ties can be used for any event including weddings, birthdays, beach photo shoots, etc. Indeed these make the perfect set for a flower girl's gift.