This product is listed here: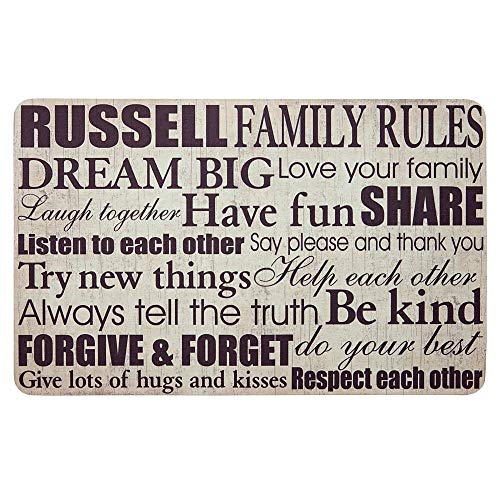 Family Rules Doormat – Personalized
A family is all about great memories, a warm home, laughter, and fun activities. As everyone goes on with their lives out there, there will always be a fond memory of their home and their family. But these kinds of memories don't just happen; they are created. Whether consciously or unconsciously, the memories live on and they are a perfect reminder of family. What a better way to create a family memory than giving out a gift that everyone will always fondly remember?
This gorgeous uniquely designed doormat from Personal Creations is perhaps one of the most memorable family gifts you can give to your family or a close family that you adore. It's simply adorable and super cute. There is no better way to make a home welcoming than having this personalized doormat right there at the entrance.
Detailed information about Family Rules Doormat – Personalized
Doormats sometimes are usually overlooked, and people tend not to pay attention to them. But that will not be the case with this particular one. This beautiful doormat can be personalized with any name with up to 12 characters. It's an exclusive creation which will capture the attention of visitors. It will beautifully pass the family values and always serve as a reminder of what the family entails.
Alternatively, you can choose to add the family name or an inside joke that the family shares to make the doormat a pleasant piece for the family to always to remember. Or, you can choose to simply personalize it with a welcome message along with the family values to make everyone in the family together with the guests to always feel welcome and at home! The Doormat is a beautiful addition to any home, and it will add a personal touch that speaks well of the family.
WHY WE LIKE IT?
The doormat can be personalized with up to 12 characters name or word
Beautifully printed with family rules
Its available in different colors
It's safe; has an anti-slip rubber backing
Available in two different sizes
WHY WE dont LIKE IT?
None
What we love about this product
This is a unique personalized doormat with family rules. You can request to have a family last name printed on it!