Best Workout Leggings: Top Rated Picks Which Won't Cost You a Fortune
last updated:
Aug 13, 2019
2713
There's nothing quite like having the best workout leggings at your disposal, as they give you the ability to look and feel fantastic throughout the day. Many women find that although they are designed for time spent at the gym or yoga studio, they're also phenomenal for everyday wear.
The main issue is that most leggings can cost up to $100 from high-end retailers. We've found several different pairs of workout leggings that won't break the bank and still have the high-quality luxurious feel you're looking for.
The Best Workout Leggings Handpicked by Our Editor!
1. IUGA High-Waist Yoga Pants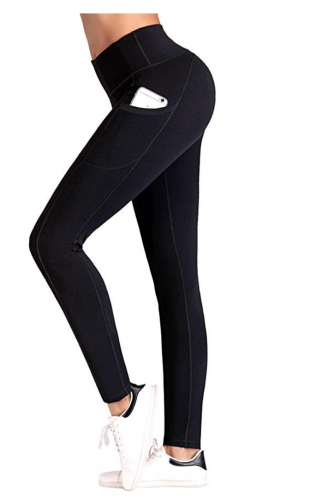 Available in over 20 different colors, the IUGA High-Waist Yoga Pants will hug your every curve and give you the flexibility and comfort you need to make the most athletic movements possible.
Some of the most notable features of these leggings include:
✓ Compression and Support: The design of these leggings provides both compression relief and support with the help of the four-way stretch wicking material to keep you cool and dry during your workout.
The high-rise waistband features tummy control so that you always look your best and the gusset crotch is perfect for free movement without the worry of chafing.
✓ Ultra-Stretch: Without being see-through, these leggings conform to every curve on your body so that you look perfectly sculpted and contoured. They also feature a hidden pocket in the waistband for you to hide any of your essentials.
2. Fengbay Yoga Pants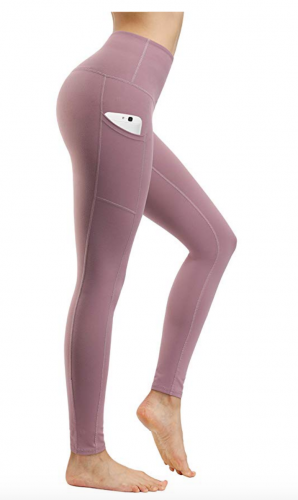 As another phenomenal pair of high-waist yoga pants with tummy control, these are ideal for all different types of exercises. We also find that they have a less athletic aesthetic, so you can easily pair them with casual outfits as well.
With over 21 different colors to choose from, you'll have the perfect color for every outfit.
Our favorite features of the Fengbay Yoga Pants include:
✓ 4-Way Stretch: These yoga pants have incredible stretch in all directions without compromising your privacy and becoming see-through. The specialized crotch area also helps to reduce discomfort and chafing.
✓ Hidden Pockets: There is a hidden pocket on the side of one pant leg so you can store your phone and keys without stretching out the material of the leggings. There are also an additional hidden inner pocket and a hidden pocket in the waistband.
✓ Tummy Control: By far, our favorite part of these leggings is that they come equipped with tummy control which helps to improve the contours around your waist to help you feel more confident on a daily basis. In addition, they have compression technology to help reduce muscle fatigue and promote healthy blood flow.
✓ Moisture Wicking: To keep your body cool and sweat-free during a workout, the moisture-wicking material absorbs sweat and dries incredibly quickly.
3. SYRINX Soft Athletic Leggings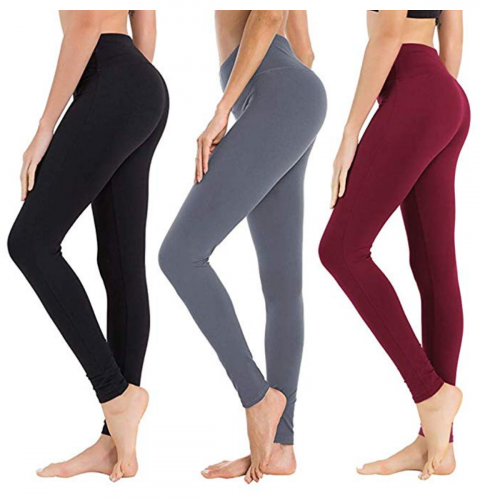 If you're not a fan of the traditional yoga pant material akin to most athletic gear, you'll love these leggings as an alternative. Crafted out of ultra-soft materials to keep your legs comfortable, they're one of our favorite options on this list.
Additionally, they ship in packs of two, three, or more, depending on how many you need and in many color variations.
The best features of the SYRINX Soft Athletic Leggings include:
✓ Cotton-Blend Fabric: With the help of the cotton-blend fabric, you'll be able to wear the leggings in any type of weather and still feel comfortable. They also contain a little bit of spandex (8%), so they are highly adaptable to all body types that require stretch.
✓ Tummy Control: With the added elastic waistband and a high-rise silhouette, you'll have the ideal amount of tummy control without feeling like your body is being misshapen and uncomfortable.
✓ Easily Adaptable: These leggings don't look like your average workout leggings, which is why they are one of our favorites. They work perfectly with casual and formal pieces, helping you to create the perfect outfit for any occasion.
4. Olacia Yoga Leggings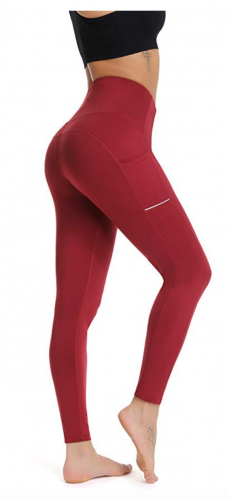 Sleek and stylish are the two first words that come to mind when we look at these leggings. They are crafted with quality in mind and have plenty of phenomenal features you'll want to take advantage of, including:
✓ Polyester and Spandex: If stretchy material is what you're looking for, these are one of the best pairs of leggings to consider as they're made from 88% polyester and 12% spandex.
✓ 5.1" High Waist: The waistband of these leggings measures in at 5.1", which is more than enough length for superior tummy control. The wide waistband is incredibly comfortable for all body types, so you can feel your best throughout the day.
✓ Reflective Features: On the side of the leggings, you'll notice there are reflective stripes which are ideal for people who enjoy going for walks or runs at night.
✓ 4-Way Stretch: Leggings with 4-way stretch are by far the most comfortable, as it will feel as if you are wearing a second skin. These leggings are also quick-drying, so they are ideal for workouts where you know you'll be sweating a lot.
5. 7Goals Capri Yoga Pants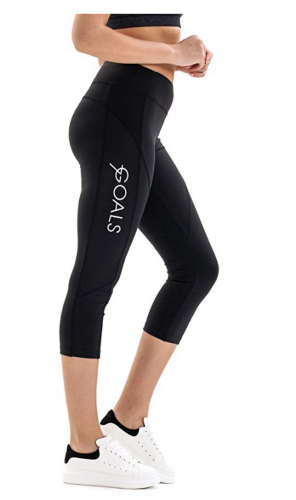 We had to add in a pair of Capri yoga pants because they are easily one of our favorites for warmer weather and for when you need a little bit of extra movement in your legs. These form-fitting leggings are fantastic for working out, as they help to keep you cool and comfortable.
Some of our favorite features include:
✓ Breathable Design: Created using 44% nylon, 44% polyester, and 12% spandex, these leggings are some of the most breathable ones we've tried. Apart from the moisture-wicking benefits, we found that our bodies stayed cool throughout an entire high-intensity workout.
✓ Highly Elastic: Every part of these Capri leggings is flexible, even the waistband. Over time, the pants maintain their original shape, which is perfect for their longevity.
✓ Secret Pocket: With the help of the hidden secret pocket, you're able to store all of your most important belongings without having to rent a locker for your phone or keys.
Final Thoughts
Out of these 5 sets, you're sure to find the perfect pair for the best workout leggings!
It's time for you to start showing off all of your best features with form-fitting pants that are equally as breathable and flexible as wearing a second skin.
Pin for later