A Selection of Super Activewear To Enhance Performance!
last updated:
Apr 09, 2019
2109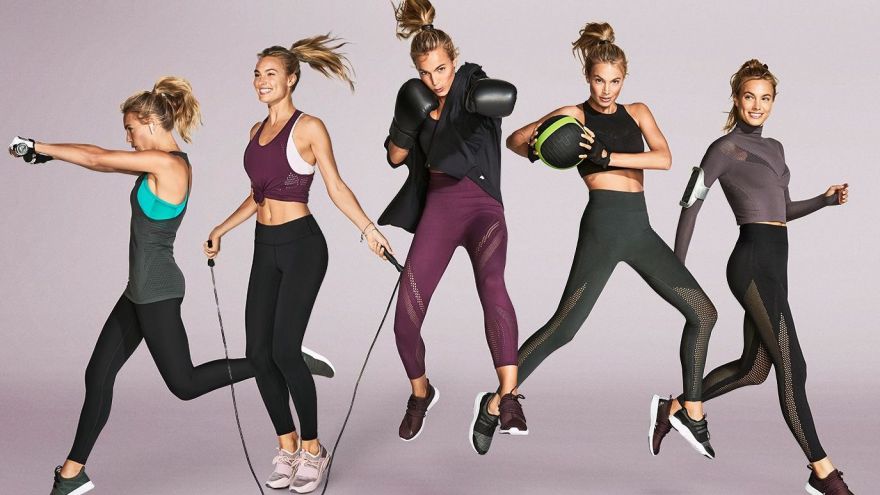 When you're choosing athleticwear there are likely several things you'll be looking for. You undoubtedly want something that feels comfortable, allows a reasonable amount of airflow, and still looks fashionable.
Without spending hundreds of dollars on name brands, finding high-quality workout clothing can be tough. If you're on a budget and are still looking for performance enhancing clothing, these pieces are perfect for your wardrobe.
1. Tommie Copper Women's Pro-Grade Should Support Shirt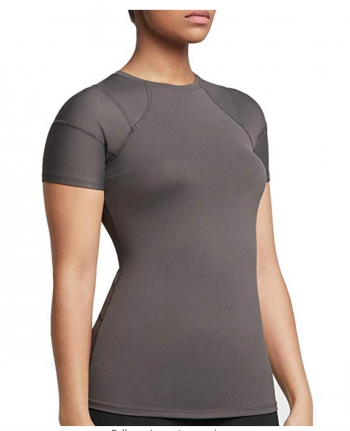 Tommie Copper is a well-known performance enhancing clothing brand. Especially as the pieces are designed for athletes of every type. No matter if you're dealing with sports injuries or if you need some extra support, their pieces are designed to help. The Tommie Copper Women's Pro-Grade Should Support Shirt is just one example and is great for women looking for shoulder compression.
This shirt is designed to help promote a healthier posture by offering targeted compression in your shoulder area. Additionally, it features moisture-wicking fabric that takes sweat away from your skin so you remain cool and dry. The most notable feature of Tommie Copper clothing is their Copper Znergy Technology. Both zinc and copper and embedded into the fabric for optimal performance.
2. Active Research Women's Compression Pants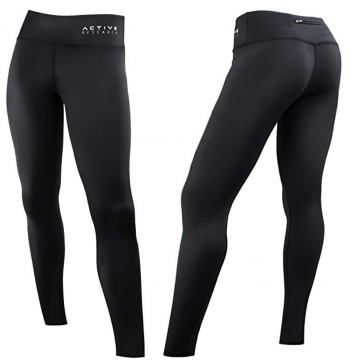 Similar to the Tommie Copper compression shirt, these compression pants are ideal for enhancing muscle recovery. Manufactured using a high-quality blend of materials, these leggings are breathable, antibacterial, and moisture-free. You'll also appreciate how they are anti-odor, which is essential for people who sweat a lot while in the gym.
The Active Research Women's Compression Pants are fantastic for low and high impact exercises. The comfort of the stretchy fabric is essential for preventing chafing and itching when running. With the help of compression pants, your blood circulation will be enhanced. This helps to improve the amount of time it takes for your muscles and joints to rejuvenate after a workout. Another thing that we love about these leggings is that they're easy to wear for workouts and to pair with everyday outfits as well.
3. Icyzone Activewear Racerback Tank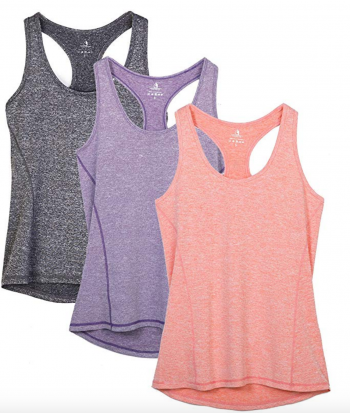 Racerback tanks seem to be the most popular choice for athletic tops, and for good reason. Their design allows you to have the mobility you need meanwhile maintaining breathability. These tanks are available to purchase either separately or in a pack of 3.
Made out of spandex and polyester, the fabric is very lightweight and adapts to any body type. Additionally, they feature moisture-wicking, which is essential for preventing sweat from impeding your workouts. Not to mention they are entirely machine washable. As another feature you'll appreciate, the tank tops do not have tags.
4. Mirity Women's Racerback Sports Bras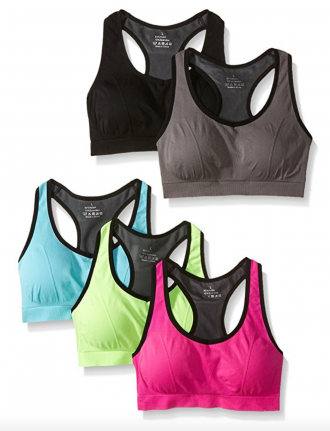 The final most important piece of activewear that you'll need as a woman is a sports bra. For some, sports bras are easy to find, however, some women require extra support. The Mirity Women's Racerback Sports Bras are a fantastic undergarment to have as they offer optimal support. In fact, these bras are specifically designed for high impact exercises. When ordering, you can choose between a pack of 2, a pack of 3, or a pack of 5, depending on how many you need.
They are pullover bras, which helps to keep your chest in place. Also, the padding is entirely removable, depending on how much protection you need. There are integrated ventilation panels on the side of the bra for breathability. They also feature an elasticated hem so that you don't feel too strapped in. The soft and stretchy material is what makes them the perfect partner for all types of exercises.
5. Speedo Men's Endurance+ Swimsuit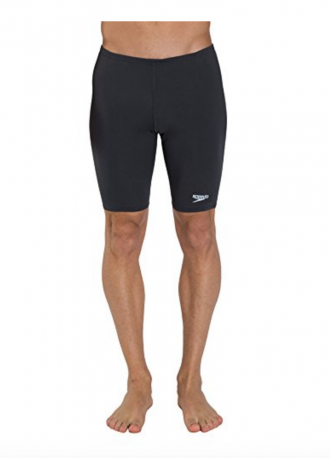 If you're in the market for a swimsuit that is going to help you glide through the water, this is one of the best options. The Speedo Men's Endurance+ Swimsuit is an addition to the Performance-Train III line. It has incredibly low moisture absorption which also helps the swimsuit to dry faster. With the 100% chlorine-resistant fabric, the swimsuit is going to last years of regular use. Additionally, it features four-way stretch technology, so the suit moves with you.
Another fantastic feature of the Speedo Men's Endurance+ Swimsuit is its 9-thread lock stitching technology. This helps to create stronger seams along the sides of the swimsuit, so there is less chance of tearing. The 9-thread lock stitching also provides optimal stretch and support.
6. TCA Men's Pro Performance Compression Shirt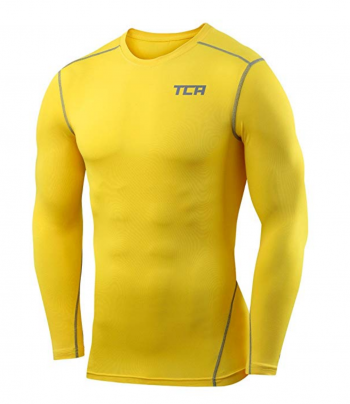 The TCA Men's Pro Performance Compression Shirt is a fantastic choice for men who are also interested in compression clothing. Available in over 6 different colors and necklines, you have full control over the style of your activewear. The entire shirt is made of moisture-wicking fabric that quickly absorbs sweat and dries.
It also features flatlock seams that help to prevent chafing and assist with the highest possible level of stretch. We also love the breathability of the QuickDry fabric, as it helps to regulate your body's temperature so you can perform better regardless of the weather.
7. Baleaf Men's Tapered Athletic Pants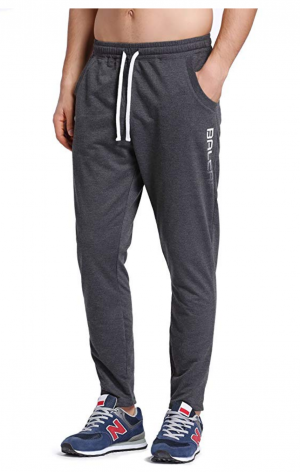 If you're not the type of person to wear leggings while running, these are a great alternative. The Baleaf Men's Tapered Athletic Pants are designed similarly to other sweatpants in terms of style. However, they have several extra features that you'll love to use to your advantage. They're manufactured using 100% polyester French terry, so you can guarantee they're incredibly comfortable. Terry is also a naturally absorbent and breathable fabric, which helps to make the pants more comfortable to wear.
The waistband of the Baleaf Men's Tapered Athletic Pants is entirely adjustable and there are deep side pockets to keep all of your important belongings. Even if you're not looking for a pair of workout pants, these sweats are a fantastic choice for lounging around the house.
Final Thoughts
The clothing you wear while working out can have a strong impact on how well you perform. This means you're going to want to invest in clothing that you can rely on and feel comfortable wearing. With the help of these fantastic garments, you'll have the performance-enhancing benefits you'd expect. Additionally, they're far more affordable than high-end name brands that you'd buy in-store.
Pin for later