This product is listed here: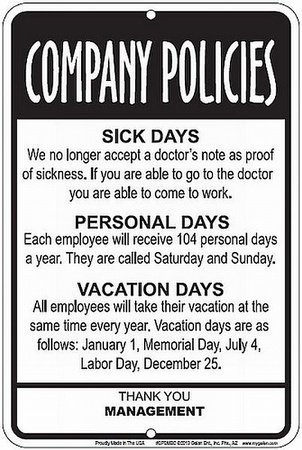 Employees Company Policies Funny Sign
How good is it for employers and employees to interact and share fun moments? Well, this is not common for most setups but certainly one crucial factor in a working environment. On this note, making fun of employees and vice versa; in a nice way though improves the working relationship which comes with fantastic benefits.
As an employer, what if you placed a funny sign targeting your employees and bashing them by quoting some company's policies? Not only is this comic to read but also shows that there is a strong bond between the two parties. This particular one is sarcastic and will impress everyone at the office.
Detailed information about Employees Company Policies Funny Sign
What exactly does the sign say? The office-style sign features various policies that one would find in a typical office set up. But, these have a funny twist to them which means the sign is not to be taken seriously. As much as there is some truth in words, it only works for fun and as an office décor poster.
Most times employees always struggle with seeking an extra day away from work or leave days. Most of these are sick days, vacation days and personal days. These make part of the poster insisting that employees should follow the policies as notes. Of course, this poster is a big joke and works just as a funny décor piece for a company's office.