Super Healthy Recipes that Your Dog will Devour
last updated:
Apr 09, 2019
10397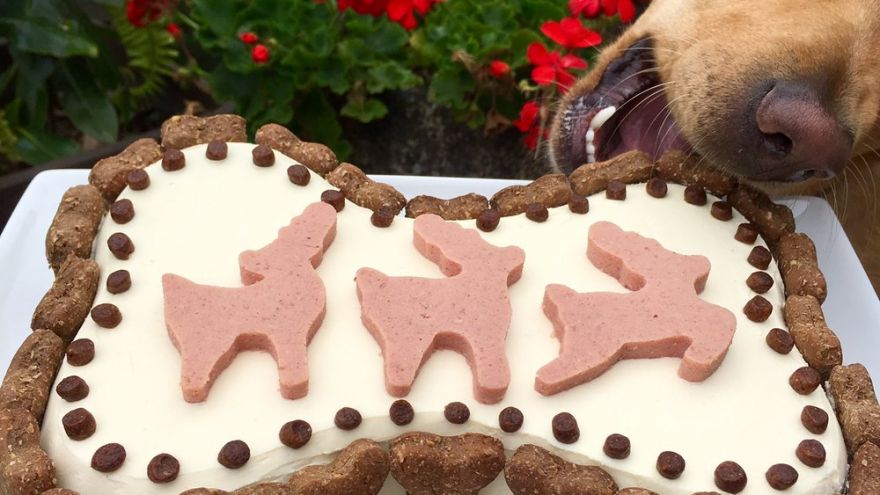 Plain and simple: Dogs are family! Don't even try to disagree with us on that one! You celebrate your birthday, your parents' birthdays, your children's birthdays – why not your dogs?? Celebrating and throwing a party for our furry family members has become a major trend lately, and we absolutely love the idea of it. Dogs bring us so much love and joy, why can't we return the favor for them?
If you think that a full blown party is a bit much for your pup, we get it, but you can at least do something a little special for them – make them a birthday cake. That's right! Believe it or not, there are plenty of delicious and healthy birthday cake ideas out there for dogs. This is a great way to treat your dog for their birthday, but there are some things you need to be aware of. Baking them a cake isn't quite as easy as baking a cake for a person, but we promise, it is just as rewarding!
Is It Safe?
When giving your dog anything but their usual food it is totally normal (and responsible!) to wonder if it is healthy for them. After all, you can't feed a dog just anything. Especially if your dog has a bit of a sensitive stomach, you'll want to make sure you are giving them only the best, healthiest ingredients. However, in short, yes! It is totally safe to make your dog a birthday cake.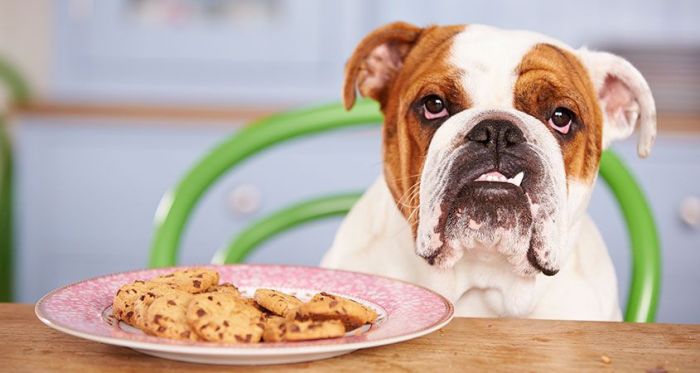 Are you still worried you'll give something wrong to your pup? That's the last thing you want to do! No worries – we have selected 5 unique birthday cake recipes, all that are pup approved and that they will find totally delicious. If you aren't sure where to start, you've come to the right place! Pick a recipe that sounds like the perfect treat for your dog, and bake away! Their next birthday is sure to be the best one yet.
What Ingredients Should You Avoid?
Before we dive into the recipes themselves, we wanted to first detail some of the main ingredients that you want to totally avoid when it comes to your dogs (either in a birthday cake or just at any time). These are dangerous for your dog and should be nowhere near their regular food or birthday cake.
Chocolate: This is a big one! Even though it is so tempting to make a delicious chocolate cake (what screams Happy Birthday more than chocolate?) that is a major no no when it comes to dogs. Dogs cannot eat chocolate, it can even kill them! As a dog owner you probably already know this, but better safe than sorry.
Citrus fruits: Some fruits are okay for dogs, but try to steer clear of citrus fruits like oranges or lemon. The high citric acid content can cause an upset stomach for your dog, and who wants that, especially on their birthday?
Avocado: You may love guacamole, but your dog won't! Avocado can cause vomiting or diarrhea in dogs due to something in the avocado called persin.
Alcohol: We're sure you weren't planning to line up shots for your dog to celebrate their birthday, but even so, it is important to note that alcohol is not good for dogs. While it largely has the same effect on dogs that it does on humans, it takes far less alcohol to impact a dog. You might think it's cute to let your dog lick some of your beer or wine, but it is best not to risk it!
While that is not an exhaustive list, it is some of the main foods that people are tempted to give their animals especially when it comes to their birthday. Now that that is covered, let's get into the recipes!
Fruity Berry Cake: Sweet and refreshing!
First up is a delicious fruity cake that is perfect for a dog with a sweet tooth! This cake uses healthy berries that are safe for your dog to eat like blueberries and strawberries. Delicious!
Ingredients:
Flour (we recommend a whole wheat flour as it is healthier than regular white flour that is very processed): 1 and a half cups
Coconut oil: 3 tablespoons
Blueberries: ¼ cup (we recommend fresh, but you could also use frozen if they are not currently in season)
Eggs: 2
Honey: 2 tablespoons
All you need to do to make this cake is first mix your wet ingredients (coconut oil, eggs, honey) and then stir in your flour and blueberries. Preheat your oven to 350 degrees, pour your cake into a cake pan, and bake for around 25 minutes! It couldn't be easier.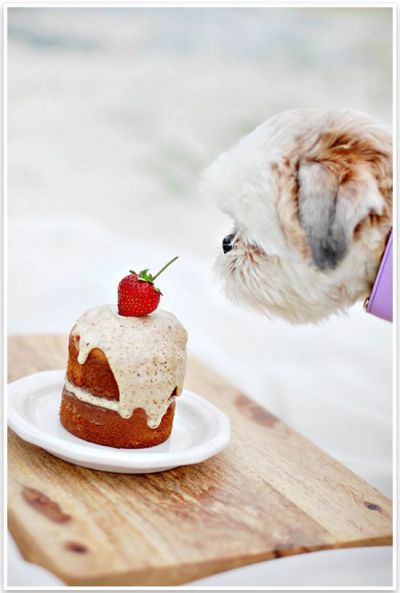 Do you want to add frosting? We recommend using yogurt and you can mix in some honey to make it sweeter along with more blueberries or strawberries. Trust us- your dog (and you!!) are sure to love this cake.
Carrot Cake: A classic cake with a pup twist!
You've certainly heard of carrot cake before, but this one is designed specifically for dogs. Filled with ingredients that are all safe for your dog, this is an excellent treat to serve up on his or her birthday!
Ingredients:
Grated carrots: 1 cup
Cream cheese: 1 and a half cups
Eggs: 1
Sardines: ½ cup
Sunflower seed oil: ¼ cup
Water: ¼ cup
Flour: 1 cup (again, we recommend whole wheat flour!)
First, mix the grated carrot and egg together. Then, add your sunflower seed oil, sardines, and water. Finally, add your flour. Mix well and pour into two 4 inch cake pans (half in each pan). Bake at 350 degrees for around 30 minutes.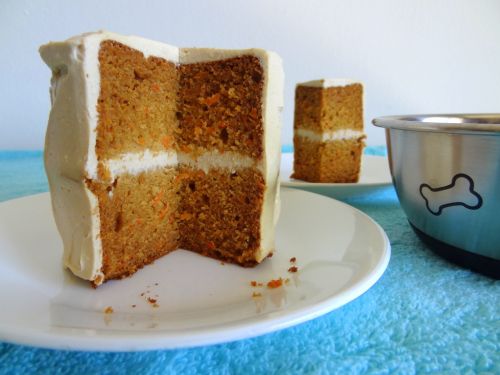 While the cakes are baking, take your cream cheese and beat it with a mixer so that it is lighter and fluffier in texture. This will be your 'icing' that you will use between your two cake layers and on the top of your cake. When the cakes are done, remove them from the cake pans and place on a serving dish. Spread a layer of cream cheese in between the two layers and the rest on top. That's it!
Peanut Butter Cake: Who could resist?
Has your dog ever licked peanut butter off a spoon or directly off your fingers? Dogs are crazy about peanut butter (and hey who can blame them- so are we!) For that reason, this next cake is a perfect option for the pup in your life that can't resist the creamy goodness of peanut butter.
Ingredients:
Oat flour: 1 cup
Peanut butter: ¼ cup
Pumpkin puree: 1 cup
Honey: 2 tablespoons
Eggs: 1
Baking powder: 1 teaspoon
First, mix together your wet ingredients (your peanut butter, egg, honey, and pumpkin puree). Then, add in your dry ingredients (flour and baking powder). Pour your cake into a cake pan and bake at 350 degrees for around 25 minutes. If you want to add icing, we recommend making icing out of more peanut butter (obviously!) and some yogurt. Spread over the top of the cake when it has cooled and that's it!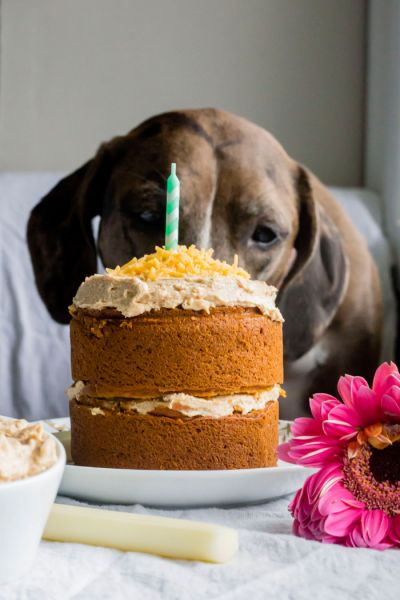 Sweet and Savory Cake: Did someone say bacon?
Does your dog equally appreciate sweets and meats? More specifically- bacon? What dog doesn't love bacon? Combine these sweet and savory elements in this next delicious cake, it is sure to be a major hit!
Ingredients:
Peanut butter: ¼ cup
Pumpkin puree: ½ cup
Honey: 2 tablespoons
Apple sauce: ½ cup
Eggs: 2
Flour: 1 cup (go with whole wheat!)
Bacon fat: 3 tablespoons
Baking soda: 1 teaspoon
Bacon: 4 slices
First you will want to fry up your bacon so that you can get the bacon fat needed for the cake. To make the cake, first mix your wet ingredients (bacon fat, peanut butter, pumpkin puree, honey, applesauce, and eggs). Then, add your dry ingredients (flour and baking soda). Combine everything well and pour into a cake pan. Bake at 350 degrees for around 30 minutes.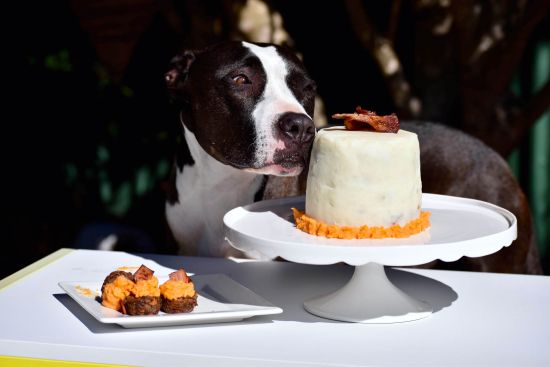 While the cake is baking you can make an icing made of peanut butter and yogurt. Let the cake cool, spread your icing, and top it off with the bacon you cooked earlier! Yum!
Savory Cake: Meatloaf!
Finally, if your dog doesn't have much of a sweet tooth, why not go for a full savory cake for their birthday? Dogs love meat, so go ahead and give them what they want! More like a meatloaf, this is sure to be a tasty treat for your dog that will have them feeling oh so loved.
Ingredients:
Lean ground beef: 1 pound
Eggs: 1
Oats: ½ cup
Peas: ½ cups (you can get fresh or frozen peas)
Shredded carrots: ½ cup
We love how easy this recipe is! Simply mix all of your ingredients together, place in a baking pan (we recommend a meatloaf pan if you've got one) and bake at 350 degrees for around 40 minutes.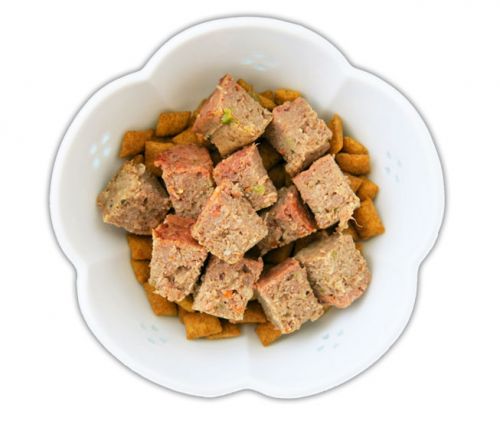 Make sure the meat is cooked all the way through. That's it! If you want to make this look more like a cake, you can make 'icing' made of mashed potatoes!
Wrapping Up
Your dog's next birthday is going to be so delicious! Some of those cakes sound good you might just eat some yourself- and we couldn't judge you! Whether you go with a totally sweet cake, a savory option, or one that combines both, you will end up with a cake that your dog will absolutely love. Best of all, all of these ingredients are safe for your pup so you can be sure it will be a happy birthday indeed!
Pin for later