5 Ideas to Display Your Family Photos at Your Home
last updated:
Jul 17, 2019
6220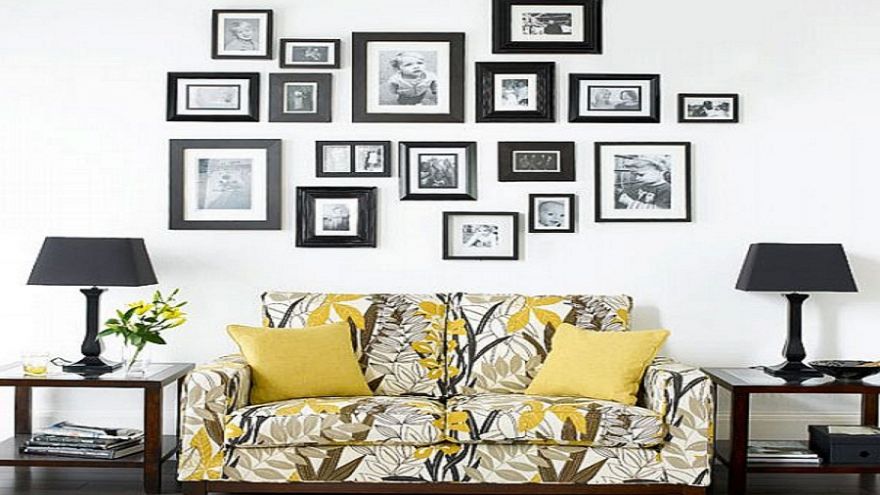 When it comes to displaying family pictures around the home it can be difficult to come up with ideas that are equally as aesthetically pleasing as they are meaningful. Instead of relying on the traditional way of displaying family pictures in a generic photo frame placed on your mantle, it's time to amp up your appreciation for your photogenic loved ones.
Below are 5 phenomenal ways that you can display your own array of family photos at home.
1. Giant Family Prints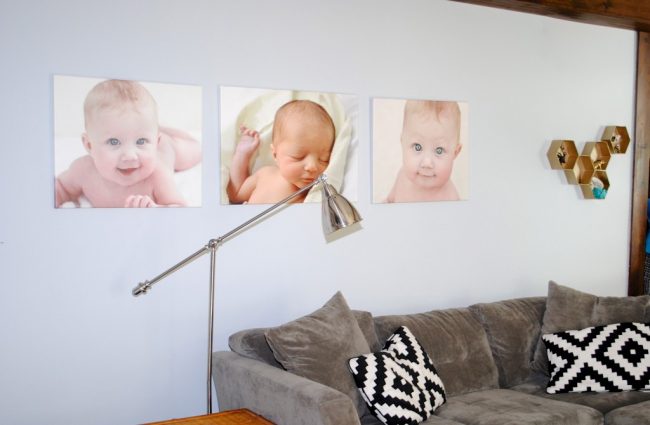 If you're the type of family oriented person that loves making your family the focal point of your life, you'll love the idea of giant family prints. All you have to do is choose 4-6 different pictures that would look phenomenal once blown up and put in a minimalistic frame. Our favorite way to put a unique twist on the photos is to have them blown up in either black and white or sepia.
You can then place all of the prints inside of see-through frames or thin frames and hang them on an empty wall in your home. It's important to take the time to map out where each photo will be placed to ensure that it is even and visually effective.
2. Creating a Family Photo Wall
If you're not too interested in displaying giant photos of your family around your home, there's no reason why you can't display a collection of smaller ones in a single convenient location. It can be a phenomenal choice to hang an assortment of photos along a wall in your foyer or in your family room, but regardless, creating a family photo wall can be simple.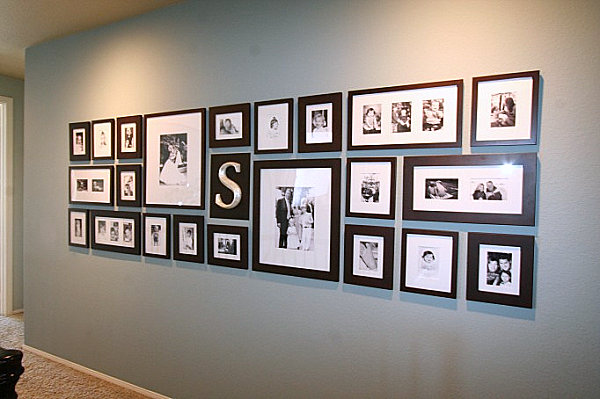 All you'll need is several frames from the dollar store of various sizes and a bunch of family photos that you'd love to have hanging around the house. The most important part of creating a family photo wall is to take a pencil and map out where you want every picture to be placed. This is especially important if you're working with frames of different sizes, as you'll want the photo wall to be aesthetically pleasing.
3. Peel and Stick Family Photo Posters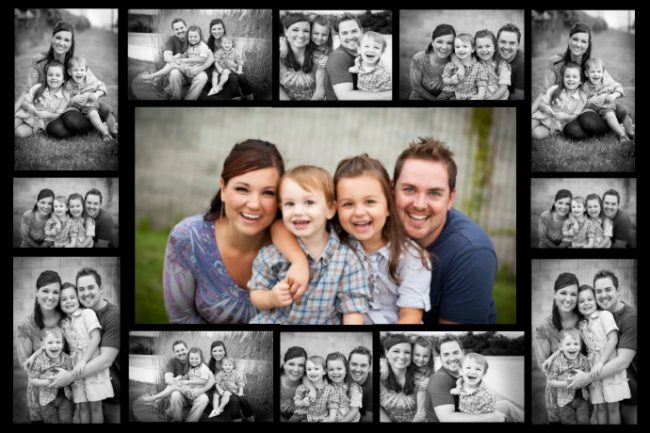 With the same idea behind giant family photo prints, a peel and stick wall filled with photo posters can be a great way to decorate a wall in your home, such as your child's playroom. This is a relatively new interior decorating tool but it can take the hassle out of traditional photo frames and add a nouveau appeal to your house.
There are two main ways to have peel and stick photo posters created. First, you can have individual posters for each picture you'd like to have on your wall. On the other hand, you can use an online tool to make a collage and have it printed on a specified sticker size. Depending on your personal preference and how you intend on affixing the posters to the wall, one may be more preferable than the other.
One of the largest advantages to the peel and stick a photo is you don't have to worry about frames falling off of the wall and breaking. In addition, you don't need to put an excessive amount of holes in your wall that you will have to putty and paint if you decide to move in the future.
4. Family Photo Shelves
If you've always loved the traditional idea of displaying photos on a fireplace mantle or on a dining room table, you can take a new spin on the idea by creating family photo shelves. There are plenty of retailers that sell special floating shelves that are specifically designed to keep frames stable while they're displayed on the wall. Alternatively, you can choose regular shelves and simply affix the frames to the shelf so they aren't at risk of falling off and becoming damaged.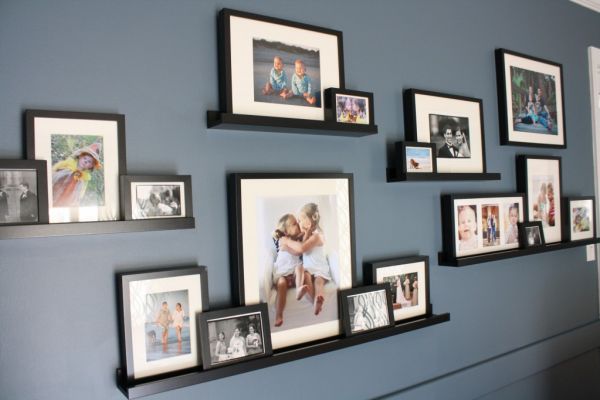 The thing we love most about the family photo shelves is the fact that you can easily replace photos as your family begins to grow and everyone gets older. All you'll have to do is take a frame down from the shelf, place a new picture in it, and then put it back on the shelf.
5. Family Photo Coasters and Household Accessories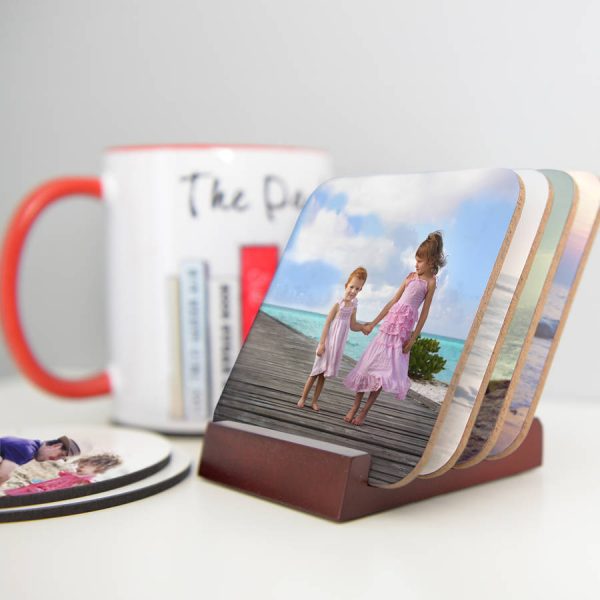 Finally, for the homeowners that aren't too keen on displaying their family photos on the wall, there is the option of creating family photo coasters and other household accessories such as blankets and decorative cushions. When it comes to showing your love and appreciation for your family without hanging photos everywhere, you can choose from a wide assortment of different décor accessories.
The best part about family photo coasters and household accessories is you have complete control over the design used for each of the items, which allows you to express your creativity. In addition, the project can be relatively inexpensive and so as your family continues to grow, adding new photos to your personalized décor can be quite simple.
The Benefits of Displaying Family Photos at Home
If there's one thing that can be said about putting family photos around your house, it's that, it truly shows the appreciation that you hold for everyone in your home. Although teens and younger children might find it to be a little embarrassing when their friends come over, it's extremely important for them to understand just how proud you are of them.
Another advantage to displaying your family photos is the fact that you will be able to walk through every room and reminisce about the greatest times in your life. As children get older and grow apart from their parents, it's important to have a little piece of them in the home.
With millions of families in the world that constantly display family pictures ranging from graduation photos to pictures of family vacations, it's a common way to decorate your home but with a few creative touches, you can easily transform it into something more personal. These 5 beautiful and unique decorative ideas modernize the idea of displaying keepsakes for everyone to enjoy.
Pin for later