This product is listed here: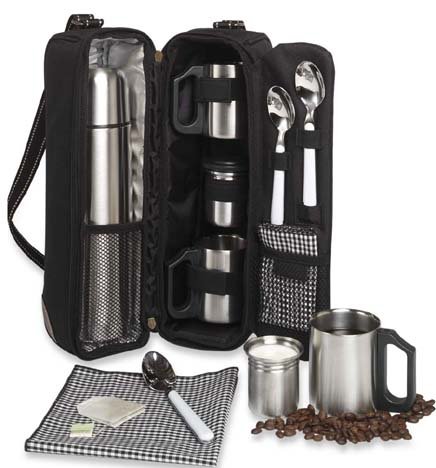 Deluxe Vienna Travel Coffee Tote
Although the Deluxe Vienna Travel Coffee Tote for two is made by Picnic at Ascot, the recipient doesn't have to go to Ascot Race Course and have a picnic to enjoy the product. This handy and stylish looking carrying case contains all anyone would need for two people to enjoy a hot cup of coffee when out and about.
The carrying case is made from strong and durable 600 denier polyester fiber and has an adjustable carrying strap so it can be fitted to suit almost any size person. Not only is the carrying bag a great gift on its own, it also comes with a heap of other useful items packed away inside.
The product includes an easy to pour, push button vacuum flask constructed from brushed stainless steel and big enough to hold 24 fluid ounces. But that's not all. There are also two stainless steel, double walled mugs to keep your hot beverage, piping hot and pleasant to drink. As well as these the gift also includes a creamer, teaspoons and a napkin to wipe up those little spills that might occur.
Detailed information about Deluxe Vienna Travel Coffee Tote
Everything fits into its own strap or pouch inside the carrying bag which measures when zipped shut 13.5" high by 3.5" wide.
This gift is so useful, we can think of many different times and places when it will be really useful for the coffee drinker; It is perfect when travelling in the car or on a train; when going hiking, at the beach or on a picnic; it can be used at a sporting event or drive in movie; it is great if the recipient enjoys fishing or sailing or in fact anything or anywhere away from a place to make or buy a good cup of coffee.
Your friend doesn't even need to use it for coffee if they don't want to. It will work just as efficiently if they prefer hot soup, hot cocoa or tea. Not only that but it will also keep cold beverages at the correct temperature as well.
WHY WE LIKE IT?
Lovely tote bag carrying everything needed for two people to enjoy hot or cold drinks when out and about
This product looks sleek and stylish and does the job it is meant to do perfectly
Suitable for carrying to sporting events, when travelling or in fact anywhere away from home
WHY WE dont LIKE IT?
None
What we love about this product
This is a marvelous gift for anyone who likes to be outdoors but still prefers to drink a decent cup of coffee.