This product is listed here: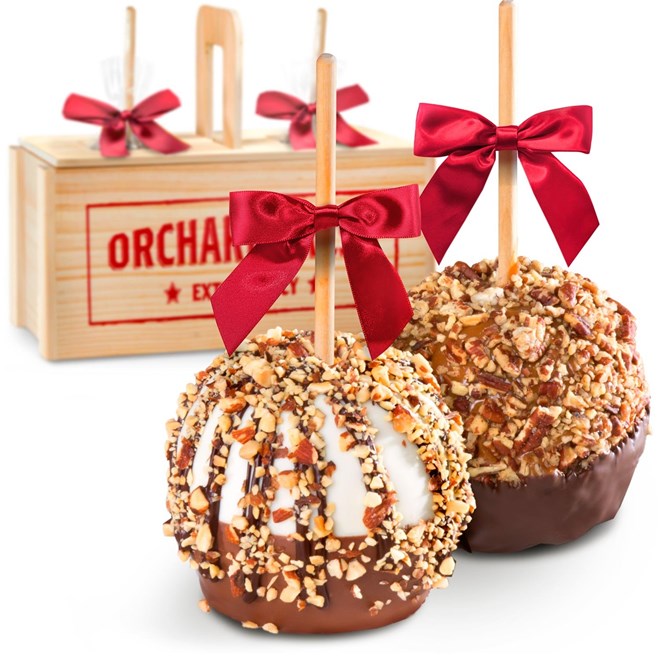 Milk and Dark Decadence – Chocolate Dipped Caramel Apples
Looking for the perfect Mother's Day gift? Look no further. These Milk & Dark Decadence chocolate dipped caramel apples will fill the bill nicely. There isn't a better combination of any food gift out there!
Add a bit of chocolate decoration and there you have a recipe for the perfect gift. Each of these caramel apples is dipped as well as decorated with decadent chocolate; the dark chocolate orb has white chocolate drizzles and dark cocoa jimmies, and the milk chocolate delight is drizzled with both dark and white chocolate.
Detailed information about Milk and Dark Decadence – Chocolate Dipped Caramel Apples
At the finish, these apples are almost too gorgeous to eat…almost! Each of the apple's sticks then has a beautiful red bow tied to it for a little extra flash and just a pop of color.
Each apple is then individually wrapped for freshness and placed in our unique "Orchard Fresh – Extra Fancy" wooden crate.
The final product is then carefully crated and packaged with a cold pack for an additional layer of protection and to ensure the absolute maximum freshness when they are delivered to the lucky recipient.
WHY WE LIKE IT?
Two beautifully decorated chocolate dipped caramel apples in their own gift crate
The wooden presentation gift crate makes a lovely keepsake after the apples are gone
Crisp and tart Granny Smiths are used, juxtaposing the silky sweetness of the milk and dark chocolates
WHY WE dont LIKE IT?
None
What we love about this product
This pair of caramel covered apples makes for a delicious and decadent way to pay tribute to someone special. Imagine the tartness and supreme crispness of a Granny Smith apple generously covered with sweet and chewy buttery caramel, and then they are dipped in either satiny milk or dark chocolate.