This product is listed here: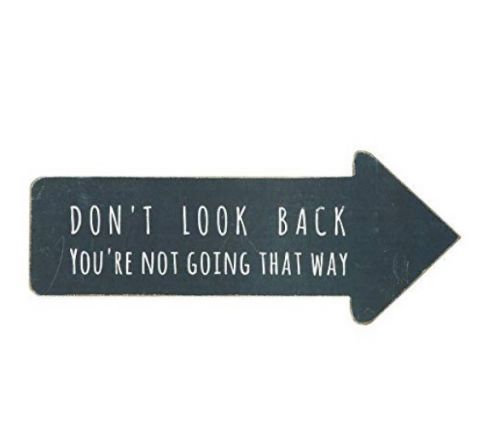 Creative Coop – Wooden Arrow Shaped Wall Sign
Are you or someone you know a fan of inspirational quotes? Has someone you know been going through a bit of a rough patch lately either at work or emotionally? Does that person just want to put all the bad stuff behind them and move on with their life? If you can put a tick against any of these questions then you need to buy one of these wooden arrow shaped wall signs from Creative Co-op.
The product is a wooden arrow made from MDF so it won't split or warp if it dries out too much or becomes damp. It is painted black and has the inspirational slogan "Don't Look Back You're Not Going That Way" printed in white lettering on one side only. On the other side of the arrow, there are two triangular 'D' Loops securely fixed to facilitate hanging the product on a wall.
Detailed information about Creative Coop – Wooden Arrow Shaped Wall Sign
The arrow measures 13.5" long x 0.5" thick x 5.5" high. The whole product is sealed so that it is easily cleaned by wiping with a dry lint-free cloth. The text is deliberately faded in places to give the impression of age and shabbiness. Do not assume that this is a mistake with the printing process, it is very much deliberate.
The manufacturer, Creative Co-op is a leading home décor company specializing in trendy and chic products and curated collections. The company supplies functional yet beautiful and stylish products designed to imitate handmade artisan products found in many craft markets around the world.
WHY WE LIKE IT?
Made from MDF so it won't warp or split
Inspirational slogan designed to lift people out of a rut
Big enough to be seen yet small enough to fit easily onto most domestic walls
WHY WE dont LIKE IT?
None
What we love about this product
This is a product suitable to assist with positive thinking and getting over emotional upsets. It will be good for someone who has recently been involved in an emotional turmoil or who has had their dreams shattered by circumstances beyond their control.