Create Your Own Succulent Garden Using Super Affordable Items
last updated:
Oct 30, 2018
1813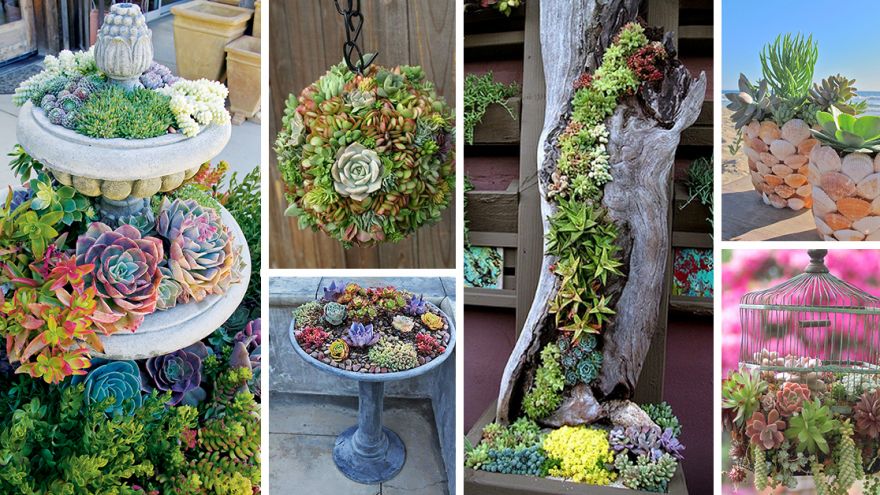 If you're someone who has always been interested in owning a succulent garden but never followed through with your dreams, you'd be surprised to learn that there are plenty of affordable ways to make your own at home. In comparison to traditional gardens where you spend hundreds on plants and soils, there are plenty at-home kits that you can use to create your own succulent garden using super affordable items. We've collected a list of our favorite DIY succulent garden tools below to make the project much easier for beginners.
1. Btibpse Succulent Transplanting Tool Set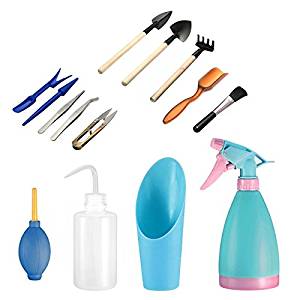 The very first thing that you should consider buying is a set of tools that will give you everything you need to properly design and manage your succulent garden over the months. Instead of buying each of the items on their own, we recommend the Btibpse Succulent Transplanting Tool Set because it comes with 14 different succulent tools used for planting a new garden or transplanting an existing one.
In the kit, you'll get everything you need for aerating, transplanting, digging, loosening your soil, and weeding, which also makes it perfect for small indoor gardens or even if you're growing a bonsai plant. Constructed out of plastic, steel, and wood, everything is reusable and you will receive everything from a mini metal spade to a spray bottle.
2. Binwen Modern Round Succulent Planter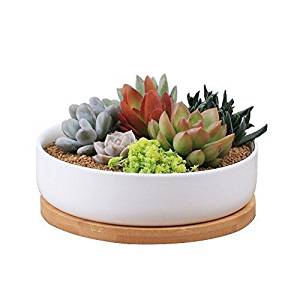 When you start looking into how to create your own succulent garden, you're going to find there are plenty of options in terms of where you're going to house your plants. However, if you're a first-time garden owner we recommend starting out small and then working your way up to bigger plants, which is why we love the Binwen Modern Round Succulent Planter, as it's 6 inches in diameter and holds a reasonable amount of smaller sized succulents.
You'll also love the aesthetic of the planter as your succulents will sit inside of a white ceramic pot on top of a beautiful wood tray to allow for proper drainage. It's also a multi-purpose planter as it's useful for herbs as well.
3. Zealor Miniature Ornaments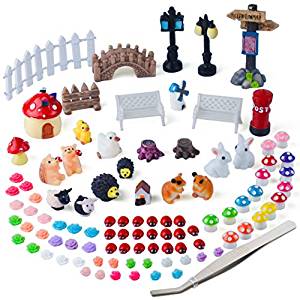 Creating little sceneries inside of your terrarium is something that gives your plants a little personal touch compared to simply having succulents in a pot. This collection of 100 small ornaments from Zealor is the perfect option for a first-time terrarium owner as you'll have everything from mini hedgehogs to tiny little mushrooms. We especially love how it's a great way to add a little pop of color and can also be a fun project for your kids to get into.
4. H Potter Terrarium Kit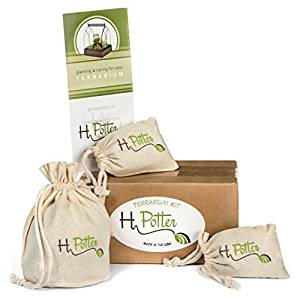 If you're the type of person that likes to have everything in one convenient package, you'll love the H Potter Terrarium Kit as it comes equipped with everything that you need to start your own succulent garden (aside from the plants). It also features beautiful packaging which helps to make the package a great gift for a friend or a family member.
In the kit you will receive:
11 oz. pea gravel
5 oz. activated charcoal
7 oz. soil
Instructions for setup and maintenance
The main premise behind the H Potter Terrarium Kit is to save you the time and headache behind finding all of the best ingredients for the succulents you find. All that you will have to do is choose plants that you think will fit into your aesthetic, find the right pots, and you'll be well on your way.
5. Bliss Gardens Terrarium Kit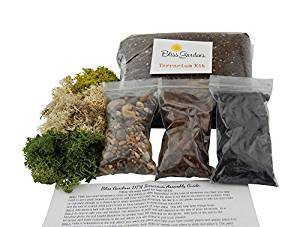 Available in a small and large package, the Bliss Gardens Terrarium Kit may be a better bang for your buck, especially if you're interested in making a bigger garden. The large kit is slightly more expensive than the H Potter Terrarium Kit but comes with more items that you can use when building your very own succulent garden. Everything in the package is sourced from 100% organic materials, which is ideal for keeping your plants healthy over the months.
In the Bliss Gardens Terrarium Kit you will receive:
Hand mixed potting soil
Activated charcoal
Semi-polished river rocks
Reindeer moss (preserved)
Orchid bark
Step-by-step instructions
6. Cute Farms Terrarium Starter Kit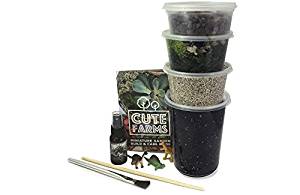 Succulent gardens and terrariums aren't projects designed specifically for adults because you can bet your kids will love to get dirty and watch their very own plants grow. If you're searching for a gift for children who love the outdoors, the Cute Farms Terrarium Starter Kit is a phenomenal option because it comes with more than just charcoal and soil, it also comes with tools and a couple of cute figurines to put in their DIY garden. However, similar to the other kits on this list, you will be responsible for buying your own succulents.
In the Large Cute Farms Terrarium Starter Kit you will receive:
Reindeer moss, forest moss, and lichen (12 oz.)
Potting soil blended with activated charcoal (12 oz.)
River stones and pea pebbles (1 oz.)
Miniature dinosaur figurines
Natural hair brush
Bamboo stick
Plant food
Instructions
7. NCYP Geometric Terrarium Planter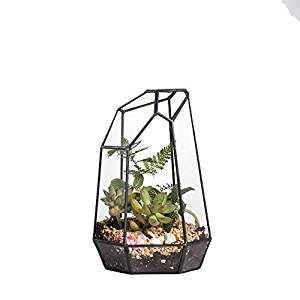 As the 7th and final item that you might want to consider purchasing when building your own succulent garden, the NCYP Geometric Terrarium Planter is a great alternative to traditional terrariums and planters. It's designed with a unique geometric shape that is surely unlike anything you've seen and is available in small, medium, and large. Another feature that we appreciate about the planter is the fact that you can get it in gold and black, which makes it easier to fit into the aesthetic of your home.
Crafted out of contemporary sodium calcium glass and a copper frame, you can bet it's built to last and will help to keep your succulents in the healthiest condition possible.
Final Thoughts
Creating your own succulent garden is easier than you think, especially once you know all of the items you need to have at your disposal. With the help of the tools, planters, and starter kits included in this guide, you'll finally be able to bring your garden dreams to life without needing a backyard and without spending a lot of time outside in the sun.
Pin for later