Cooking for One: Tips and Dinner for One Recipe Books!
last updated:
Sep 24, 2019
1293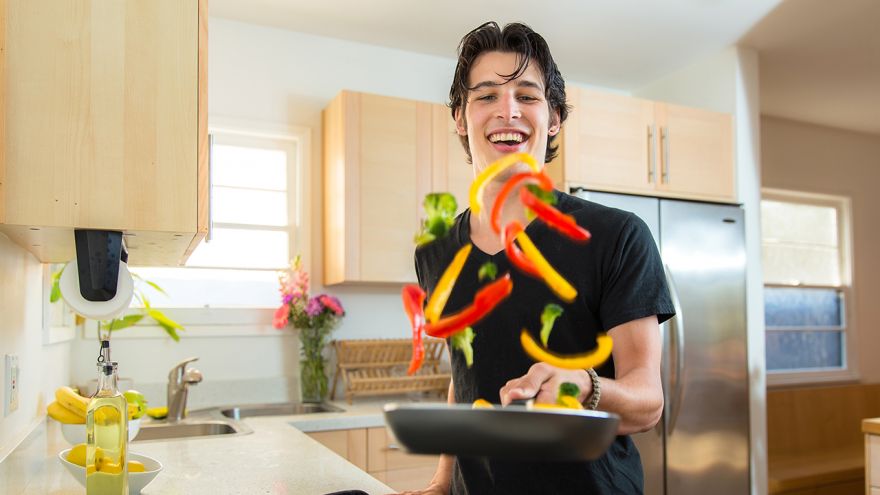 When you come across a recipe that you are interested in trying, more often than not, it's for more than two people. Cooking for one can be tough, especially when you can't figure out the precise measurements for a single serving instead of four.
If you're merely interested in trying out new dishes on your own, we highly recommend this fantastic dinner for one recipes that will inspire you and surely satisfy your taste buds.
Our Favorite Dinner for One Recipes
Here is a collection of our favorite cooking for one recipes from our friends at OneDishKitchen that you should try your hand at as soon as possible.
1. Juicy Lucy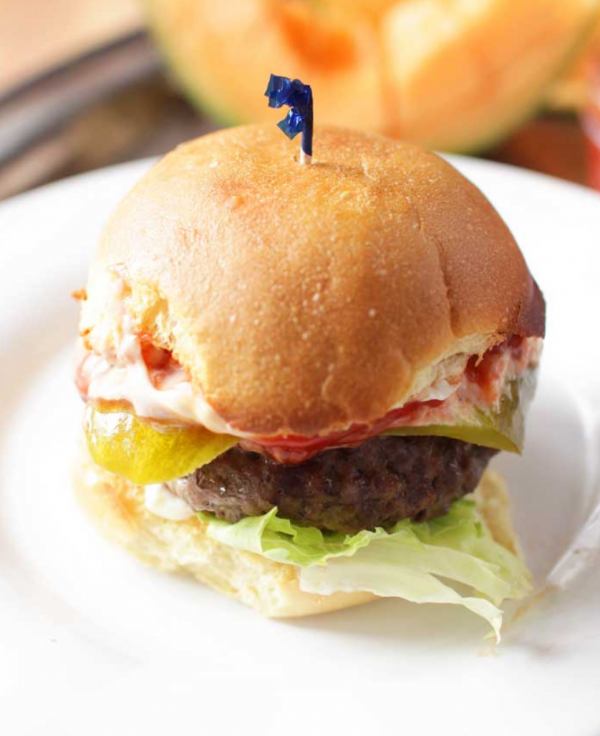 Are you a fan of hamburgers? If so, this Juicy Lucy recipe is one that you won't soon forget. The best part is that it's a single serving, so you won't have to worry about finishing four burgers within a couple of days.
Ingredients
8 ounces of ground beef
¼ teaspoon of burger seasoning
1 slice of American cheese
Your choice of toppings and condiments
Directions
✓ First, you'll want to get a medium-size bowl and pour in the ground beef, followed by the burger seasoning. Using your hands, mix the seasoning into the meat until it is thoroughly combined.
✓ Take your mixed beef and divide it evenly into two separate balls and flatten the two balls until they create thinly shaped patties.
✓ Taking your American cheese, break it into four squares and place them on top of one of your newly flattened patties. You can then take the second patty and put it on top of the first one.
✓ Seal the edges of the two patties using your fingers so that it makes one massive burger.
✓ Lightly grease a baking dish and place your patty in the dish. Bake at 400 degrees F for approximately 30 minutes, or until the burger reaches the level of cook, you desire.
2. Vegetable Enchiladas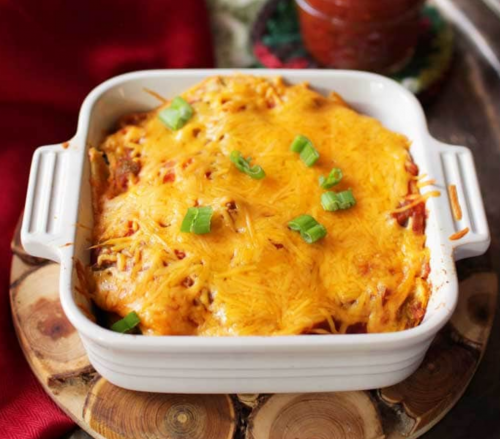 What we love the most about this recipe is that it's equally as delicious as it is relatively healthy. Multiple ingredients work together perfectly, as they are layered, quite similar to a lasagna.
The best part is that you can easily throw this dish together and thoroughly cook it in under 30 minutes.
Ingredients
3 corn tortillas
¼ cup of canola oil
½ tablespoon of olive oil
1 small zucchini, thinly sliced
¼ teaspoon of cumin
1/8 teaspoon of kosher salt
1/8 teaspoon of ground black pepper
¼ cup of black beans, rinsed and drained
½ cup of salsa, divided
1/3 cup of shredded Cheddar cheese
Directions
✓ First, you'll want to preheat your oven to 350 degrees F. You can then take a skillet and pour in the canola oil, heating it. Once the oil is hot, place one tortilla at a time inside of the skillet for about 20 seconds.
You can then take out the tortilla and put it on top of a plate lined with paper towels. As soon as you've worked on all 3 tortillas, remove the skillet from the heat.
✓ In a separate skillet, warm it up over medium-high heat. Add in your zucchini, cumin, salt, and pepper and cook the vegetables for about five minutes, or until tender. Transfer these ingredients to a bowl and set them aside.
✓ Stir in ¼ cup of the salsa and the black beans into the same bowl where the zucchini is.
✓ Take two tablespoons of salsa and use it to line the bottom of a baking dish. Place one of your tortillas on top of the salsa and then top that with your cooked zucchini mixture. You can then top that layer with two tablespoons of cheddar cheese.
✓ Starting the second layer, place another tortilla, more of the zucchini filling, and another layer of cheese. Finish the enchilada with the third tortilla on top and cover it with your remaining salsa and cheese.
✓ Cover the baking dish with a lid and place the dish in the oven for 15 minutes.
3. French Toast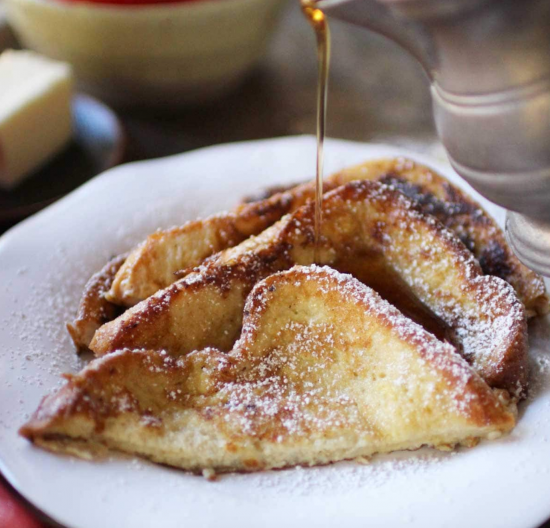 There's nothing better than having a delectable breakfast to enjoy first thing in the morning. However, we find that cooking breakfast for one is difficult to do, as you will always seem to cook more than you need to.
This fantastic French toast recipe is undoubtedly something you'll turn to when you're tired of eating the same old breakfast during the week.
Ingredients
1 egg
½ cup of milk
¼ teaspoon of vanilla extract
1/8 teaspoon of sugar
1 pinch of ground cinnamon
2 slices of brioche bread
1 tablespoon of butter
Directions
✓ In a small bowl, whisk the egg and milk together. Once combined, add in the vanilla, cinnamon, and sugar, continuing to whisk the ingredients until they are thoroughly mixed.
✓ Taking each of your bread slices, dip them into the egg mixture and ensure they are fully coated on both sides.
✓ Take your favorite skillet and melt the butter in the bottom over medium-high heat. Once the butter is thoroughly melted, place both of the pieces of bread into the pan. Continue to cook the bread until it has reached the perfect golden texture on both sides.
4. Bean and Sausage Chili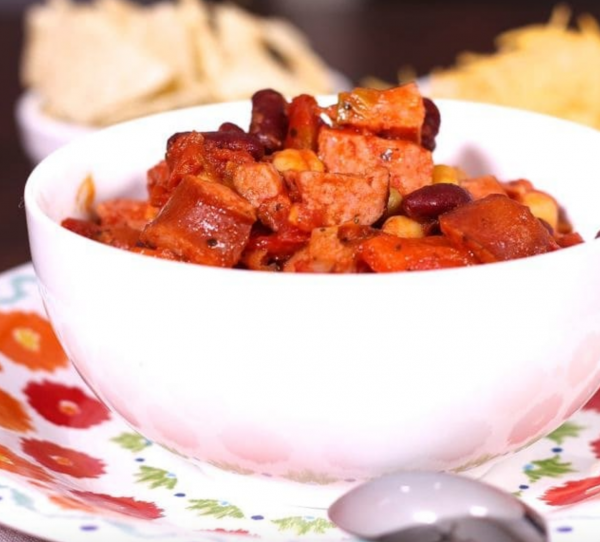 With winter quickly approaching, you'll surely want a beautiful and comforting dinner for one recipe that you can turn to when you don't want to spend too much time in the kitchen.
What we love the most about this bean and sausage chili is that you can double or triple the recipe, freeze the leftovers, and reheat them during the week.
All of the hearty ingredients and tasty flavors work perfectly together, making this one of our favorite chili recipes.
Ingredients
1 tablespoon of olive oil
½ pound of smoked sausage, sliced
1 small onion, chopped
2 cloves of garlic, minced
1 can of diced tomatoes
1 can of crushed tomatoes
1 can of chickpeas, rinsed and drained
1 can of kidney beans, rinsed and drained
1 teaspoon of chili powder
1 teaspoon of dried basil
½ teaspoon of salt
¼ teaspoon of black pepper
Directions
✓ Take a saucepan and begin to heat the olive oil over medium-high heat. You can then add in your sausage and begin to brown it for about six minutes. Once finished, transfer the sausage to a plate of your choosing.
✓ In the same skillet, add in your chopped onion and garlic, cooking both together for about five minutes. You can then begin to stir in the chickpeas, tomatoes, and kidney beans.
✓ Once all of the ingredients have been added, follow with the salt, pepper, basil, and chili powder.
✓ Add in the sausage and allow all of the ingredients to simmer together for about 10 minutes. Before serving, consider topping the chili off with sour cream, crushed tortilla chips, or even some cheese.
5. Chicken Salad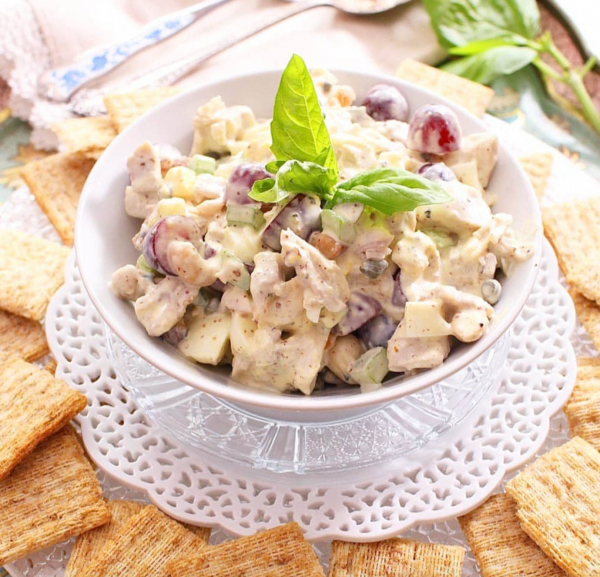 Are you searching for the perfect refreshing recipe that you can eat for lunch and dinner every day if you desire? This delicious chicken salad is filled with all of the traditional ingredients ranging from celery to chopped nuts.
You'll find that this recipe is not only satisfying in sandwiches, but it can also be a fantastic dip for crackers. We also love how simple it is to put together, which will surely make this one of your go-to recipes.
Ingredients
3 cups of cooked chicken, chopped
3 hardboiled eggs, chopped
2 celery stalks, chopped
½ cup of red grapes, chopped
¼ cup of dill pickles, chopped
¼ cup of pecans, chopped
2 tablespoons of capers
1/3 cup of mayonnaise
1 tablespoon of ground mustard
¼ teaspoon of kosher salt
¼ teaspoon of black pepper
Directions
✓ Grab a medium-size bowl and combine all of the ingredients, making sure you stir the mixture well. Once everything has been mixed, use your salt and pepper to achieve the perfect flavor.
✓ You can then decide whether you want to serve it warm or cold, depending on your preferences.
The Best Cooking for One Recipe Books
Finding dinner for one recipes is easy enough online, but we've found that it's always beneficial to have some good cookbooks around the house as well. You'll be able to find popular recipes from renowned chefs that are specifically designed for single chefs.
We highly recommend the following cookbooks, as they have everything you would expect to need when cooking for one.
1. Going Solo in the Kitchen – Jane Doerfer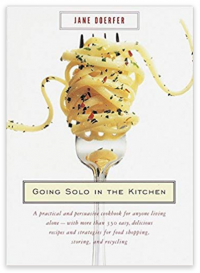 Filled with over 350 simple recipes that you can throw together at the end of the day, Going Solo in the Kitchen is one of our favorite cooking for one resource.
Not only does it feature delectable recipes that are easy and fun to make, but it also contains valuable information about living and cooking alone. For example, new strategies for food shopping, recycling, and storing your food when it's just you in the house.
Instead of being too over the top and impractical, Going Solo in the Kitchen is the perfect delicious and nutritious cookbook that you'll surely want to have on your shelf. Not only will it save you time when cooking for yourself, but it will also help to save you money.
2. The One-Bottle Cocktail – Maggie Hoffman
Just because you don't have a partner or friend living with you doesn't mean you can't enjoy your favorite cocktails on your own. At the end of a long day, there might be nothing you need more than a single margarita or gin and tonic.
In The One-Bottle Cocktail, you'll find an assortment of 80 different (and delicious) cocktail recipes that require only one bottle of alcohol.
This is what makes it ideal, as you won't have to worry about shopping around for multiple bottles of liqueur for a single drink.
There's something for everyone in this cookbook, and each of the beverages is organized based on their spirit, agave, brandy, whiskey, and more.
3. Betty Crocker Right-Size Recipes – Betty Crocker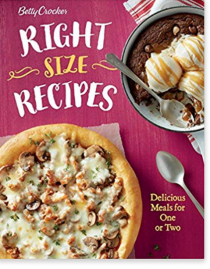 If you're not interested in experimenting with meals, it can be a great idea to settle on cooking for one recipes from a brand you can trust, such as Betty Crocker.
Betty Crocker Right-Size Recipes is a cookbook that has a collection of savory meals and sweet treats that you can either cook for yourself or for two people.
It is also available in either Kindle or Paperback version, so you can have full control over where you store your cookbook.
In the pages, there are nearly 200 recipes that are perfectly designed for one person and from an assortment of culinary styles.
For example, there are fish dishes, cobblers, and even meatloaves for you to try. Also, each of the recipes is simple enough that you can pull them together even if you have limited experience in the kitchen.
4. The Keto for One Cookbook – Dana Carpender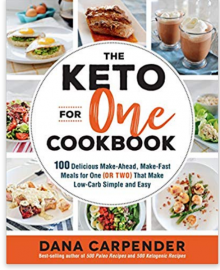 Keto lifestyles have boomed in popularity over recent years and similar to many other meals, cooking for one when on keto can be difficult, especially when you're working with a lot of meat.
This is why we love The Keto for One Cookbook because it has all of the insider knowledge. With its help, you can make the most out of your diet without spending over your budget.
This cookbook is designed to help encourage you to prepare your meals in advance so that you can heat them quickly whenever you are hungry.
Every single recipe is low-carb but designed in a way that is easy for you to master, no matter what your cooking skill level is.
Instead of having to try to balance your macros or dealing with fractions and measurements, these recipes are specifically designed for you and you alone.
5. Cooking for One – Cider Mill Press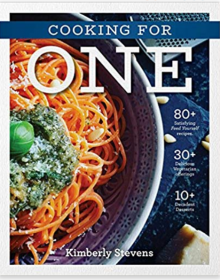 Out of the other dinner for one cookbooks on this list, this is one of the more basic titles to get your hands on.
Cooking for One is a compilation of high-quality recipes that will elevate your taste buds and give you brand new meals to enjoy daily.
There are dozens of delicious recipes designed for people who prefer dining alone, including salads, plates of pasta, and even desserts.
Final Thoughts
When you think about cooking for one recipes, finding the correct measurements can be difficult, especially when you're working with fractions.
Instead of struggling before you even get the ingredients together, we highly recommend you try some of these recipes and cookbooks.
We guarantee that out of these cooking for one methods; there's something for everyone. Also, if you need to increase the portion size, it's much simpler to double or triple a formula rather than cut it in half or into thirds.
Pin for later