10 Wedding Flats That Will Make You Forget Any High Heel Option On Your List!
last updated:
May 07, 2019
1800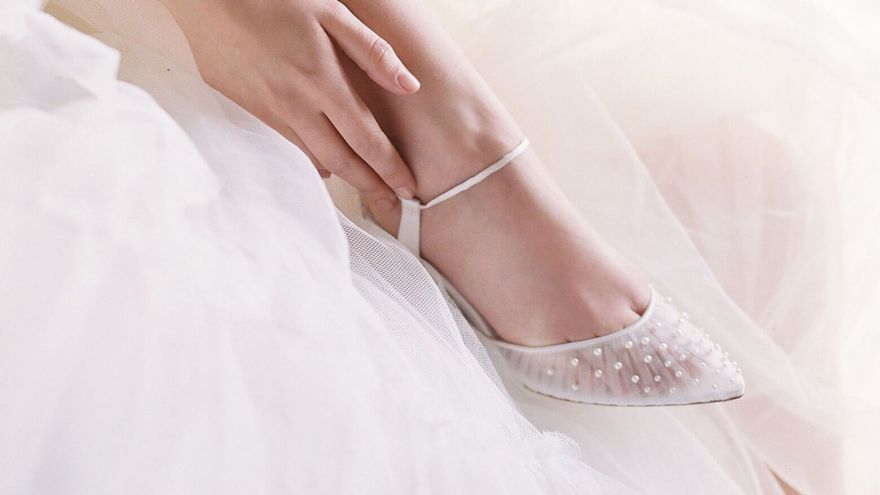 Choosing a pair of heels for your wedding is typical for most brides, however, you certainly won't be wearing them for the entirety of the night. Instead, what could make more sense is to opt for a pair of flats that will be incredibly comfortable but still stunning when paired with your gown. Just because heels are traditional, doesn't mean that they're the right choice for every bride!
We have found 10 phenomenal wedding flats that will look fantastic on any bride. In addition, they give you the ability to dance all night without worrying about cramps, soreness, or blisters the next day!
Our Favorite Wedding Flats!
1.Blue by Betsey Johnson – Lucy Flat

Betsey Johnson's wedding shoes are renowned because they typically capture your something new and something blue at the same time. With their iconic blue soles, these flats have everything that you would expect from a high-quality pair of running shoes.
It's a beautiful laser-cut d'Orsay flat with a pointed toe that adds a sleek appeal to the shoe. It also features tonal studding and beadwork that will compliment any dress, not to mention the shoes are available in ivory satin, black, and blush satin.
2. Dream Pairs Comfort Ballet Flats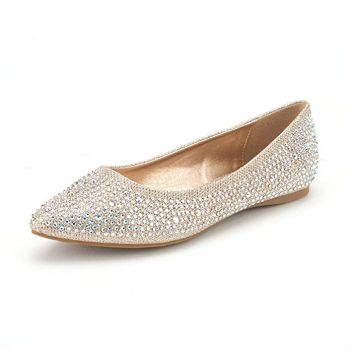 You'll love how these flats give you the comfort you desire without compromising on a luxurious appeal. The beautiful jewel-encrusted exterior of the shoes will add the perfect amount of shine and sparkle to your special day. The Dream Pairs ballet flats feature a cushioned insole as well as the soft lining to keep your feet comfortable for hours on end.
3. Dress First Wedding Shoes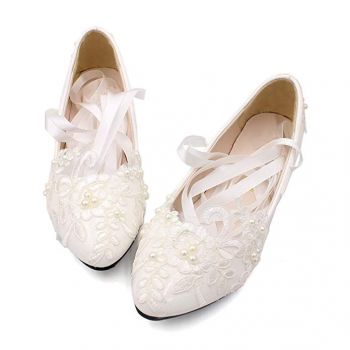 If you're not someone who is interested in glitz and glam, you'll fall in love with these wedding flats. The delicate lace throughout the outside of the shoe creates the perfect feminine detailing without being too over the top. In addition, there are a few stunning pearls added to the lace so it has the right amount of bridal flair.
In terms of comfort, these feature a secure ankle strap so your shoes will gently hug your ankles with every step. There won't be any need to worry about your feet slipping or the shoes falling off after you have put them on.
4. Creativesugar Pearl and Crystal Shoes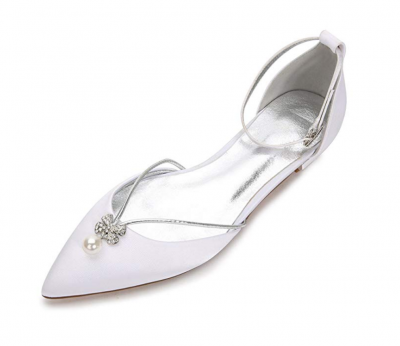 Minimalism is key, especially for brides who have very luxurious dresses. The Creativesugar pearl and crystal shoes have everything that you would expect from a modern and beautiful pair of shoes.
The d'Orsay design is ideal for every woman and the pointed toe helps to add an extra ounce of elegance to the shoes. In addition, the crystal and pearl detailing are unlike anything we've seen.
5. Badgley Mischka Gigi Flat

If you're in the market for a luxurious pair of flats to compliment your luxurious wedding gown, these are the perfect pair to choose. Badgley Mischka is known for their spectacular pairs of footwear and these flats are no different. With the perfect amount of breathable mesh and jewel encrusted fabric, your feet will feel comfortable, free, and embellished perfectly throughout the entire night.
You'll even find that the flats are available in numerous colors, so you can even buy pairs for your bridal party as well.
6. ElegantPark HC1521 Mary Jane Pumps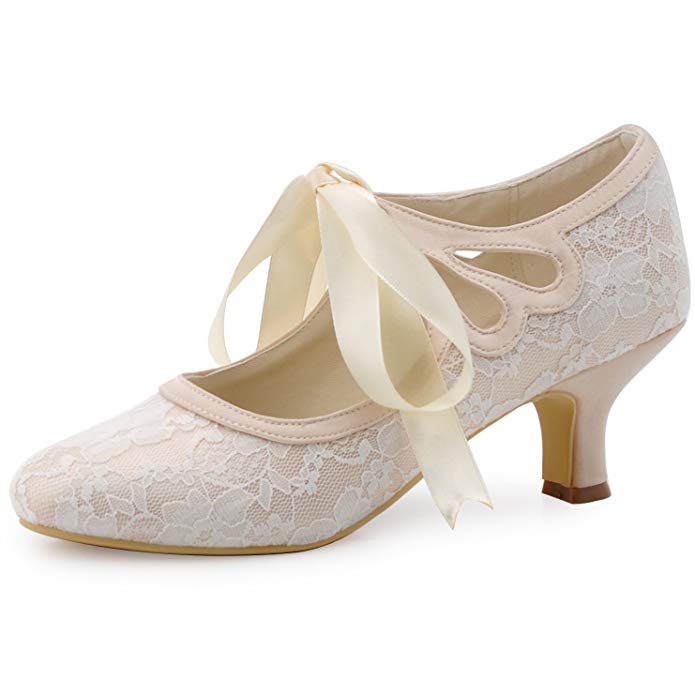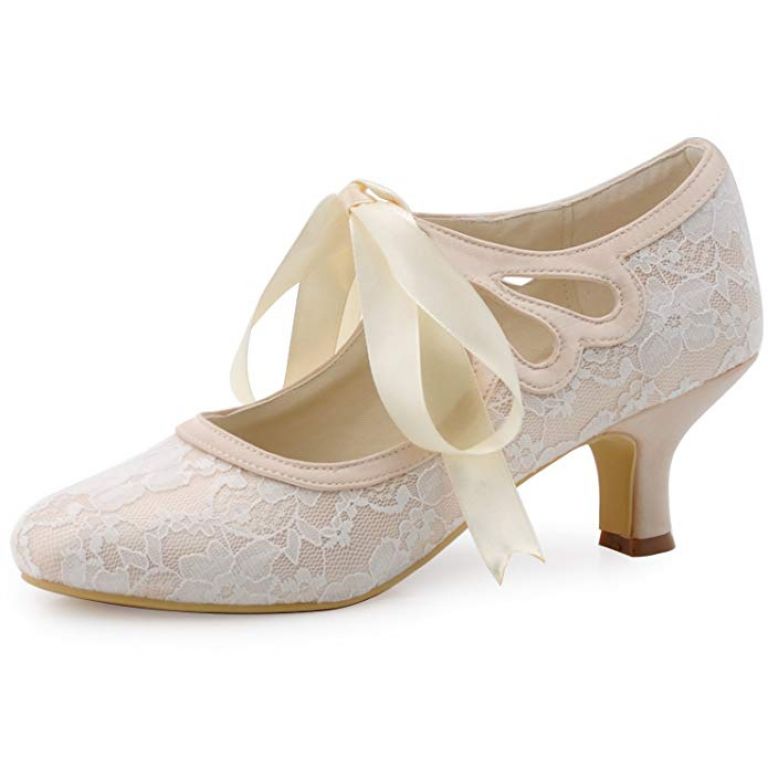 Ideal for the type of woman that is hosting a vintage wedding or that has chosen a vintage dress, these Mary Jane pumps are the perfect partner for your outfit.
They are the type of shoe that has a little bit of a heel, but not too much to where your feet are going to feel sore at the end of the night. They're the perfect alternative for someone who doesn't want traditional flats but also wants the comfort they offer.
7. Blue by Betsey Johnson – Jude Flat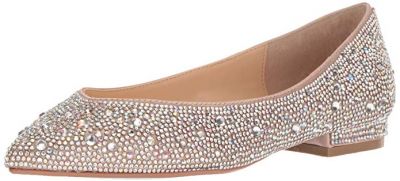 As another spectacular pair of wedding flats from Betsey Johnson's Blue line, these flats are a little more casual, which means you'll certainly be able to wear them again after you get married. Once you slip them onto your feet for the first time, you'll feel how the material forms to your foot, giving you the utmost amount of comfort.
By far, the most spectacular part of the shoe is its stunning embellishments featuring glistening crystals that cover the entirety of the flat. These surely are the type of shoes that will compliment absolutely any gown.
8. Dream Pairs Ballet Shoes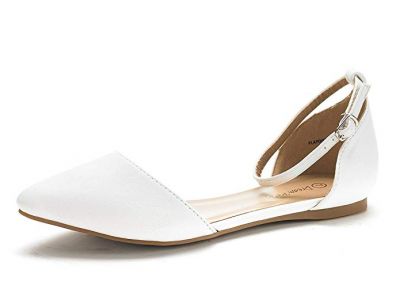 There's no reason as to why you can't wear a normal pair of ballet flats on your wedding day. Plenty of brides get swept away in the idea of jewels, gems, and lace, when in fact, a plain pair of flats can work just as well with your garment. In fact, you might find that plain flats will show off your dress more than any other type of shoe.
These d'Orsay ballet flats are absolutely spectacular for a bride who wants a basic pair of flats. We highly recommend these for beach weddings, and as they are available in multiple colors, your whole bridal party can purchase a pair as well.
9. Secret Weapons Shoes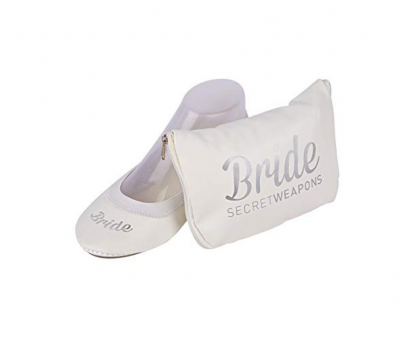 In the event that you have already purchased a pair of heels for the ceremony and are simply looking for flats for the reception, we highly recommend the Secret Weapons Ballet Flats.
Designed to roll up into a small bag that you can keep in your bridal purse, you'll always have a pair of flats that you can unroll and slip on. All you have to do is take them out of the bag, roll them out, wear them, and then roll them back up when you're finished dancing the night away!
10. Imagine Vince Camuto – Garyn Flat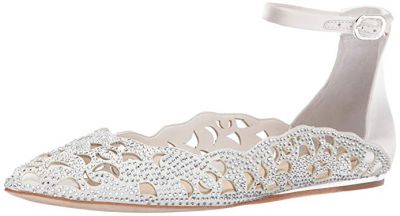 Last, but certainly not least, we have the Garyn Flat from Imagine by Vince Camuto. As a world-renowned shoe designer, these shoes are sure to impress. They are the perfect combination of textile and 100% leather, exuding elegance and class with every step.
In addition, they have a padded sock liner, so the shoes will feel incredibly soft against your skin. The stunning studding on the outside of the shoe adds an added feminine appeal, making them ideal for every bride.
When it comes to finding the perfect flats, there are plenty on the market to choose from. By being able to combine comfort and fashion, you'll easily find the ideal pair of flats that will keep you dancing all night!
Pin for later